Including a vintage piece or two in a nursery design can add character and charm. The vintage market is bustling right now, especially for Mid-Century Modern pieces. I'll use a vintage piece every now and then in a design, and it's always a fun process.
I was contacted by one of my favorite online vintage retailers, Chairish, and they asked me to put together a mid- century modern nursery design using only vintage pieces from their Mid-Century Modern collection. That's certainly something I've never done before, mostly because of some of the safety issues you can read about below, but I was up for the challenge!
Every single item in the design below is from the Chairish collection, and almost everything is from the Mid-Century Modern era. I kept the wall color and rug fairly neutral and the rest of the palette bright and fresh so it wouldn't feel like the back room of an old antique shop. My personal favorite is the set of brass seagulls over the crib. I just so happen to have something very similar in my living room, and they are glorious.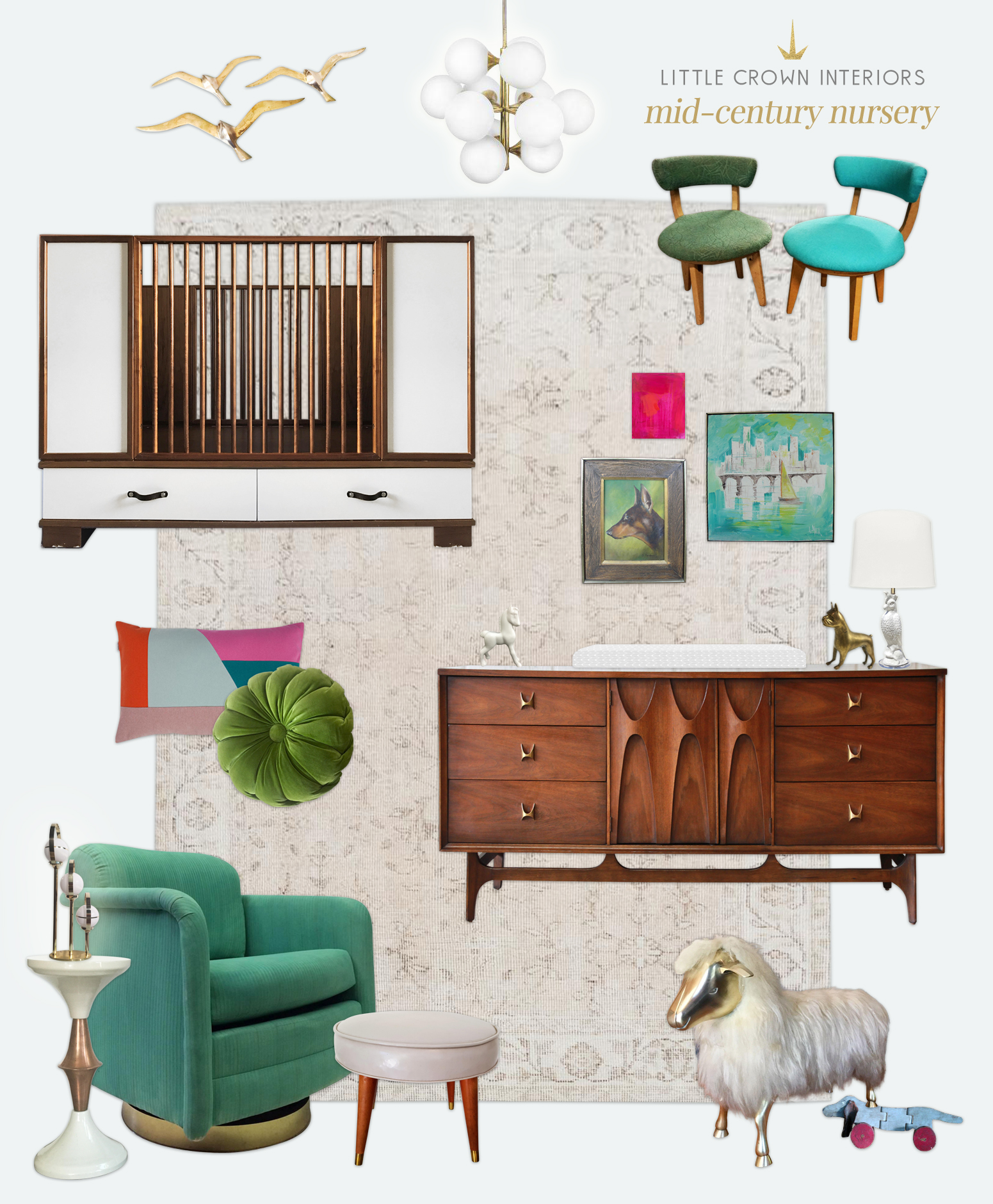 Crib | Brass Seagulls | Globe Sputnik Chandelier | Children's Chairs | Pink Painting | City Scape Painting | Dog Painting | Cockatoo Lamp | Brass Dog Figurine | Ceramic Horse Figurine | Dresser | Sheep Ottoman | Wooden Toy Dog | Ottoman Stool | Swivel Chair | Side Table | Gold Halo Lamp | Green Round Pillow | Color Block Pillow | Turkish Rug
Here comes the safety speech…
Are Vintage Items Safe for a Nursery?
Maybe. There are definitely some considerations here, and there may be some additional research that needs to be done. The two biggest concerns with vintage pieces are structural integrity and lead paint or chemical varnishes. Make sure that anything you buy doesn't have any cracks, bows or other problems (think about your child climbing and pulling on everything). Then, check all the materials and finishes (think about your child putting everything in their mouth). Items with lead paint can have a special sealant put on them, but in my opinion it's best to avoid those chemicals as well. Any upholstery or textile items should be thoroughly cleaned.
Is a Vintage Crib Safe?
The short answer? No. I tend to always be overly cautious here. It's pretty likely that any truly vintage crib will not be up to current safety standards, let alone still be in good enough shape to maintain its structural integrity. Then there's the issue of finishes like lead paint or chemical varnishes that are no longer used in the children's furniture industry.
The crib that's shown above is used, but not really vintage. It's a newer model that's only a few years old, and meets all of the current safety standards. However, I would still err on the side of caution because it is used, and you just never know what a piece has been through.
I would never recommend that anyone purchase a used crib (and this goes for hand-me-downs and heirlooms too), but if you're going to do it anyway, make sure to check throughly for all of these things:
The crib should have been manufactured within recent years and meets the current safety standards. There were some major safety policy changes in June of 2011, so don't use anything made before that. You can read about those safety standards at the CPSC.
Check for any crib recalls. Use the CPSC website to check for your crib model and parts.
Make sure you have the instruction manual for the crib, and read it very carefully. Check the strength of every single piece, including the slats, mattress supports, screws, bolts and other small hardware. Every single piece needs to be accounted for and in excellent condition.
The mattress should be firm and have a snug fit inside the crib.
The width of the crib slats should be no more than 2 3/8″ apart.
[et_bloom_inline optin_id=optin_10]