I walked into a design showroom last week looking for some blush fabric for a nursery I'm working on. I told the sales person what I was looking for and showed her a sample of the color. She took one look at it and said, "Oh, you're looking for that Millennial Pink." Now, I've heard this before, but what surprised me was that it actually was really hard to find anything in blush pink in ANY of the fabric showrooms I frequent. What the what?
I finally found a single fabric (after hours of searching) that had the right blush tone. I had to wonder, is this color really only popular with young people? Is that why it's not available in the more traditional design showrooms? That doesn't make sense to me—I was seeing brass accents, acrylic furniture, and all sort of other "trendy" things, just not blush.
I suspect that maybe these larger fabric manufacturers see blush as a passing trend that will go away, and that it's not worth the investment to create whole new fabric lines. Here's where I'm going to make my argument! This. Color. Is. Not. Going. Away. Not anytime soon. And I'll tell you why (with a side of color psychology).
Any color that has a hint of desaturation or is slightly "off" reads in our minds as higher end, therefore more desirable. We can look at regular baby pink next to blush pink, and even though they aren't all that different, that little subtle difference tells us that the baby pink feels cheaper (without even thinking about it).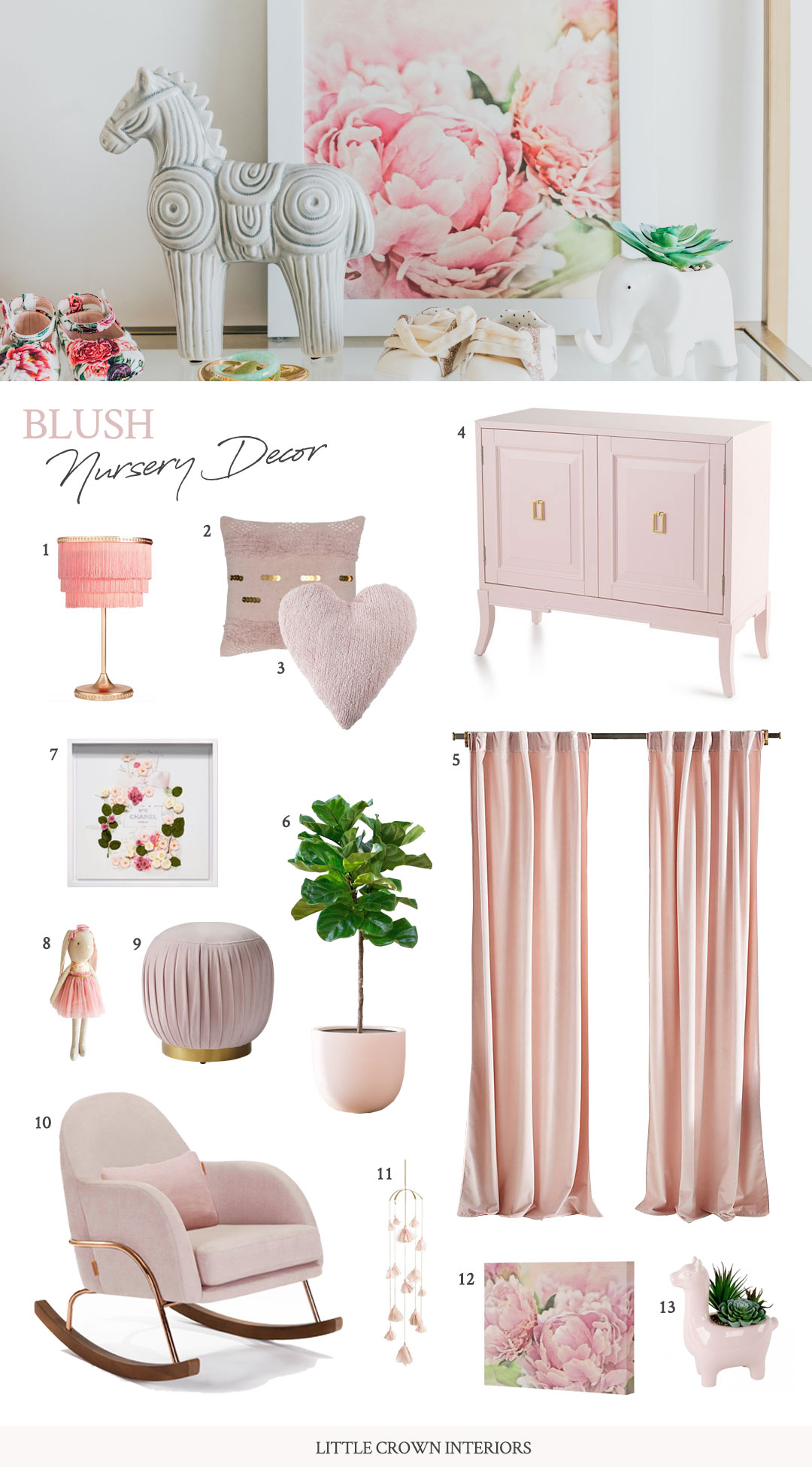 With a color like blush pink in regards to nursery design, getting a more sophisticated look with just the slightest hue shift can make all the difference in how a room turns out. And people are noticing. Blush pink decor has been showing up all over the place.
Here come the sources:
1. Pink Fringe Lamp | 3. Pink Heart Pillow | 4. Pink Chest | 5. Blush Pink Velvet Curtains | 6. Blush Pink Planter Pot | 7. Blooming Chanel Art Print | 10. Blush Pink Rocker | 11. Pink Tassel Mobile | 12. Pink Peonies Canvas Print | 13. Pink Llama Faux Succulent
In addition to see blush decor shopping around online, I've also noticed an increase in clients asking for that color for girl's nursery designs. It seems like the days of baby pink everything are gone (which honestly is fine with me). But blush? Blush is softer, subtler and appeals to our senses in a way that regular pink never will. And that's why I love it. If you want to see some nursery designs I've done with blush pink lately, check out my portfolio.
Tell me what you think of blush! Do you love this color as much as I do, or are you already over it?
*This post contains affiliate links, but don't worry, I only link products that I would 100% recommend!*
[et_bloom_inline optin_id=optin_10]