It's always a treat when I get to share a new nursery reveal with you! This room was among a few that just made it before my book manuscript was due with my publisher last year. It has been about year since we snuck in a photoshoot for this nursery, and what a year it has been! I'm so glad we were able to squeeze it in because this room definitely looks great in the book!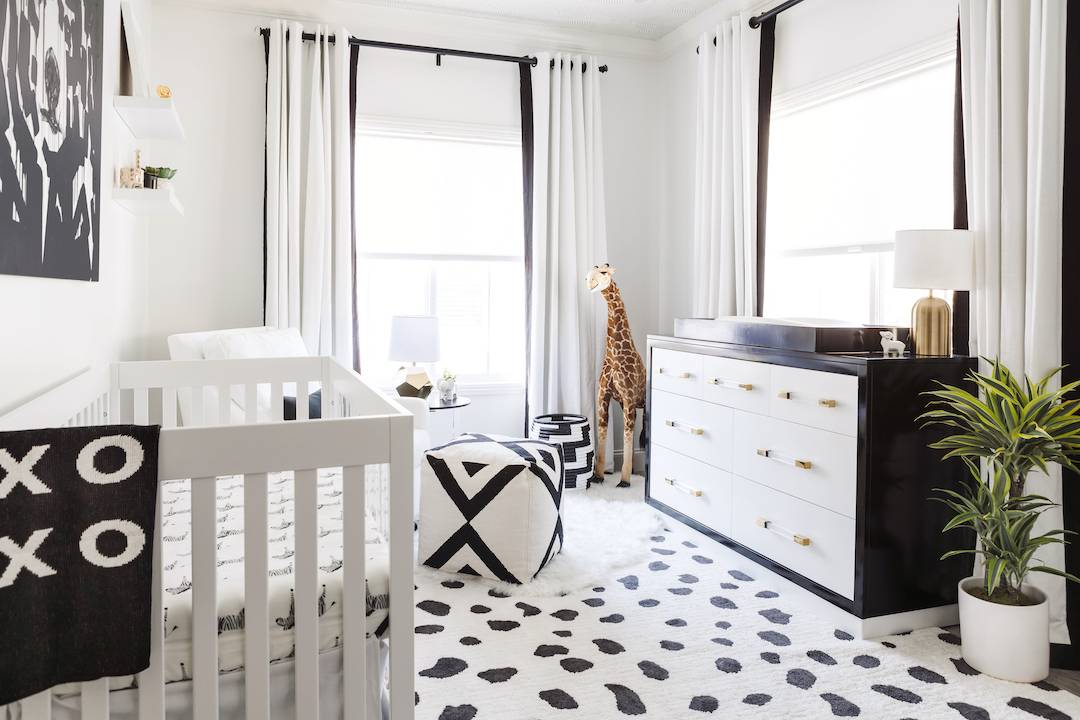 Acrylic Crib | Custom Dresser | Ottoman | Spotted Rug | Faux Sheepskin | Stuffed Giraffe (similar)
My client requested an all black and white nursery. Very frequently, the rooms we work on for nurseries are on the smaller side, and this room was no exception. However, this room has two large windows and tall ceilings which really helped to open up the space. We opted for nice crisp white walls and also chose the main furniture pieces in white so the room would remain feeling open, and then accented with black. We chose the Harlow Crib (a client favorite!) and a gorgeous changing table/dresser from Newport Cottages with a custom black frame and acrylic handles.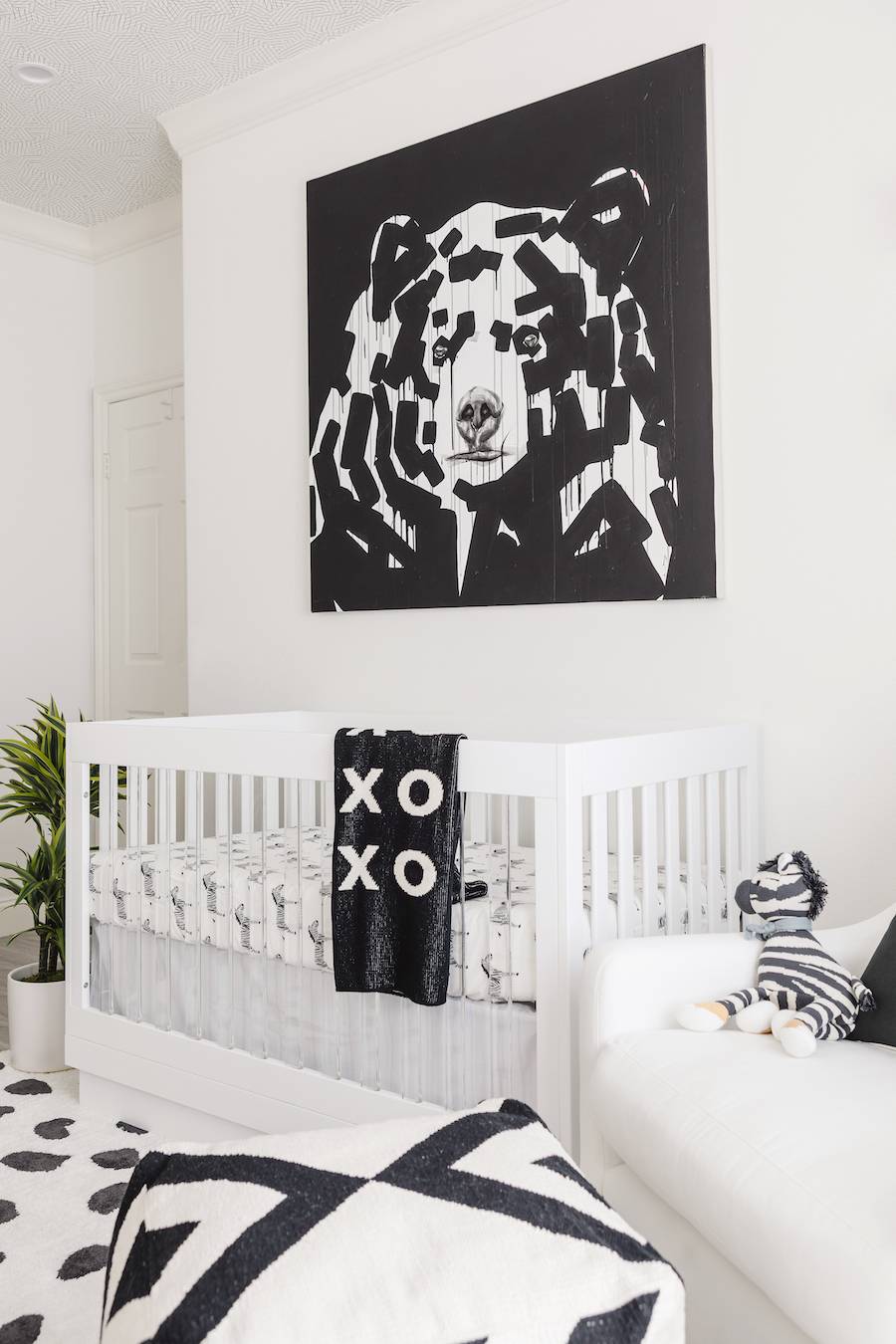 Acrylic Crib | Ottoman | Ceiling Wallpaper
The showstopper of this nursery is the stunning oversized black and white abstract bear art. My client fell in love with this piece while shopping at a local gallery in Laguna Beach, and it set the tone for the rest of the design. It's an original painting by artist Chad Hasegawa, and it's amazing! This photo also shows a little peek at one of my favorite parts of this the design—the subtle black and white wallpaper on the ceiling!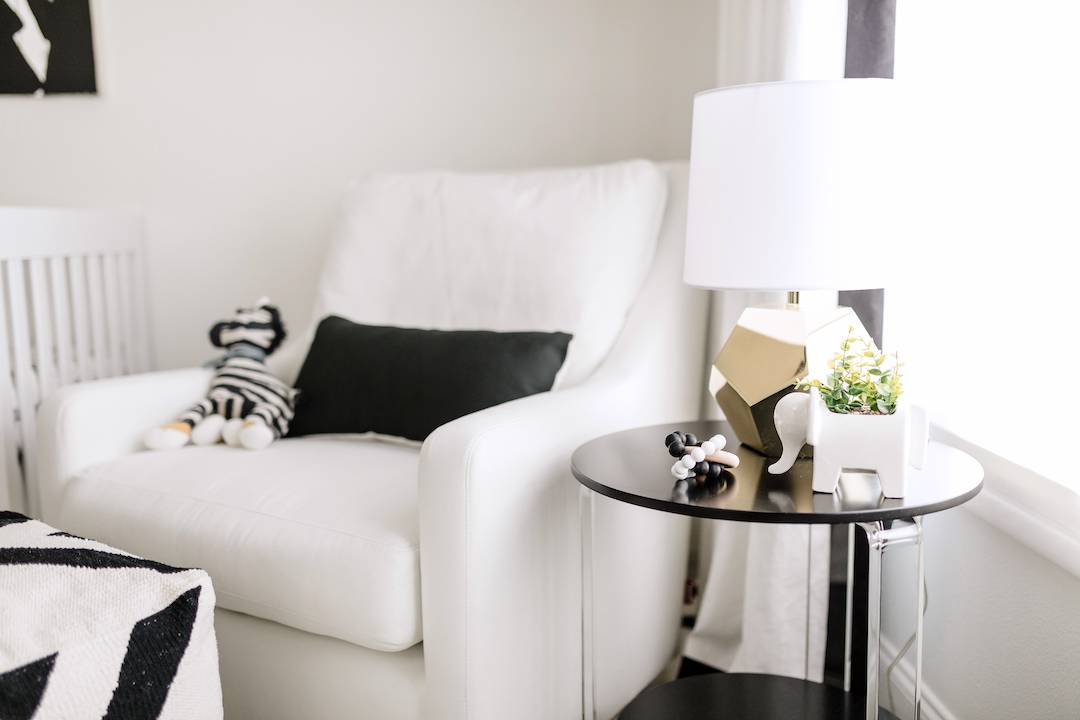 White Glider | Elephant Planter
For the glider, we went a cozy and comfortable white fabric with a modern design. We balanced out the white glider with a black and acrylic side table, which also balances the acrylic detail on the crib. The acrylic detail looks great in this room, but it also serves a purpose. Acrylic pieces help smaller rooms feel larger since they don't take up as much visual space.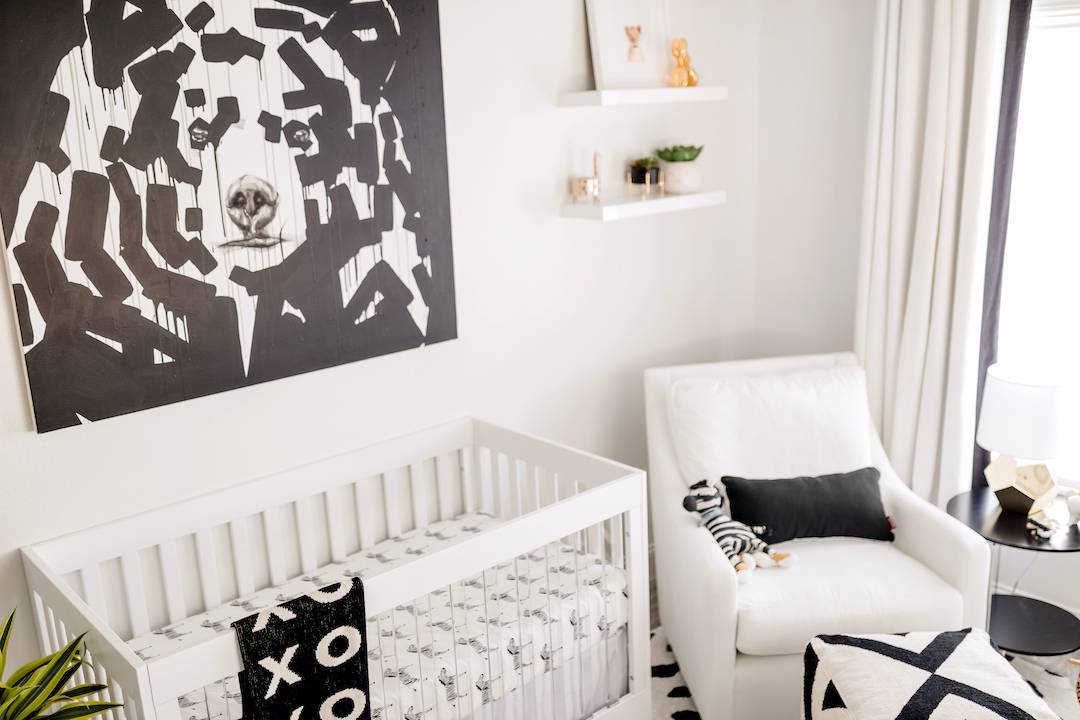 Acrylic Crib | White Glider | Ottoman |
The zebra crib sheet and the "XO" blanket added interest and dimension to the crib, and helped tie together the high contrast palette of the room. Throughout the nursery, we also added a few gold details to warm the space up and added some greenery as well (which makes such a difference!) The room comes alive without taking away from the sleek black and white design and immediately feels warm and inviting. Plants are one of my favorites things to add in to any nursery design.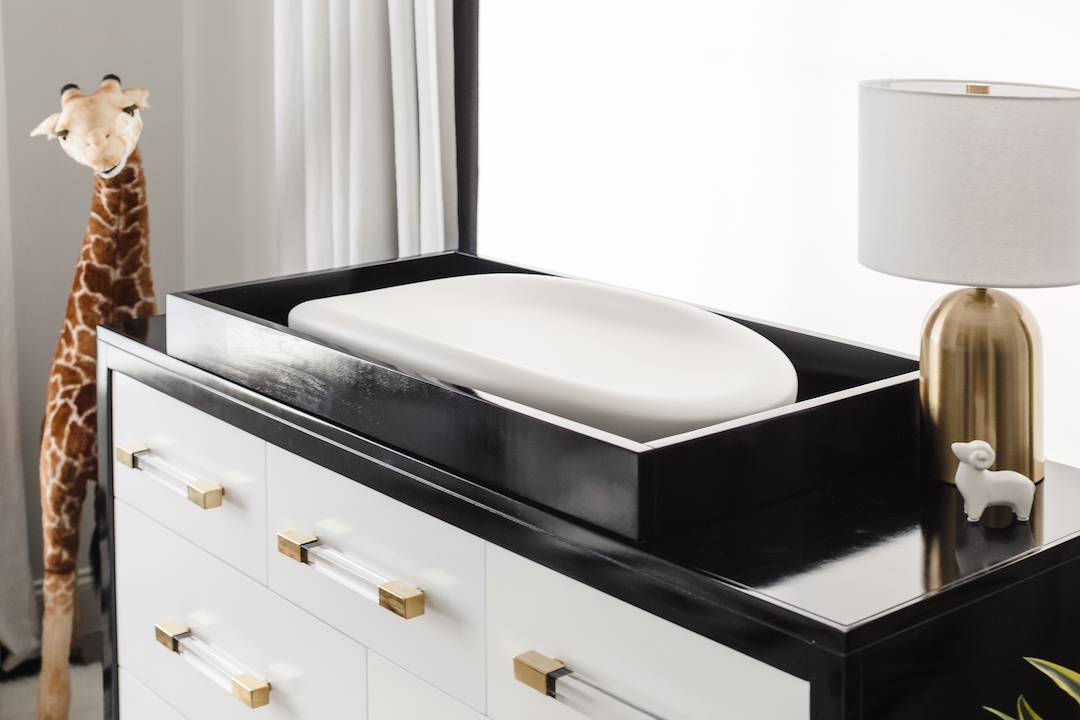 Changing Pad | Custom Dresser | Stuffed Giraffe (similar)
We also had Newport Cottages make a matching changing tray, and we went with a wipe-able changing pad as the insert. The custom painted black frame makes the dresser really stand out and looks amazing in person! You can see even more photos from this awesome modern nursery in my book.
*This post may contain affiliate links, but don't worry, I only link items that I 100% recommend! You can view our Disclaimer here.