We've got another E-Design reveal for you on the blog today! This one was our Premium package which includes a full rendering which you can see below. Sometimes it's easier for a client to visualize the whole space when it's drawn out in a rendering rather than just a design board.
This client had a home with a lot of white walls, and she wanted to give the nursery a full overhaul. It started as just an empty white room! She loves French style interiors and artwork, especially French landscape paintings, and wanted to include lots of neutrals, gold accents and touches of blush pink. We started with white nursery furniture that had a little traditional detailing, and a glider with a wingback design for a more formal look. Not too traditional, but somewhere in between.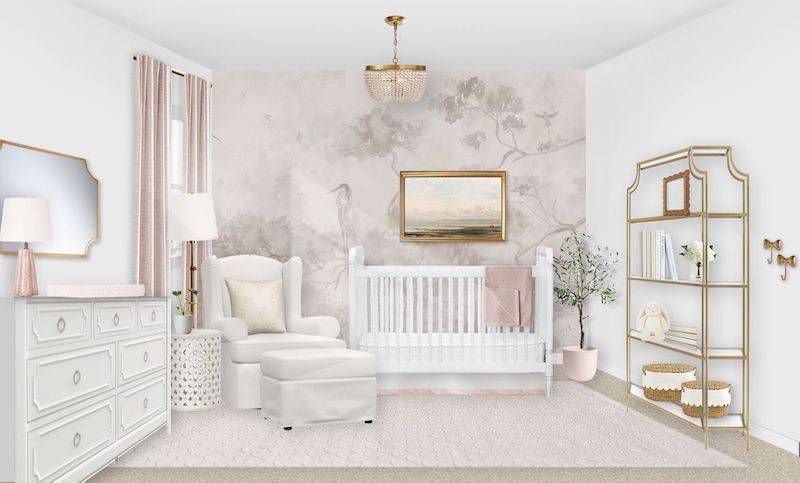 Next we chose the wall mural. Since the client loved neutrals and a French look, this gorgeous crane wall mural worked so well. It's neutral and soft and has such a beautiful watercolor look. We kept the rug in here neutral as well so as not to take away from the wall mural.
To get the blush pink accents, we chose some blush blackout curtains, a blush marble lamp and a few other accessories to give the nursery some balance. The gold accents are worked in as well, such as the etagere, mirror and chandelier.
As you can see in the floor plan below, the room isn't huge, but has just enough room to include all the pieces we needed. There was a little extra space on the right side wall for a small etagere, and a plant fit perfect in the corner next to the crib.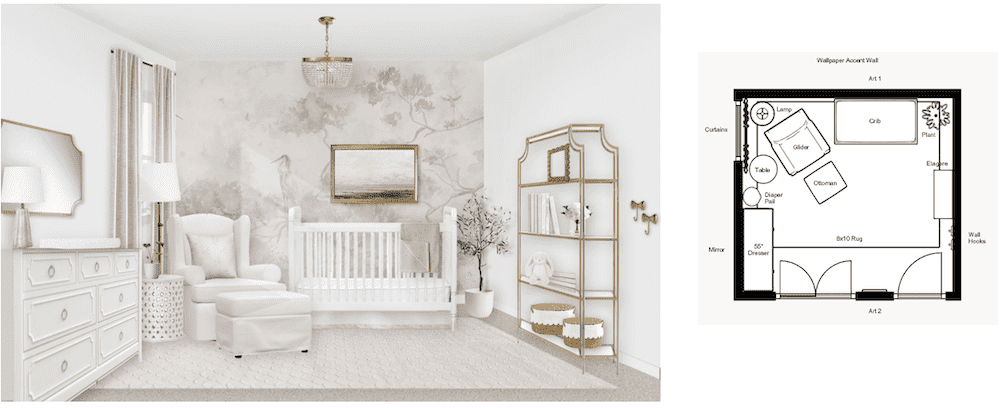 I'm so happy with how this nursery design came out! That wall mural has my heart and the whole room just feels so serene.
---
· Nursery Details ·
Crane Wall Mural | White Crib | White Dresser | Wingback Glider | Scallop Rug | Gold Etagere | Side Table | Gold Floor Lamp | Blush Lamp | Crystal Chandelier | Bow Wall Hooks | Landscape Art | Blackout Curtains | Crib Skirt | Changing Pad Cover | Throw Pillow | Faux Olive Tree | Pink Planter | Storage Baskets
---
Want a nursery E-Design of your own? Check out our E-Design page for all the details. We do book up in advance!
*This post may contain affiliate links, but don't worry, I only link items that I 100% recommend! You can view our Disclaimer here.