We had the pleasure of working with Liv Lo and Henry Golding on their new nursery design! Liv was pregnant with their second child and wanted a nursery that was soft and sweet and some lavender touches for their Southern California home. She wanted the space to be gender neutral, but to still include lavender because she loves the color.
We started with the furniture. Liv loved the modern and super flexible design of the Babyletto Yuzu Crib, which converts from a bassinet all the way up to a toddler bed. It's in its full size version in the photos below. Even though the nursery is on the smaller side, we were still able to fit the coordinating Babyletto Yuzu dresser.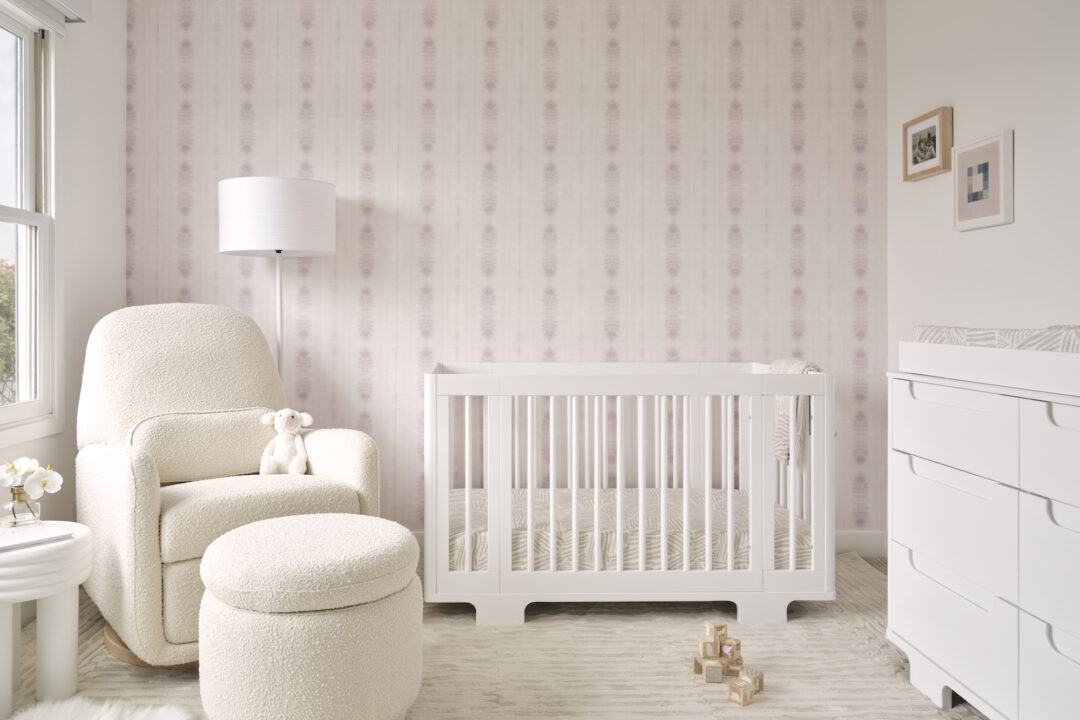 Babyletto Yuzu Crib | Babyletto Yuzu Dresser | Babyletto Arc Glider | Babyletto Enoki Ottoman | Babyletto Crib Sheet | Babyletto Changing Pad Cover | Neutral Patterned Rug | Sculptural Side Table | Lavender Removable Wallpaper | Lavender Geometric Art Print | Gold Round Wall Mirror | Semi Flush Globe Chandelier | Faux Orchid Arrangement
Since the nursery furniture was white, we wanted to add a little texture with the glider. We went with the Babyletto Arc Glider in Ivory Boucle. The texture of the boucle makes such a difference in this design, and the matching ottoman has storage inside—a huge bonus for a small nursery! We added a sculptural side table in white with a sweet faux orchid.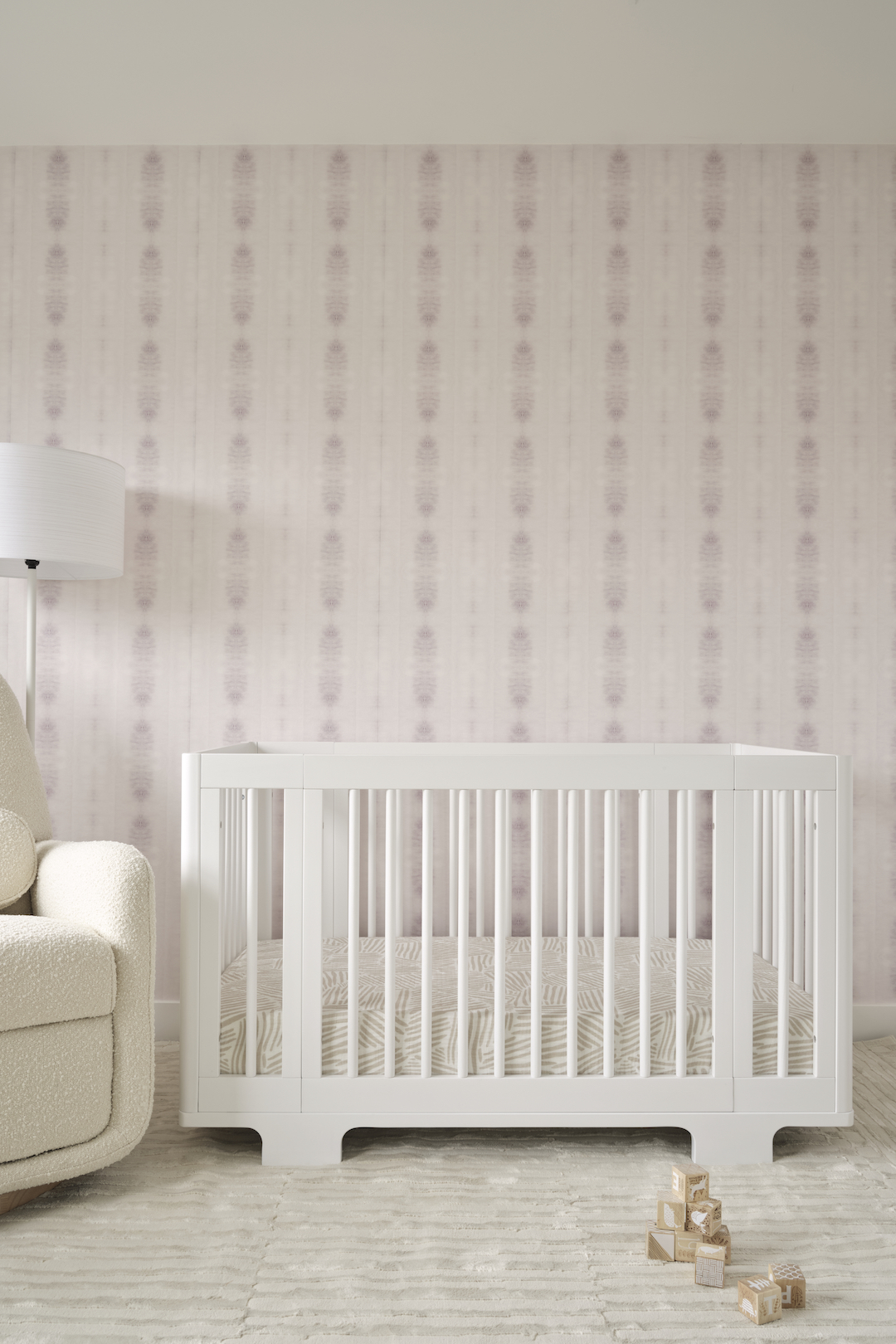 The lavender wallpaper is really the showstopper of the nursery. Liv wanted something soft and pretty, but that could also feel fairly neutral. We chose this gorgeous lavender pattern that's actually removable. It has a really nice texture on it as well.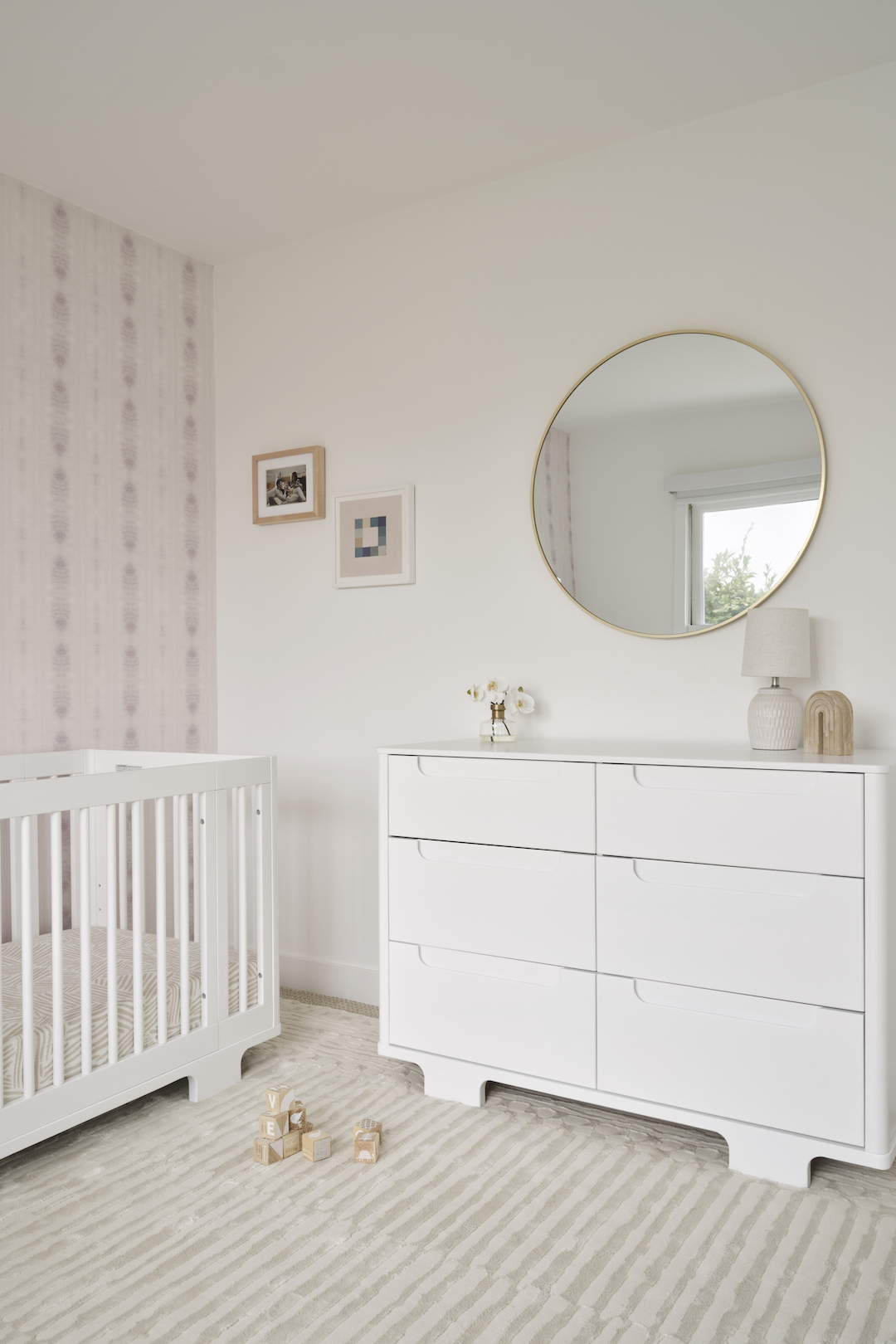 Since we didn't have a ton of space, we wanted to keep the changing area clean and simple. The dresser has a round gold mirror above it to help bounce the light around and make this small nursery feel a bit larger. We added a neutral patterned rug which is also washable and non-toxic!
Adding a little pop of greenery or florals is always great in a nursery. Since we didn't have a ton of space in here, we opted for a smaller faux orchid arrangement. It's stunning in person and because it's faux, it will last forever!
The finishing touch on this nursery is a semi-flush light fixture that we installed in the ceiling. This nursery has standard 8′ high ceilings, which don't allow for a larger chandelier. Semi-flush lighting is a great option for this type of ceiling since it will give the nursery a little accent without overwhelming the space. The window lets in a lot of natural light, and it's fitted with a custom blackout shade for when baby needs to sleep during the day.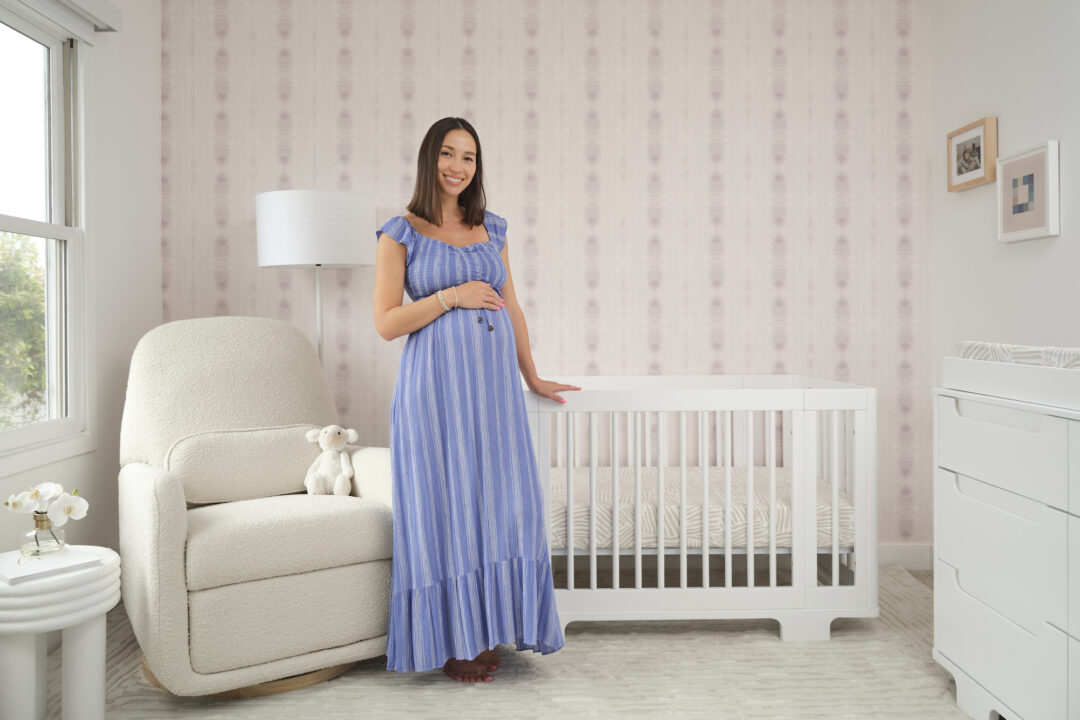 Photography by Madeline Tolle