If you follow me on instagram you might have seen that I mentioned a nursery bookends roundup was around the corner. Well, it's finally here and I'm pretty excited about these adorable and stylish bookends. Bookends might not be the first thing you think of when shopping for a nursery or kid's room, but they are such a great addition to a shelf and can really make a difference styling-wise (#shelfie anyone?).
Take a moment and pick out a handful of pretty books, add your favorite bookends and in minutes you will be well on your way to an organized and well styled shelf or bookcase. And of course, bookends are totally functional and will help keep your books organized and in place. Bookends are like a piece of functional art and it can be a great way to help tie in the color scheme, style or theme of your design. Be sure to keep them out of reach of little curious hands if they are heavy, secure them on the surface or opt for toddler friendly options. Here are some of my favorite playful and elegant bookends!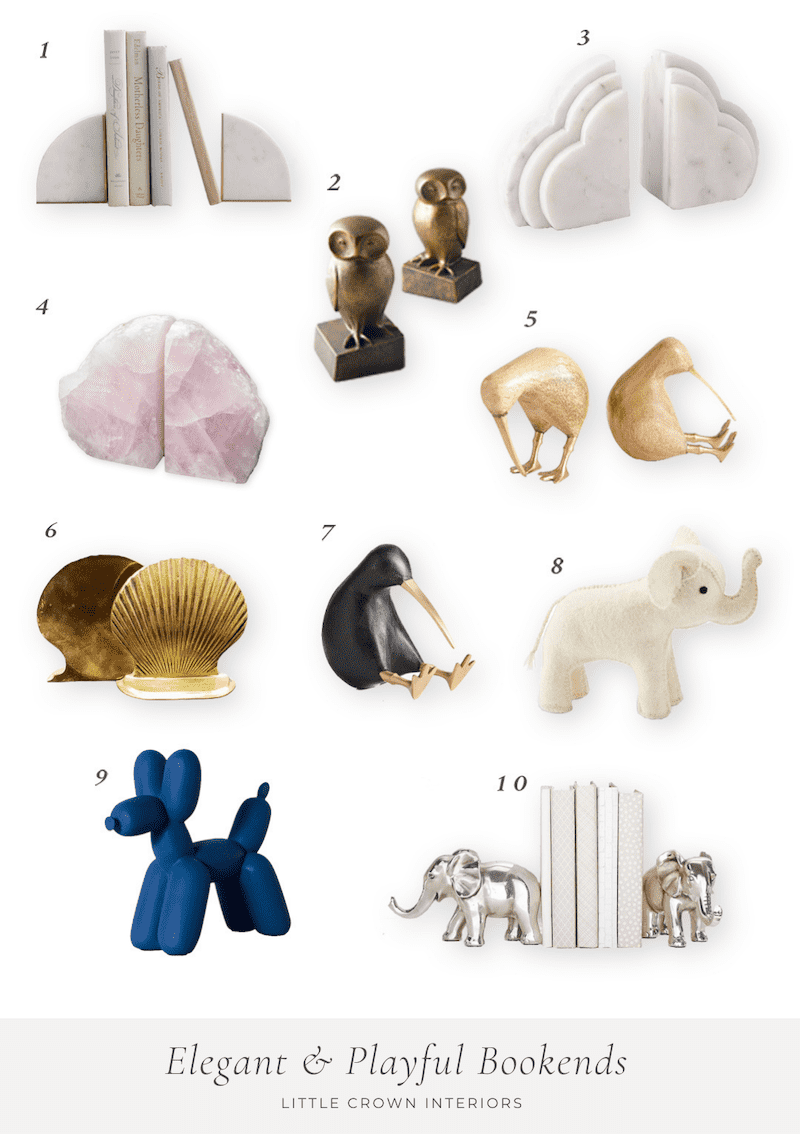 Marble Bookends
: Curved marble bookends with a subtle brass inlay feel sophisticated and almost timeless. These are stunning and versatile and perfect for a sophisticated nursery or glam kid's bedroom.
Owl Bookends: Playful, classy and charming—these owl bookends are great for a gender neutral space. I love the bit of whimsy they add!
Cloud Bookends: Simple, elegant and versatile! The marble cloud bookends have a classic feel and will work well in gender neutral spaces too. I've used these a few times for clients and they are well-loved.
Rose Quartz Bookends: I love pretty much anything made out of a rock, mineral or gemstone, so this set of rose quartz bookends is on my list of favorites. I have several geode-type bookends in my house and just love how natural they are.
Neutral Kiwi Birds: I love this set! Super sweet, sophisticated and unexpected. The light wood tone of these will look great with a range of color schemes, and light wood is definitely on trend right now for nursery design.
Shell Bookends: A little boho and a little vintage glam! These brass shell bookends are super cute and don't feel overly thematic. They could go in a beach or ocean theme nursery, or not—they would work either way.
Black Kiwi Bird Bookend: This is the Kiwi Bird in black. The organic shape, lines and color are so charming and playful. The black helps add contrast to a space without feeling heavy or dark.
White Felt Elephant Bookend: This one is a great option for a small shelf with a couple of books. It is the lightest of this roundup and will be a good choice to use with the first small baby books. It's also super adorable and will add warmth to your shelf styling even when the stack of books grows.
Balloon Dog Bookends: The iconic balloon dog is a great way to add a bold pop of color to your shelf, as they come in a ton of different colors. These work well as bookends, but also look great as a figurine as well.
Silver Elephant Bookends: A sweet and traditional set of elephant bookends! The vintage silver finish gives these a nostalgic feel and would be perfect in any nursery design that has silver accent (or even mixed metals).
*This post may contain affiliate links, but don't worry, I only link items that I 100% recommend! You can view our Disclaimer here.