Wallpaper has been a massive trend in nursery design for years. I remember when I first started my studio in 2008 and people were just starting to come around to the idea of wallpaper again. By 2010, every nursery client was asking for a wallpaper accent wall. I thought for sure that that trend was going to die down at some point, especially given the permanent and expensive nature of wallpaper. But then we started seeing removable wallpaper, and just like that wallpaper was back in the game. Then, a few years ago, wall murals were upstaging standard wallpaper, and they have been holding strong ever since. These are some of my favorite nursery wall murals, and they all just happen to be inspired by nature (I swear I didn't even plan that!)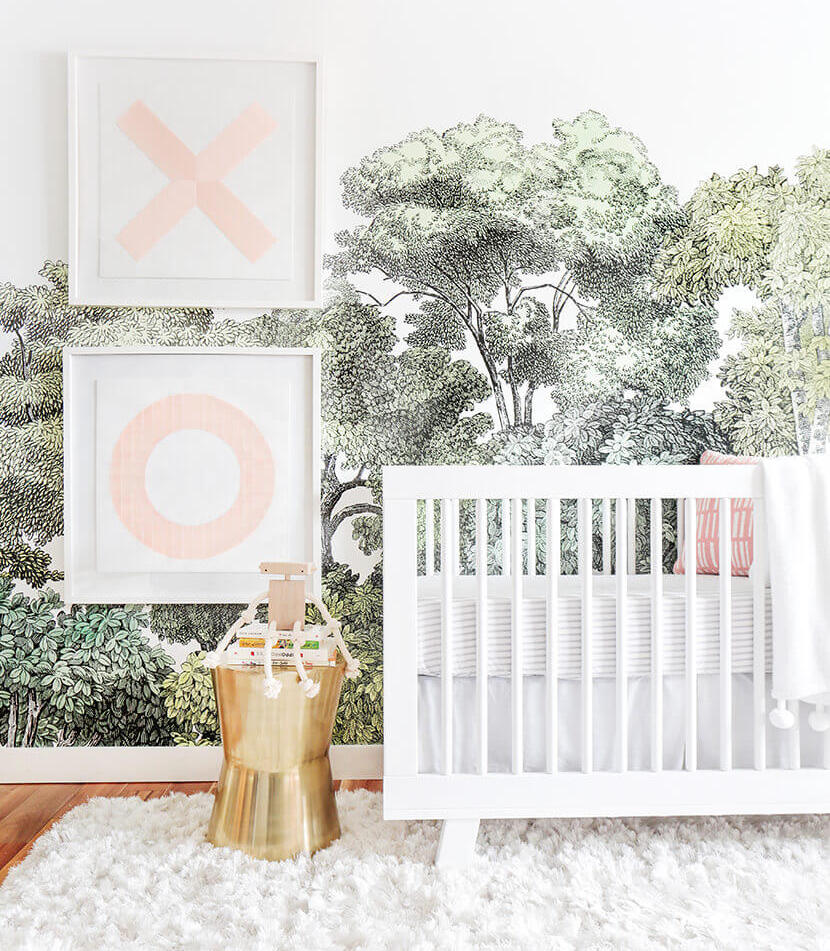 Green Tree Forest Wall Mural (Photo by Emily Henderson)
Emily Henderson had a pretty big impact on the nursery wall mural trend when she designed her daughter's nursery back in 2016 using the stunning forest wall mural above. I still remember being so excited when I saw the reveal of this space, and bookmarked that wall mural for future use. It's still so popular, and I've used it in other colors with several clients! (One of them may just make an appearance below).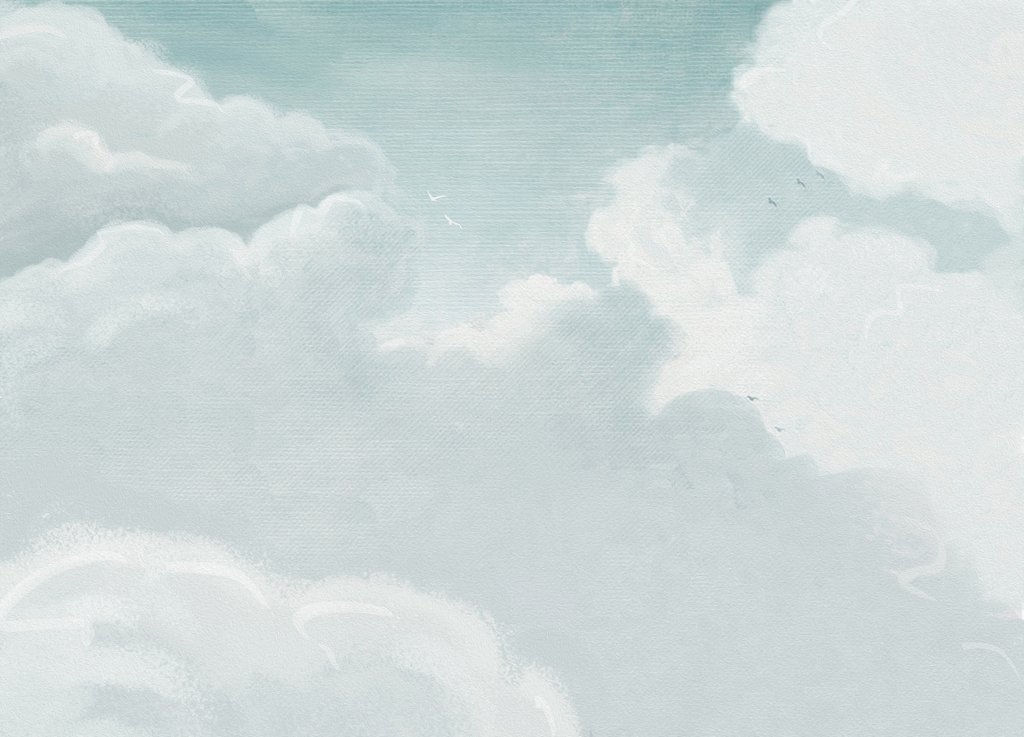 Cloudy Sky Wall Mural
I couldn't find a photo of this cloudy sky wall mural used in a nursery, but I just love how breezy and soft it is. I ordered a sample of this one for a client a while back, but we ended up going with a different pattern. It's still on my list of favorites to hopefully use some day!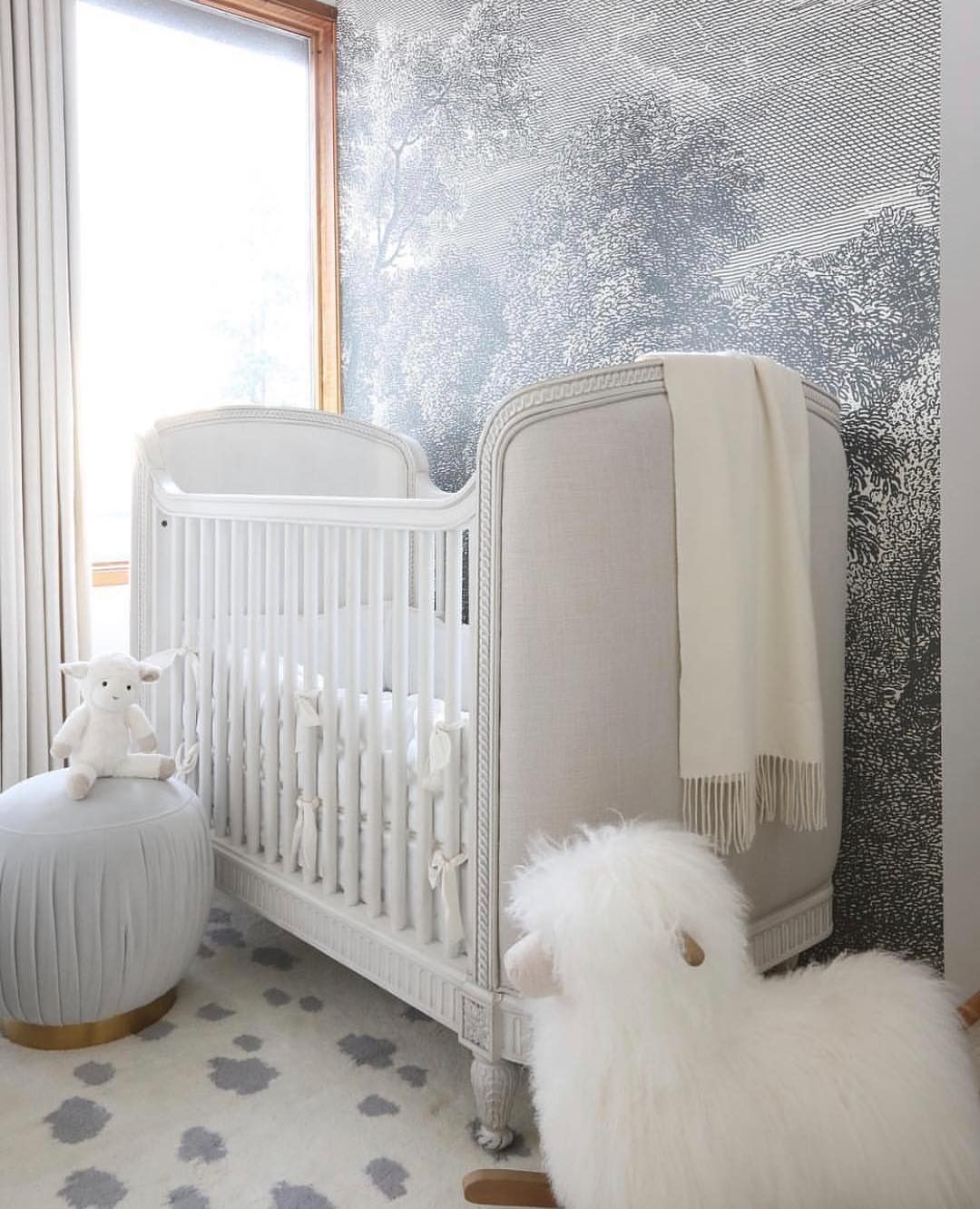 Etched Arcadia Mural (Photo by Gillian Segal Design)
This gorgeous nursery by Gillian Segal Design showcases another great tree wall mural pattern. I love that you can see the etched detail which gives it such a hand-drawn look. It's also completely gender neutral (actually, a lot of these patterns are), which is always a plus if you plan to convert the nursery for a sibling in the future.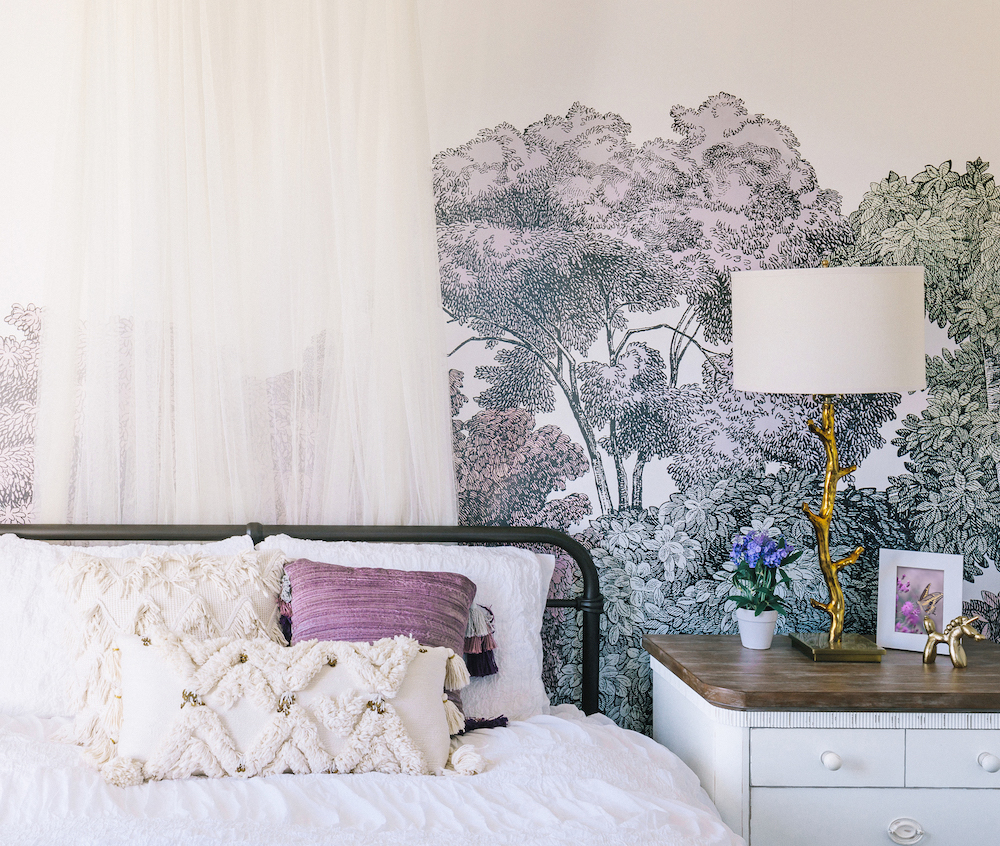 Rainbow Forest Wall Mural (Photo by Little Crown Interiors)
Above is another color of the same tree wall mural in the first photo. This rainbow color palette is so vibrant! I used this mural in the girl's bedroom above because she loved lavender, and wanted a very nature-inspired bedroom. There's some pretty amazing details in this room too, but you'll have to stay tuned to see the reveal!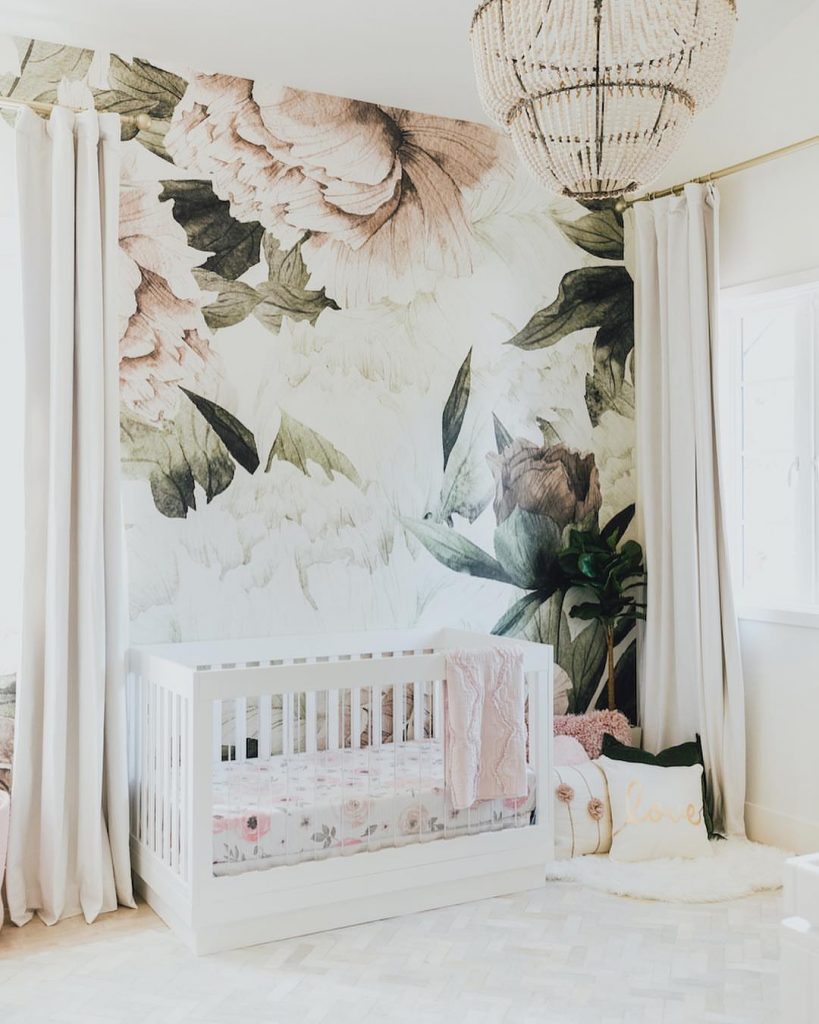 Large Blush Floral Wall Mural (Photo by Little Crown Interiors)
This large floral wall mural is by far one of the most popular that I've seen. I've used it in two client nurseries, and I get questions about it all the time. It makes sense that it's so popular because it's just such a lush pattern, but it's also subtle and refined. I've seen this one used in nursery and child spaces, but also in adult bedrooms, offices, etc.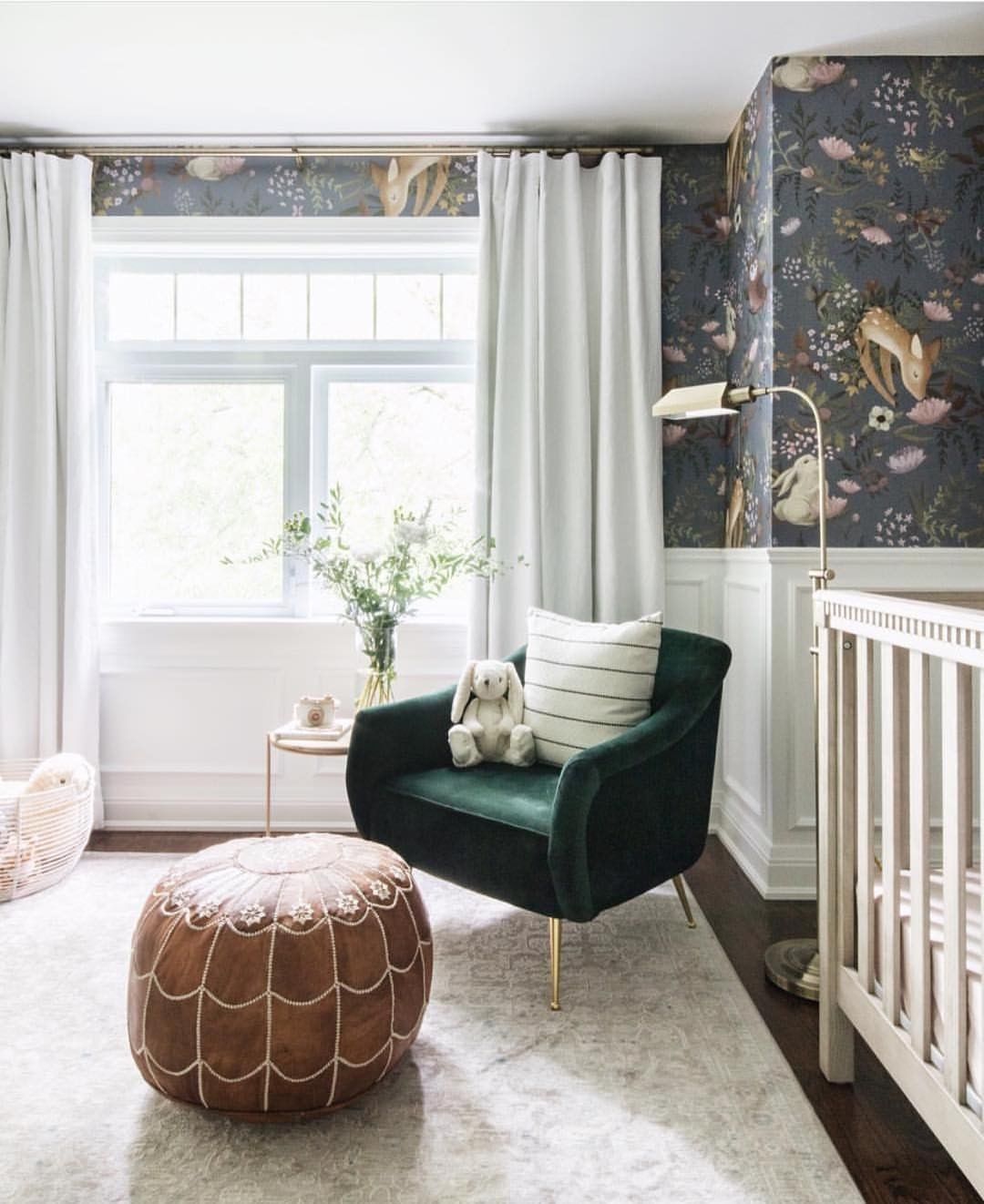 Forest Animals Wall Mural (Photo by LeClair Decor)
This last nursery wall mural has an adorable animal pattern on a deeper colored background. I think that rich and darker colors can totally work in a nursery. A lot of people tend to shy away from this in a child's space, but as you can see above, it brings depth and sophistication to a space. Just don't paint all the walls black, like I asked my parents to do for my room when I was 12 (I was a weird kid).
What's the difference between wallpaper and a wall mural anyway? The difference is that wallpaper is typically designed with a pattern that repeats over and over, while a wall mural is a single image used to cover the whole wall, like a blown-up painting.
*This post contains affiliate links, but don't worry, I only link products that I would 100% recommend!*