One of my favorite elements to source for a nursery is the area rug. It ties the entire design together while softening the space visually and literally. If you ask me, every nursery can use an area rug. Even with carpeted spaces, the addition of a rug helps to protect the carpet, add texture, and pull together the design. From budget friendly options to one-of-a-kind vintage pieces, there is a rug for everyone. Maybe you need some help narrowing down all of the options out there. Below are some of my favorite rugs for the nursery.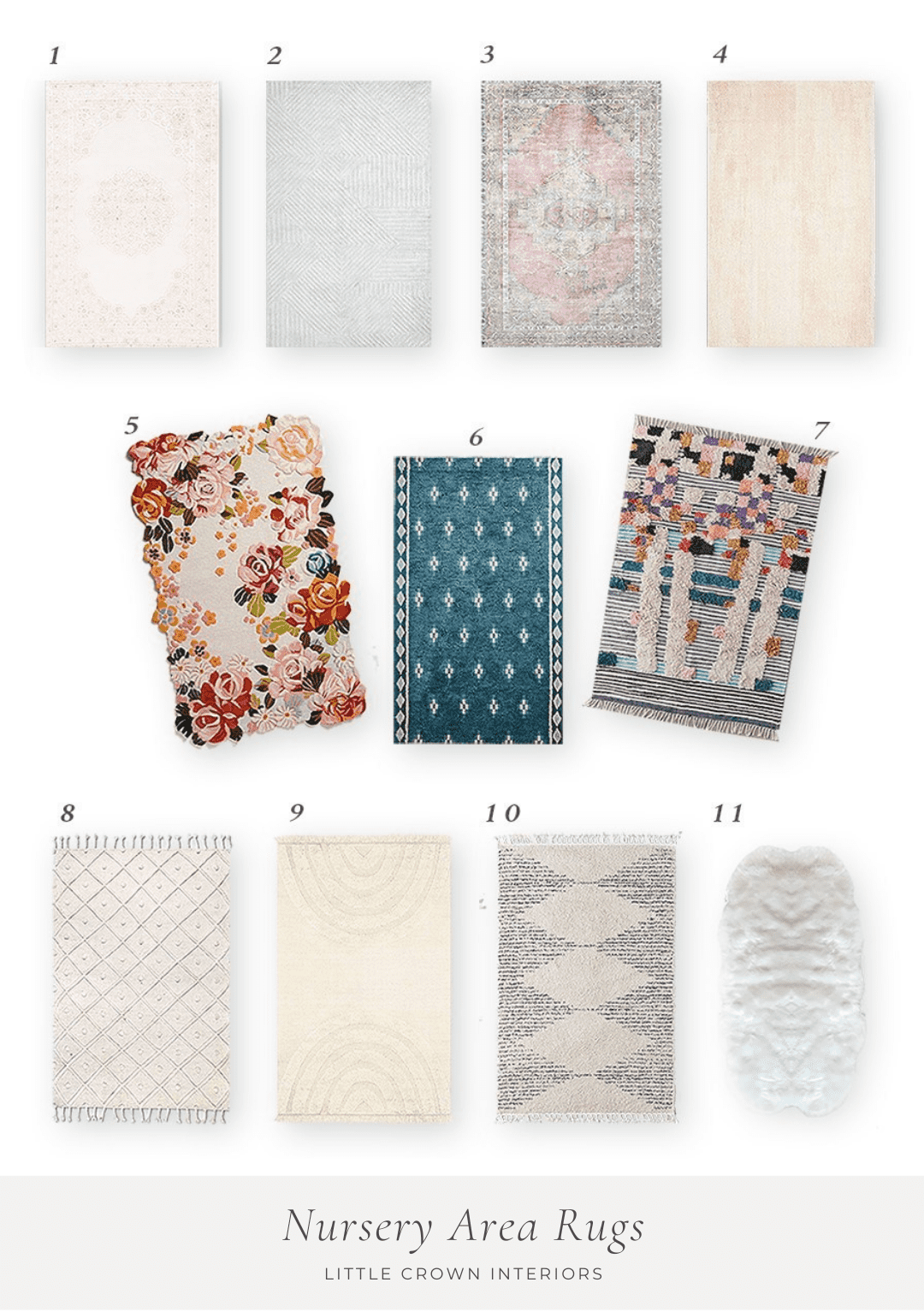 1. Malo Rug : For a blush and gold nursery design, this is a rug I go back to again and again. The traditional style feels super elegant and glam. Plus the shade of pink is so muted it can act more like a neutral.
2. Faye Rug: With an option of ivory, blush, or gray I find that this rug could work in just about any nursery I design. The raised geometric motif adds a subtle pop of interest without feeling like a pattern.
3. Ruby Rug: This is a favorite of mine not just for the nursery but for just about any room of the house! The style gives a vintage Turkish feel without the crazy price tag.
4. Painterly Rug: When you are working with busy wallpaper patterns sometimes a solid rug is the best option. Blush is a color my clients request a lot, and this subtle brushstroke style blends in with whites and ivories too.
5. Aracelli Rug: This rug is a true statement maker. I especially like this style for a young girl's room since the colors are a little more vibrant. Paired with light feminine furniture, this rug would be absolutely stunning!
6. Jassa Rug: This is a much bolder take on a hand-tufted wool rug, but the saturated and vibrant colorway is just gorgeous. The super light shade of blue in the diamond motif would make for the perfect paint pairing.
7. Serene Tufted Rug: The macrame trend isn't for everyone, but for a globally inspired space this rug is perfect. There are so many great colors to pull from as an accent and the texture can't be beat!
8. Cady Rug: This hand-loomed wool rug is top notch on quality. It's simple in concept but the chunky tassels and raised diamond and dot pattern make this rug extra special.
9. Arches Rug: For more bohemian styled spaces, I opt for a deeper shade of ivory rather than white or light gray. This color feels a little more rustic and lived-in. Like the Faye rug, this one also features a raised pattern which is great for adding interest without overpowering a design.
10.Rachel Tufted Rug: I find that the subtle black and white motif of this rug really works nicely with a Scandinavian styled nursery. The pile is deep and plush which is a major point for a nursery rug. Trust me when I say you will be spending a great deal of time sitting and playing on it!
11. Faux Sheepskin Rug (similar): What nursery couldn't use the addition of a sheepskin rug? These are perfect nestled into a reading nook or placed at the base of the crib. I like layering these on the area rug for an added layer of texture. Plus they are super soft and cozy AND machine washable.
Tip: Is there a special rug that you have come across that is just out of your budget? Opt for a smaller size and layer it on top of a budget-friendly neutral rug. The layered effect with lend to an eclectic feel and will help to show off the rug style you love at a portion of the price tag.
Do you prefer to go bold with your rugs or to opt for a more neutral feel?
*This post may contain affiliate links, but don't worry, I only link items that I 100% recommend!*
[et_bloom_inline optin_id=optin_10]