Finding special gifts for the holiday season should be a joy and an exciting time, especially when it comes to buying presents for the little ones! With the majority of gift-buying being done online these days, the stress of crowds and traffic can be avoided. All that remains is deciding on the perfect present for that special little one in your life. To help you out a bit, I have curated a holiday gift guide with a few of my favorites from this season. Shopping online for baby or kid's gifts can be completely overwhelming, so hopefully this guide will help you narrow things down. Your special one is sure to be thrilled with any of the finds below!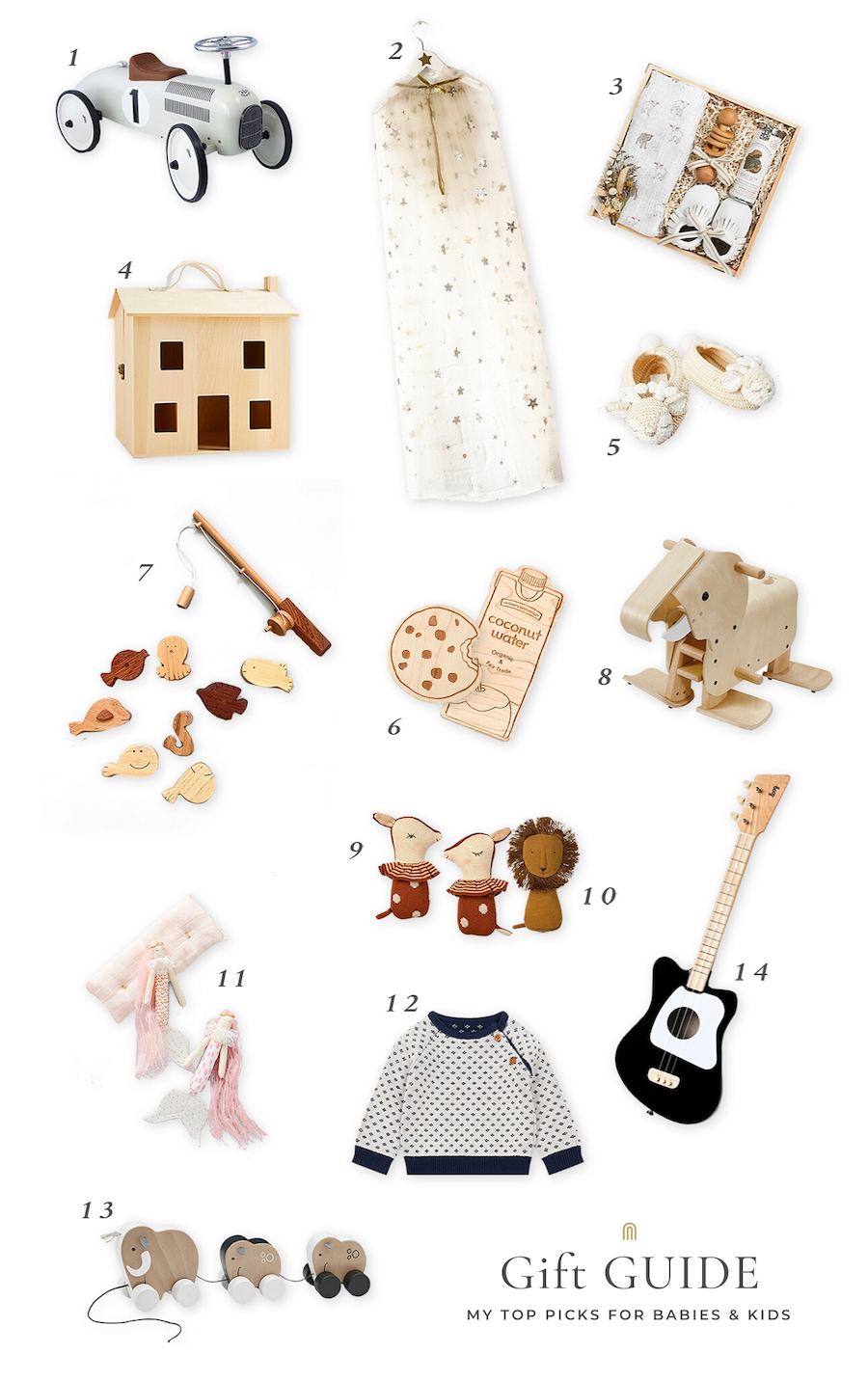 Vilac Ride-On Car: What child doesn't dream of becoming a race car driver? The classic vintage feel of this piece is a nice alternative to the typical bright and colorful toy cars and bikes.
Embroidered Fairy Cape: Playing dress-up is such a great way to get a child's imagination flowing. This fairy cape is sure to spark some adventures!
Loved and Found Curated Gift Box: Can't decide what to buy? This curated gift box takes the work out of gift giving-wrapping and all.
Olli Ella Dollhouse: You may have seen this dollhouse in one of my recent blog posts, but it is so adorable that it had to make the list! I fell in love with the neutral feel and the handle which allows your child to carry the house around with them. Scandinavian decor is so popular right now, and this minimalist dollhouse will fit right in.
Crocheted Booties: Booties are always a great gift for a new baby, but a crocheted animal design on these makes them extra special!
Faux Food Teethers: The idea behind these teethers is totally brilliant! I mean, coconut water? Adorable and hilarious.
Wooden Fishing Play Set: I love a company that gives back. What a great way to be generous during the holidays while still getting a gift for someone you know and love! Odin Parker gives meals to needy children for each toy purchased. Not to mention, this fishing set is interactive and absolutely adorable!
Elephant Walking Training Toy: If you haven't noticed, wood toys are all the rage this year! The simplicity of this natural style is a nice contrast to the high tech gifts that we are typically drawn to
Knit Bambi Rattles: Rattles are another great gift option for a new baby! Like booties, this is an item you can never quite have enough of. I fell in love with the sweet style of this Bambi pair.
Lion Rattle: Same as above, but an adorable Scandinavian-inspired lion.
Little French Rag Mermaid Dolls: Textile dolls and animals are so popular right now, and I completely understand why! The soft material makes these dual-function as play toys as well as a cuddle buddy. These pink mermaid dolls are sure to excite any young girl!
Cotton Cashmere Cardigan: Clothes may not be the most exciting gift when you are young, but a warm winter sweater is the perfect practical gift that will get plenty of use over the holiday season.
Pull-along Mammouth Family: I love a toy that serves a function, and this adorable mammoth family will help to get baby walking in no time!
Loog Mini Guitar: This guitar is more than just a stylish toy, it actually works alongside an app to teach your child to play the guitar—such a great idea. I've used this in the acrylic version as wall decor in a kid's room too!
Aside from the gifts above, one of my favorite holiday ideas for kids is to donate to charity together, if they are old enough, of course. You can have them help you decide which charity to choose, go through their old toys together, and really make it a family memory. You can also just donate money and have them help you choose an amount or draw a card to send in with a check. Use your imagination! Here are a few of my favorite charities:
A Sense Of Home: You may have heard me talk about this charity before, and it's because they are amazing! They work with kids who have aged out of foster care furnish and decorate their first living space, giving them a real "sense of home". They are based in Los Angeles, but they do have a public Amazon wishlist for items they are in need of.
Baby2Baby: You may have heard of this one because of their celebrity roster, but they do great work. Baby2Baby provides children who are living in poverty with essentials that they need, like diapers, clothing and other necessities. They are also Los Angeles based, but take item and cash donations.
Happy shopping (and donating)!
*This post may contain affiliate links, but don't worry, I only link items that I 100% recommend!*
[et_bloom_inline optin_id=optin_10]