Have you started shopping for the holidays yet? It seems like everything needs to be ordered early this year! If we weren't online shoppers already, these last couple of years definitely gave us some practice. We will likely be dealing with shipping delays this year too so ordering early is wise! If you need a little help getting a head start, keep reading below. In this post you will find some of my favorite toys and gifts for kids and babies. These are items that are made to last, designed to spark imaginative play, and mindfully crafted—these are toys that will be used again and again. Happy shopping!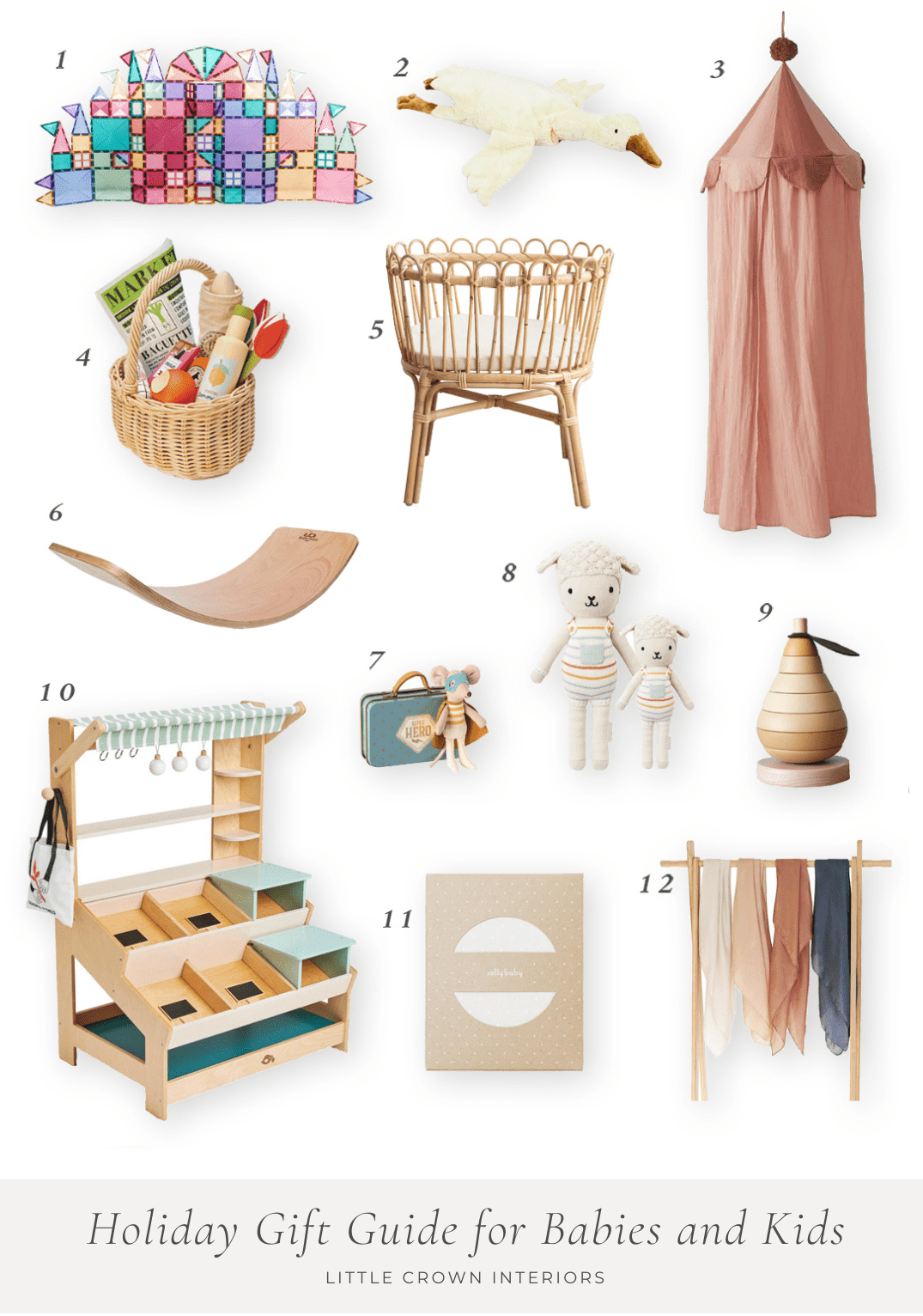 1. Connetix: Magnetic tiles have become a super popular toy during the recent years. This set has 120 tiles and the imaginative play and creations you can build are truly endless. They are a great STEAM activity, encourage open-ended play, and are educational for a range of ages (colors, shape, sorting, geometry). Plus, they are FUN! This company makes some of the best of the best in the world of magnetic tiles and this pretty pastel set makes them extra pretty and fun to display. If you are shopping for older children who are ready for a challenge, this super cool ball run might be a fun expansion as well.
2. Cuddly Goose: This is an adorable goose handcrafted with care, made of sheepskin and organic cotton. Available in two sizes, both have an insert that can be removed to be warmed to make a warming pillow or it can be cooled (perfect remedy for little owies). If you are looking for a vegan option, this company has that too! Sustainably sourced and made to the highest standards.
3. Canopy: Canopies are magical, don't you think? You don't need a lot of space to create a reading nook, a cozy play corner or a little fort with a stunning canopy. Crafted with organic cotton and non toxic dyes and it is also available in a muted blue or an earth tone. Just make sure not to use a canopy over a crib or with a child that's too young.
4. Wicker Shopping Basket: This sweet basket is filled to the brim with charming and quirky wooden food and pretend farmers market finds. This set is high quality and non-toxic, and is super fun for sibling play too!
5. Doll Bed: How cute is this little rattan doll bed? It feels like an heirloom piece, ready to be loved by the whole family. Rattan and wicker are super popular now as well, so if you like that style, it will fit right in with the rest of your home.
6. Wobble Board: Another open-ended toy that encourages movement and creativity. It helps stimulate the vestibular system (which involves the inner ear and balance) to help kids learn those important skills. It also has a clean minimalist design.
7. Meileg Super Hero Mouse : Meileg is modern design meets nostalgic, old-fashioned imagination. A whole world of little mice and adorable accessories can be used for hours of imaginative play, and the set is small enough to travel with or fit into a doll house.
8. Avery the Lamb: These Cuddle + Kind hand knit dolls are 100% cotton and made to last—they have a forever guarantee! They come in small and large sizes and have tons of cute options. This company also gives 10 meals to a child in need per purchased doll!
9. Wooden Pear Stacker (No longer available): This wooden pear stacker is so gorgeous that it will double as decor while you are waiting for your baby to grow into it. The light wood will work with any decor!
10. Pretend General Store: This super adorable little pretend store is ready for your child to add everything you need for a pretend market stand. It has a compact design and will fit in a range of spaces. This is a larger piece, it's always a good idea to check the dimensions to make sure it will fit in your home.
11. Solly Dolly Wrap: If your little one is your mini then this one's for you! Made with super soft fabric and with adorable prints, you can be twinning with your little one.
12. Play Silks: Play silks are super fun open ended toys. Grab a few of these and put them in a reachable basket and watch your child's imagination soar. I also love the idea of wrapping other gifts in silks instead of paper for less-waste wrapping option!
*This post may contain affiliate links, but don't worry, I only link items that I 100% recommend! You can view our Disclaimer here.