Every now and then, I'll get asked to work on a project that's truly unique. This was one of those projects! My client owns a home that was very traditional in style, and wanted to create a stunning design for her granddaughter's room. The room was BIG. So big, that there was space for a bed area, a large sitting area, a homework area and plenty of space leftover.
The architecture of the room was striking, and included lots of wall molding and columns that helped to divide the space. Those columns you'll see in the design board below represent that (they're not just random columns).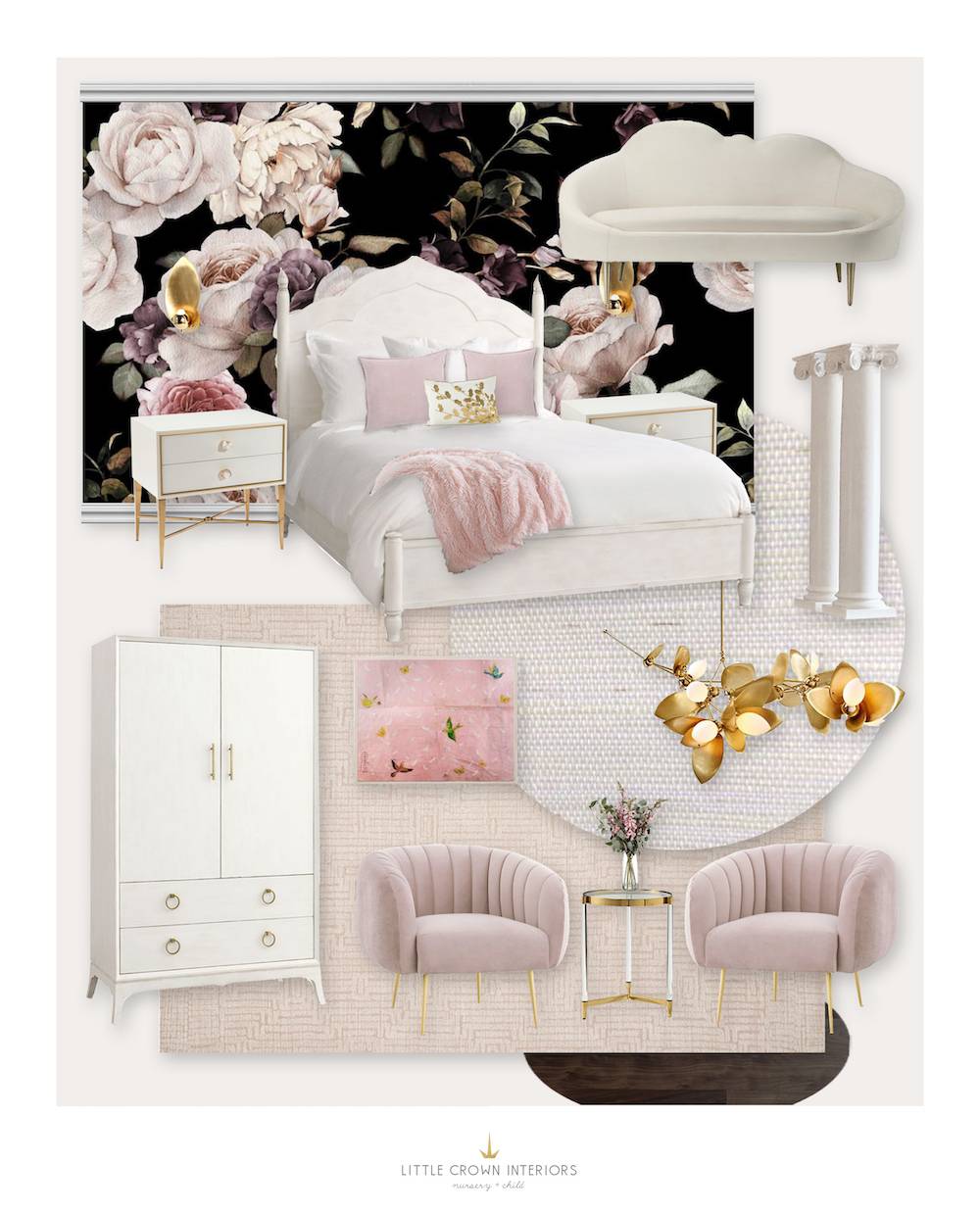 Wallpaper | Cloud Settee | Pink Chair (similar) | Bed | Pink Bird Artwork
The bed area was situated in its own area with columns that divided it from the rest of the space. It had a wall that worked perfectly as an accent wall, so I suggested creating a focal wall with wallpaper to help break up the large space. I also thought that a darker feature wall would help to bring depth to the room. I started with a bold dark floral wallpaper behind the bed, and then chose a gorgeous bed and nightstands.
To add a little whimsy, there's even a cloud shaped settee! I absolutely fell in love with that piece when I saw it. It's modern, but still fits in nicely with the architecture of the room. There's an armoire as well that's from the same custom collection as the bed.
It's hard to tell from the rendering, but there are actually wall sconces above the nightstands as well. They match the chandelier, which is an unbelievably stunning custom made piece.
For the seating area, I chose blush velvet chairs and put a side table in between with some gold to pull everything together. Lots of family members like to hang out in there, so it was important to have seating for adults too. A pretty blush rug and unique art fill out the rest of the design.
This might be the most glamorous e-design I've ever done! Granted, the project had a very high budget and the room was very large, so I was able to choose some truly spectacular items and customize most things.
*This post may contain affiliate links, but don't worry, I only link items that I 100% recommend! You can view our Disclaimer here.