It's time for another nursery e-design reveal! If you've been following me on Instagram, you know that I've beeb so busy with e-designs that I haven't had much time to reveal them on the blog. I must have 10 that I haven't gotten to yet!
This e-design client wanted her nursery to feel fresh and breezy with touches of both modern and bohemian. Her home had more of a modern feel, but she wanted the nursery to be a bit more relaxed while also fitting the style of the home overall.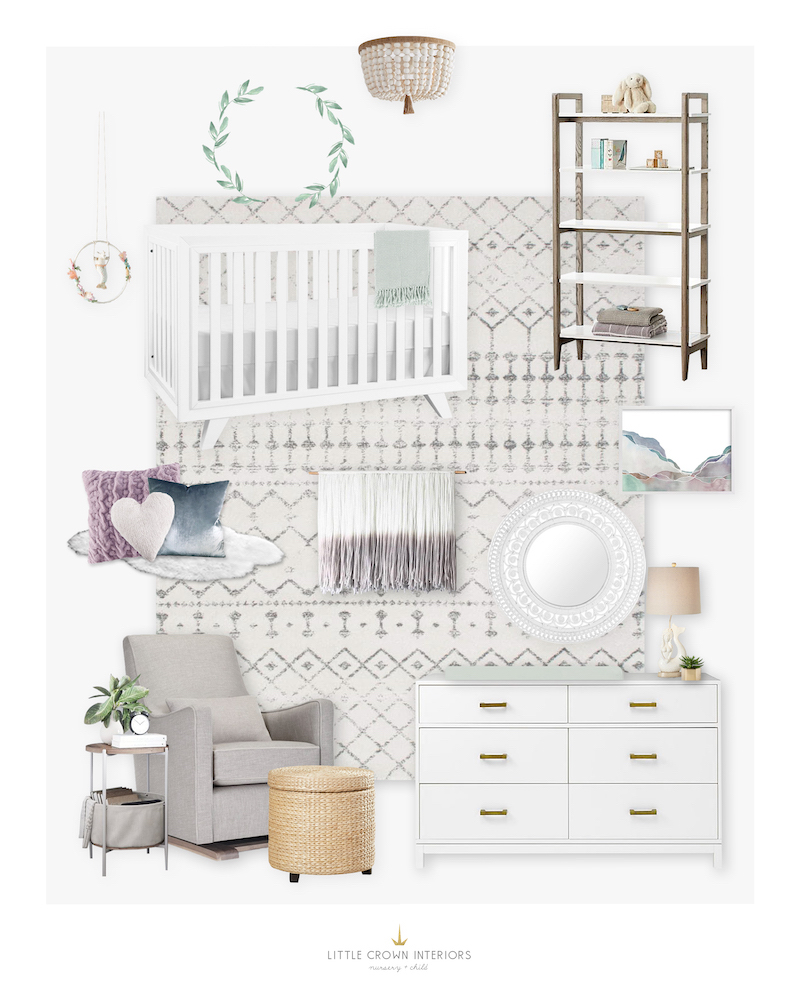 White Dresser | White Crib | Modern Glider | Rattan Ottoman | Bookcase | Side Table | Ceiling Fixture | Custom Blackout Curtains | Purple Throw Pillow (similar) | White Heart Pillow | White Cloud Rug (similar) | Rattan Wall Mirror | Abstract Mountains Art | Lavender Macrame Hanging
When designing this space, I kept a balance of modern and bohemian pieces. The crib, changing table, bookcase and glider all have modern elements, but then I mixed in rattan and woven textures like the ottoman, wall mirror and macrame wall hanging.
This room wasn't huge (just like most nurseries), but my client did want to try and add a small spot for reading and snuggling. I chose the super cozy cloud rug with some throw pillows to create a small but intimate spot just for that. I've used that cloud rug in tons of designs, and it is by far one of the most popular items—it can go in the washing machine!
One of my favorite finds for this nursery was the storage side table. That canvas bin is actually built into the table, so it fits perfectly. When designing small spaces, I always try to find any extra storage space, even if it's small.
Of course, you'll see the tiny mermaid touches in the lamp and mobile. Combined with her already existing stuffed animals and toys, it's just the right amount of mermaid!
WANT YOUR OWN NURSERY E-DESIGN?
Contact me at this link! My schedule fills up quickly for e-designs, so get on the list now!
*This post contains affiliate links, but don't worry, I only link products that I would 100% recommend!*
[et_bloom_inline optin_id=optin_10]