I've worked quite a bit with Scandinavian nursery decor this year. So many of my clients have been asking for black and white nursery designs with modern accents!
The E-Design below is one that I created for a client who was in love with the contrast of a black and white color scheme softened with Scandinavian touches. In addition, she also requested some animal artwork over the crib, removable wallpaper, and some subtle hints of gold and acrylic.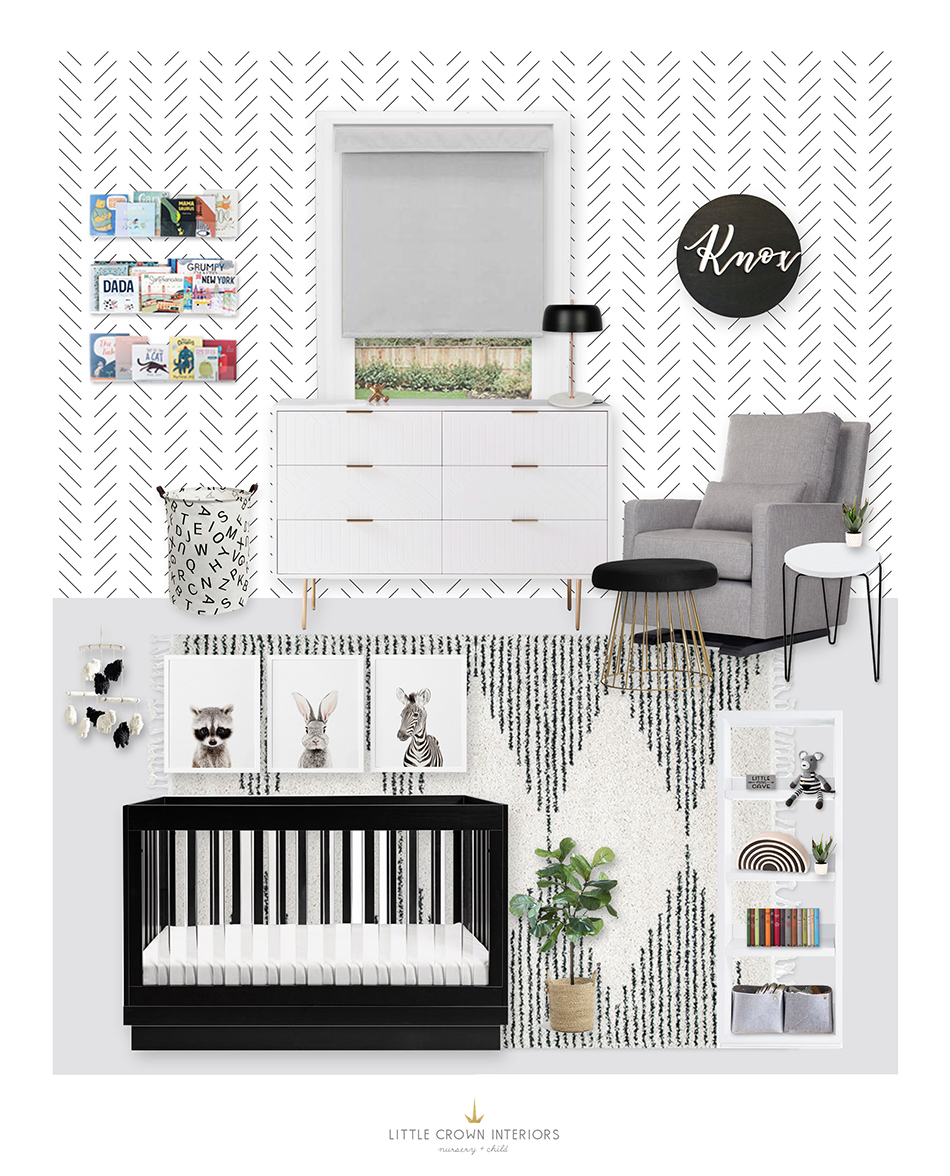 Wallpaper | Crib | Dresser | Glider | Ottoman | Side Table | Bookcase | Rug | Hamper | Mobile | Acrylic Shelves | Round Wall Name | Animal Artwork
So many of my clients ask for a wallpaper accent wall, and because there are so many removable options, it works great for my E-Design clients. I knew that finding the right pattern was crucial for defining the style of this space. For monochromatic designs, I aim to select a pattern that features a white background with small black detailing to keep the wall from darkening the space (especially if it's small, which most nurseries are). This also allowed me to choose a darker and more dramatic crib style. The acrylic accents on the Harlow Acrylic Crib help to lighten the visual weight of the piece as well. I then mirrored the acrylic detailing with the wall ledges along the opposite wall.
One item that the client was sure she wanted included in the design was this adorable set of animal art prints. Although these appear to be grayscale from a distance, they actual have a spectrum of subtle neutral color which helps to warm up the otherwise neutral space. Simple and sweet artwork like this pairs perfectly with the Scandinavian style.
Touches of gray as a neutral help to tone down the contrast of black and white in the space. I have used gray on the walls as well as on several accent pieces. I then made sure to add color through toys, books and plant-life to provide a more cozy and welcoming feel. Without a bit of color, this sort of style can feel cold and unfinished. A little warmth in a space goes a long way!
For help designing your own black and white nursery, check out my recent post on how to use black and white in the nursery.
*This post may contain affiliate links, but don't worry, I only link items that I 100% recommend!*
[et_bloom_inline optin_id=optin_10]