You may have heard me mention Gray Malin photography before, and it's because I really love it. So when I got an E-Design inquiry from a client who wanted to design her nursery around three Gray Malin prints, you could say I was very excited! She had already picked out her favorite photographs, and needed help creating the rest of the nursery design around them.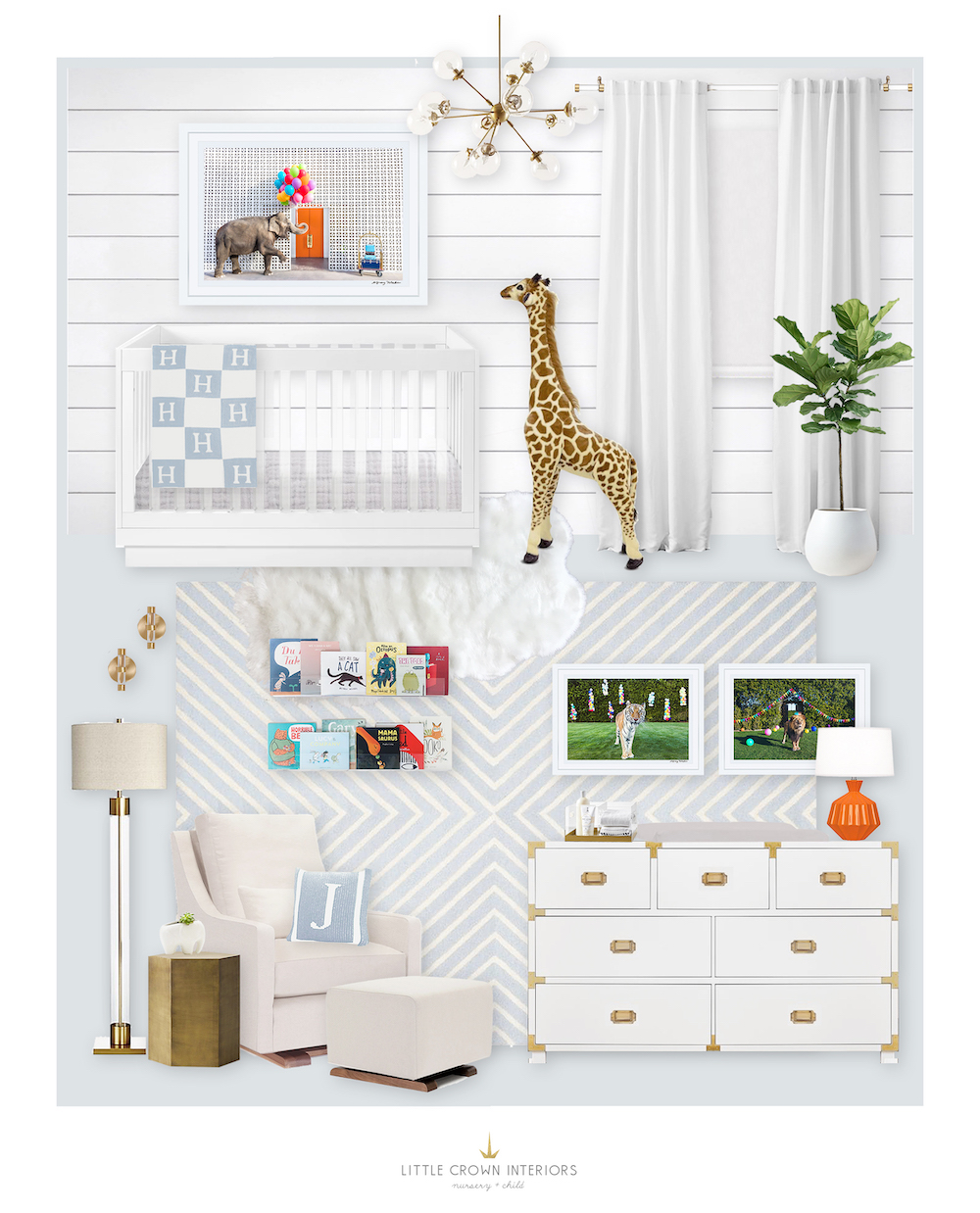 Wall Paneling | Crib | Dresser | Glider | Rug | Side Table | Ceiling Pendant | Ottoman | Wall Shelves | Floor Lamp | Table Lamp | Layering Rug | Elephant Art | Lion Art | Tiger Art | Curtains | Curtain Hardware | Wall Hooks | Crib Sheets | Throw Blanket | Stuffed Giraffe | Decorative Hampers
One of the bigger challenges in this nursery was that the house was being built, so we didn't get accurate photos until after we'd started looking at pieces. We had an idea from the rough measurements, but it's always better to see the room and do a final measure with drywall and molding installed! But alas, we were able to get the design underway.
My client wanted a design with lots of white and blue that would allow the Gray Malin pieces to pop. For her inspiration photos, she had a few that were a bit modern and a few that were more traditional, so I went with a design that married the two. The crib is modern with acrylic detail which is mirrored in the wall ledges, and some of the other decor items. The wallpaper is a more transitional pattern and the glider has more traditional lines while also still looking tailored and clean.
What's so great about the photography in this space is that there are so many colors to pull from for accessories. Just that tiny touch of orange in the table lamp makes the whole room pop, and of course you know I always love adding a floor plant to bring in some greenery!
To make sure this nursery had a sophisticated look, I chose a paint color with some gray in it, rather than a straight baby blue. It's more of a light slate blue. Colors that are a little desaturated often read more sophisticated and high end. The rug, pillow and baby blanket also have that same light slate blue tone.
*This post contains affiliate links, but don't worry, I only link products that I would 100% recommend!*
[et_bloom_inline optin_id=optin_10]