With Valentine's Day right around the corner, we decided to gather up some of our favorite heart decor items to add some love into your nursery or kid's room! These heart inspired pieces can be used all year round, but you can also include them just for a holiday touch. Heart decor is always on our list for nursery designs, no matter the time of year, so it's definitely a great choice either way.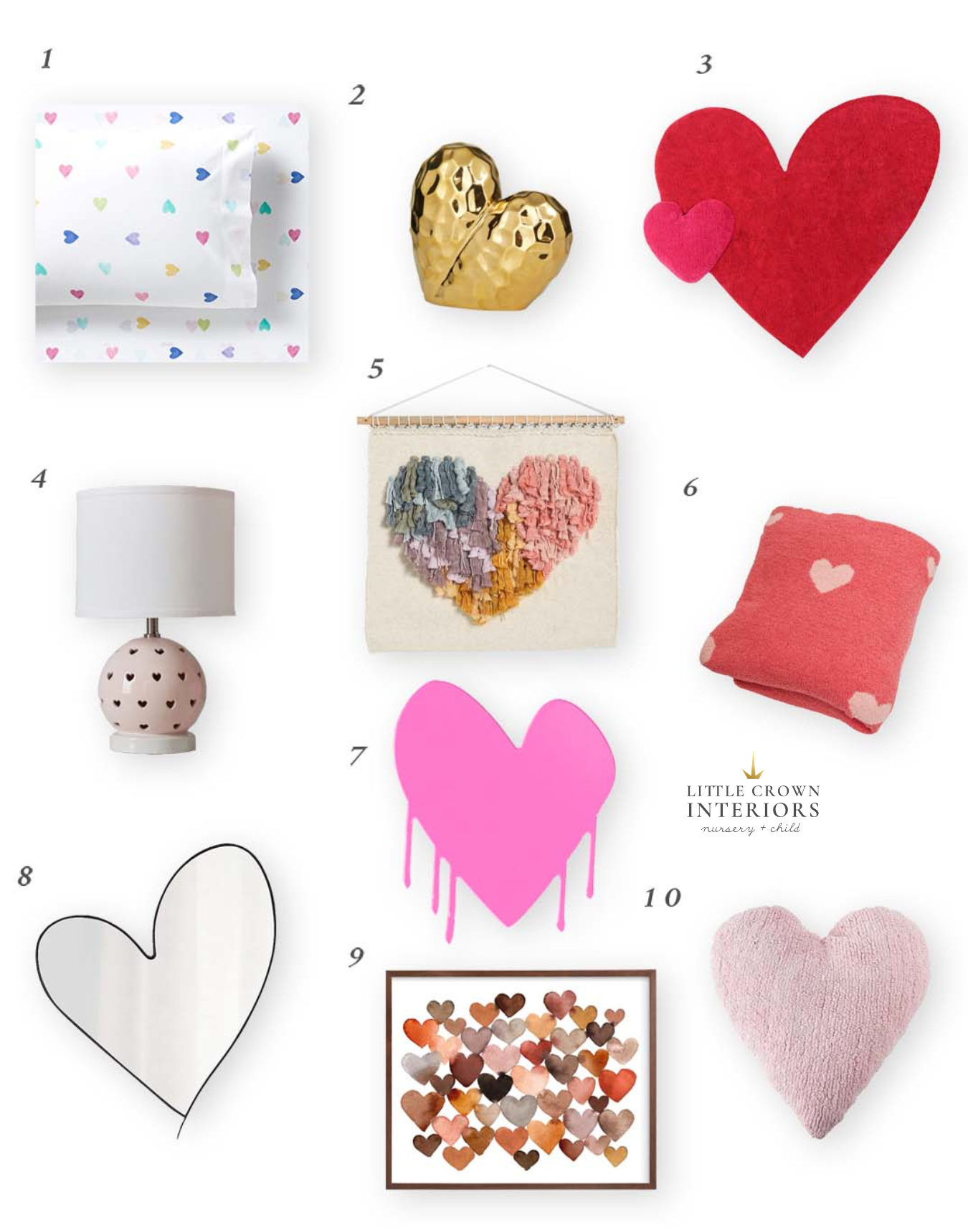 1. Classic Heart Sheets: We design a lot of kid's rooms and sneaking in some fun patterned sheets is a great way to give them the color and pattern they want. These heart sheets are so sweet and the color palette is both soft and bright.
2. Gold Heart Sculpture: We're always looking for small items to add as decor in nurseries and this gold heart sculpture would be perfect! Whether you're designing your nursery as classic or modern, metallics are always a good idea for adding a little pop to an empty surface. 
3. Puffy Heart Rug: More often than not, the nurseries we design are already carpeted so adding a large area rug won't work. We love small accent rugs in places that will be used often or to create a separate area for playtime and tummy time. This little heart rug would be perfect for adding a pop of color to a room!
4. Heart Cutout Lamp: This table lamp can also double as a night light with these cute heart cutouts! We love a simple touch of texture that also functions as a light source.
5. Heart Wall Tapestry: Wall tapestries are great alternatives to artwork since they are lightweight and easy to switch out. We love this fluffy heart look with layered muted colors. This type of art would be great over a child's bed.
6. Plush Heart Blanket: If you've been following Little Crown Interiors for a while, you'll know that we always include a blanket in every project we design. They provide so much function and look great too! This one is buttery soft and has an adorable heart pattern.
7. Drippy Heart Cut-Out Artwork: We're big fans of Kerri Rosenthal's colorful and whimsical artwork, and love the drippy heart series in particular. They have a simple silhouette yet make a bold statement. These come in lots of sizes and colors too!
8. Heart Wall Mirror: Mirrors are always something we feature in our nursery designs and this one is perfect for a baby girl's nursery! The hand-drawn heart shape adds a cute organic touch with the simple edge.
9. Clay Heart Artwork: Art is something people struggle with the most in rooms because it always needs to feel unique and integrated into the design's often a more personal choice. This heart artwork piece is so sweet and would appeal to a lot of people—we love the muted tones!
10. Pink Heart Pillow: This heart pillow adds great texture and shape when placed on a bed or a glider. We've used this pillow before in this floral nursery design. It's a fun texture and super soft!
*This post may contain affiliate links, but don't worry, I only link items that we 100% recommend! You can view our Disclaimer here.