We design a lot of playrooms at Little Crown, and they can actually be harder to design than a nursery! Typically, the main two challenges in playrooms are storage and open space. There aren't a ton of options available for playroom-specific furniture, so clients often get overwhelmed trying to piecemeal other furniture. That's why playrooms often feel disjointed and messy. We love to surprise clients with furniture that's not only kid-friendly but design-worthy as well! Below we round up our favorite items that we can't wait to put in some of our upcoming playroom designs.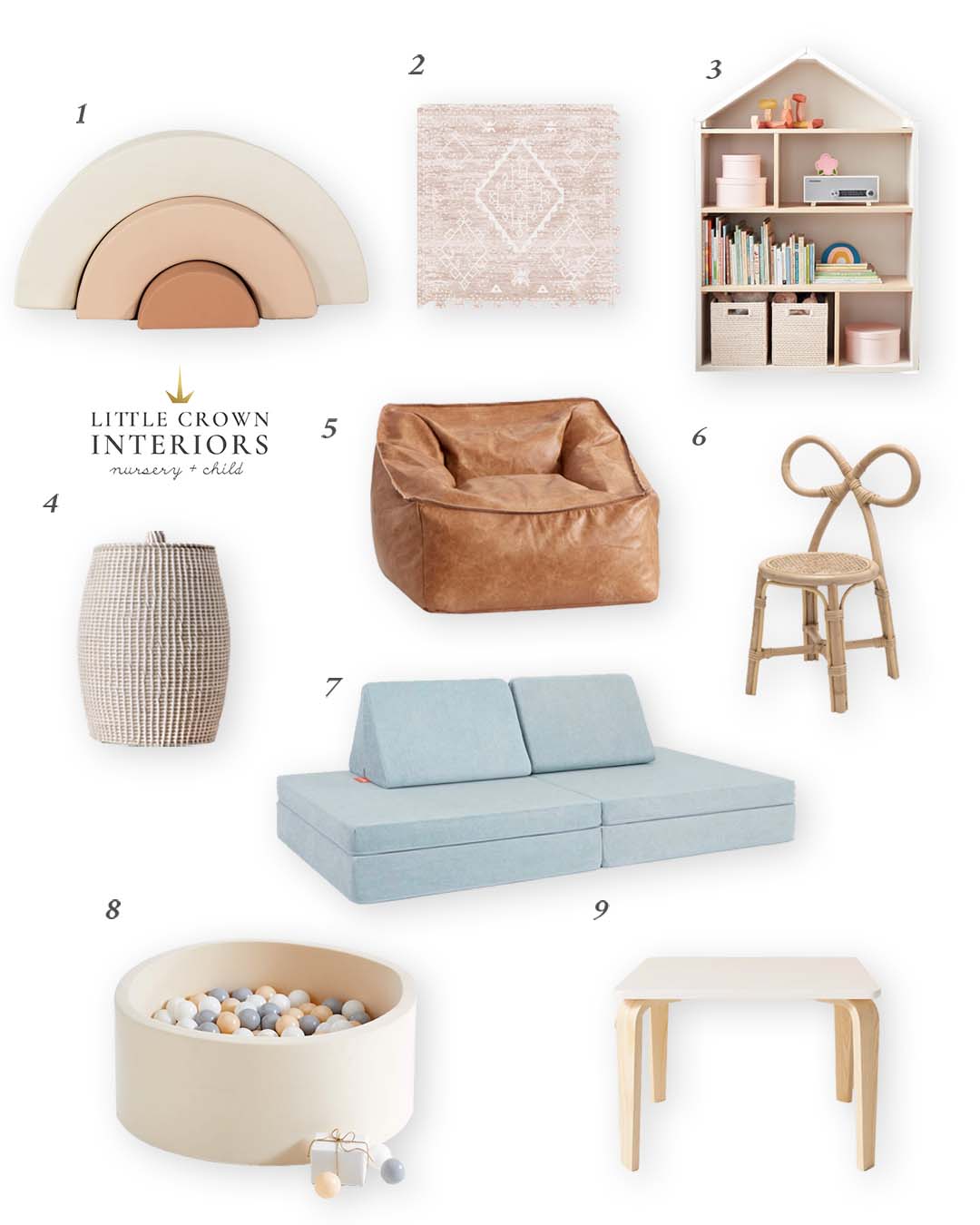 1. Arc Gym: We're starting with the perfect aesthetic play piece from Gathre, the arc floor gym. These pieces can be pieced together or used separately and come in many cute color combos. The arch shapes are also super fun!
2. Neutral Play Mat: A soft surface to play on is always needed in a playroom! We love these play mats that add some cushion and a little pattern and texture to a room (without being obnoxious). You can make these any size to fit your space and it's a bonus that they are easy to wipe down and clean. 
3. House Shaped Bookcase: This house bookcase is cute and functional, providing a playhouse during playtime and a bookshelf to store toys after. We love the different size cubbies for all the toys and bins!
4. Woven Bin: We feature this bin in many of our nurseries because it can double as a hamper or a storage bin for toys and blankets. Another beautiful texture yet functional design to add to your playroom. They also come in a couple of sizes, so they can be great for all different toys and items. 
5. Floor Chair: Low-profile chairs are an excellent option for playrooms. There are a lot on the market right now, but we love that this one is bean bag-like but has a structured back and arms. The leather is also a plus, as it is easy to wipe off!
6. Kid's Bow Chair: Items made in children's size are always lovely to include in playrooms to make everything accessible and on their level! We love the bow detail on this chair, and the rattan gives it an elevated look. 
7. Play Sofa: This is one of the top requested sofas for playrooms since it's modular and can be arranged in different shapes. It also comes in multiple colors, and the covers are removable and machine washable.
8. Ball Pit: Who wouldn't want a ball pit in their playroom? This is the ball pit of our dreams as designers, with its curated colors and modern feel. We can't wait to put this in an upcoming playroom!
10. Activity Table: Smaller play tables are great in playrooms since they can be easily moved around. We love the modern design of this one with its light wood details!
*This post may contain affiliate links, but don't worry, I only link items that I 100% recommend! You can view our Disclaimer here.