From baby shower through the first several years of your baby's life, you will undoubtedly accumulate a lot of stuffed animals! Luckily, toys have come a long way aesthetically and don't need to be hidden in the closet. Stuffed animals have become more like art and can be used as a form of decor to style your nursery. By adding smaller stuffed animals to a book ledge or glider seat, you can use them to your advantage! You can even add a larger stuffed animal, like an oversized giraffe, to fill an awkward corner. You can find stuffed toys to fit just about any theme. From safari animals to cacti to fruit and vegetables, the stuffed animal market is dense. After scouring some of my go-to online retailers, I've compiled a list of some favorites to share with you: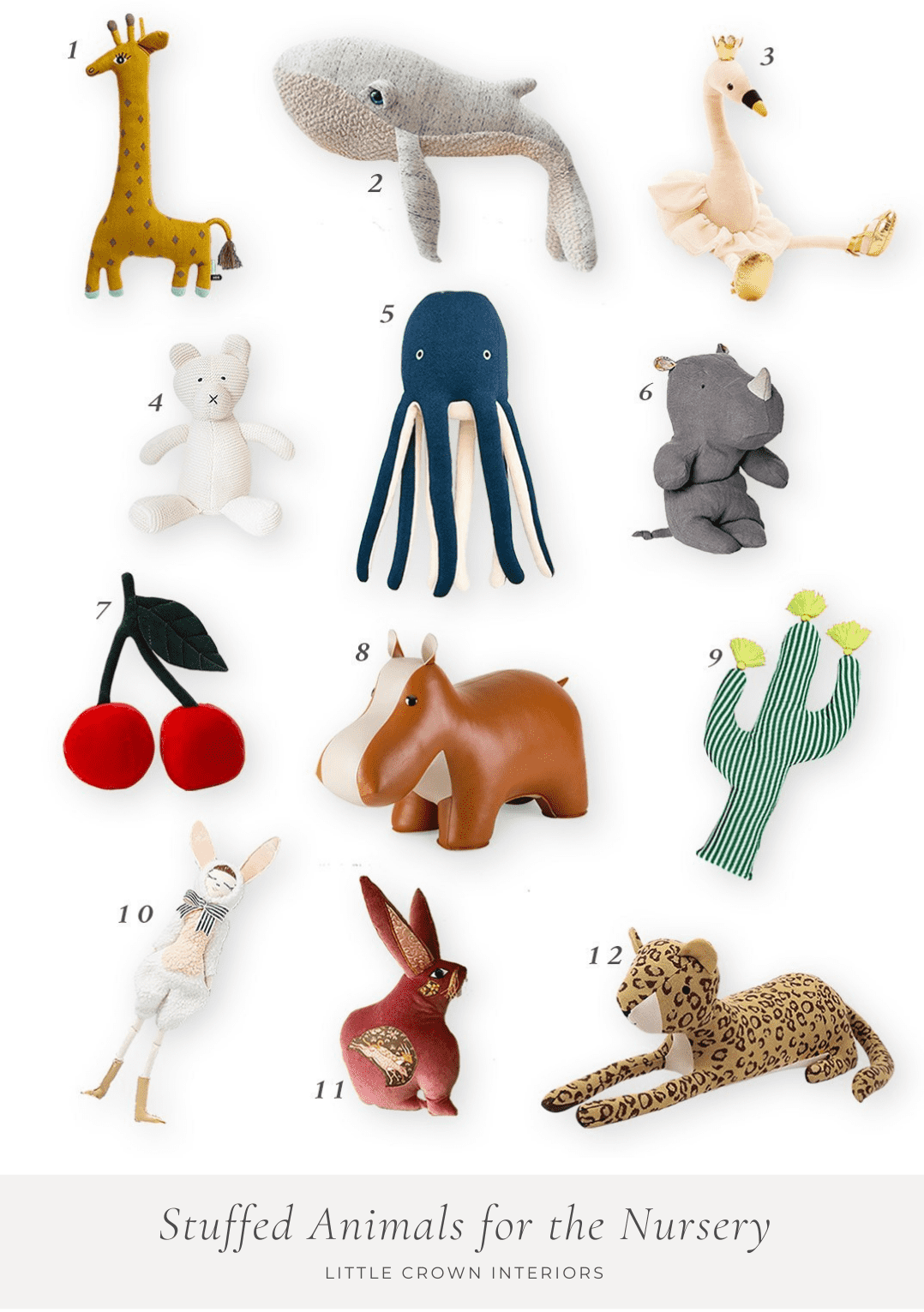 Noah the Giraffe: Towering in at 25″ tall, this cuddly giraffe will seem life-like to your little one. I'm a huge fan of Danish style toys for their simplicity. This is definitely a toy you would want to display and one that can make a humble impact on your design.
Huge Handmade Whale: Another oversized find! This creature from the deep is handmade in cotton jersey fabric. This fellow will likely double as your next pillow. Perfect for quick naps with baby in the nursery.
Fancy the Swan: I am always on the lookout for the latest Jellycat releases. Their designs are the cutest! This elegant swan is practically made for a blush and gold themed nursery.
Organic Cotton Knit Bear: This classic knit bear was designed as a compliment to the Zestt Organics knitted baby blanket collection. What a perfect pairing for a baby shower gift! Plus the size of this adorable friend makes him perfectly portable.
Cosmo Octopus Toy: Nothing is more comforting for baby than being held in a loved ones arms. This nearly life-sized octopus offers eight legs to hold onto! His knit organic cotton legs make him extra cozy to cling to (and he's also really fun to style with).
Little Grey Rhino (no longer available): Denmark brand Maileg is as adorable as they come. Their designs are so soft and gentle and many pair with friends and accessories to add to the collection.
Cherries Velvet Cushion: If you are after a less traditional stuffed toy, this pair of velvet cherries is sure to add a bold pop of color to your design. I love how this plush could easily work for any age group. Not going to lie, I kind of want it for my bedroom.
Hippo Stool: OK, so this one isn't technically a stuffed animal, but this hippo stool is at the top of my list. Leather decor can be used to add sophistication to a nursery or child's space.
Knitted Cactus Cushion: The cactus nursery theme is still going strong! In case you want to incorporate the theme in smaller doses, a knitted cactus cushion paired with some desert photography would make for a stunning yet subtle motif.
White Rabbit Doll: Anthropologie always carries such classic stuffed toys perfect for decorating a nursery. Their collaboration with Cat and the Shoe is pulled straight from a fairy tale. Part doll, part animal, your child will love this whimsical friend!
Pink Velvet Rabbit: A true piece of art, this rabbit pillow is crafted from antique velvet and patterned textiles. Each is handmade and every toy is made to be unique. This is a piece that will add loads of character to your space.
Rani Leopard Toy: A final oversized find, this gold embroidered leopard would have a cozy home atop a fur rug in a reading nook. The shape and size might act as a back pillow for baby during reading time. Leopard and cheetah prints are a major design trend right now, so using a stuffed animal like this is a great way to add it in without going overboard.
Wondering how I style stuffed animals in my nursery designs? Here are a few shots: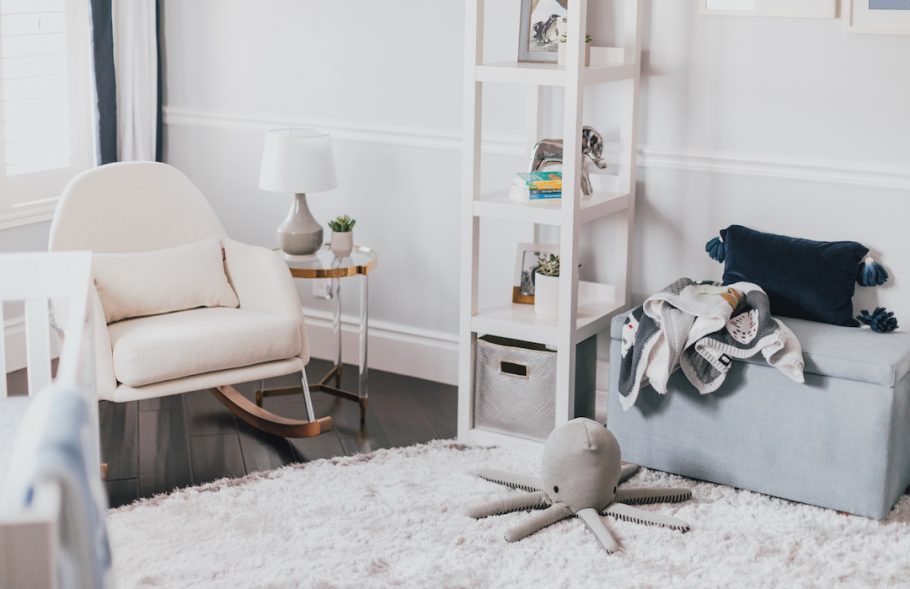 This Navy Modern Nursery was such a fun one to design, and this adorable octopus makes the room feel so whimsical.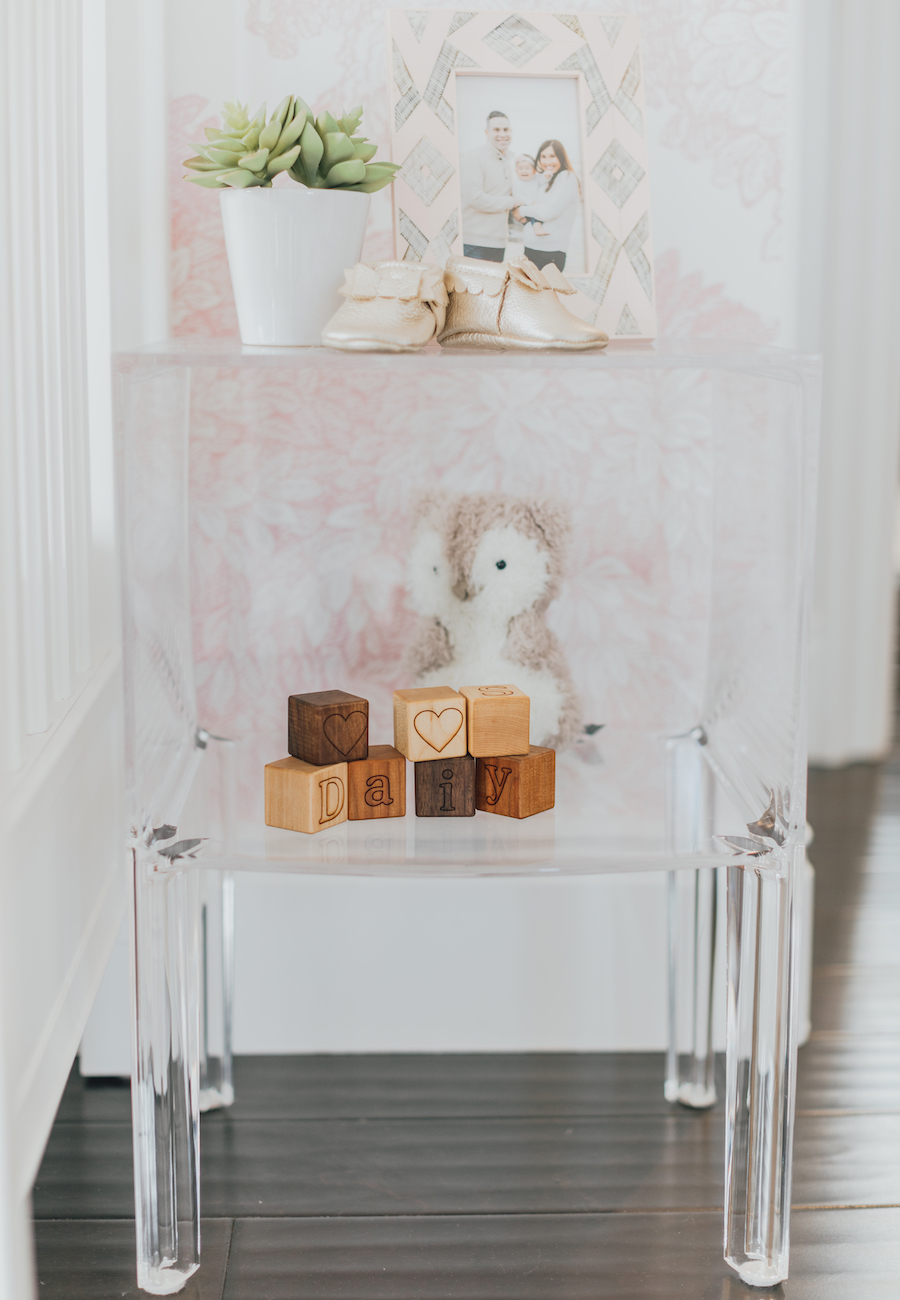 Stuffed animals can even be placed on a side table or small bookshelf. They add a touch of coziness to the space, and can be easily switched out. More photos of this Pink Nature Nursery here.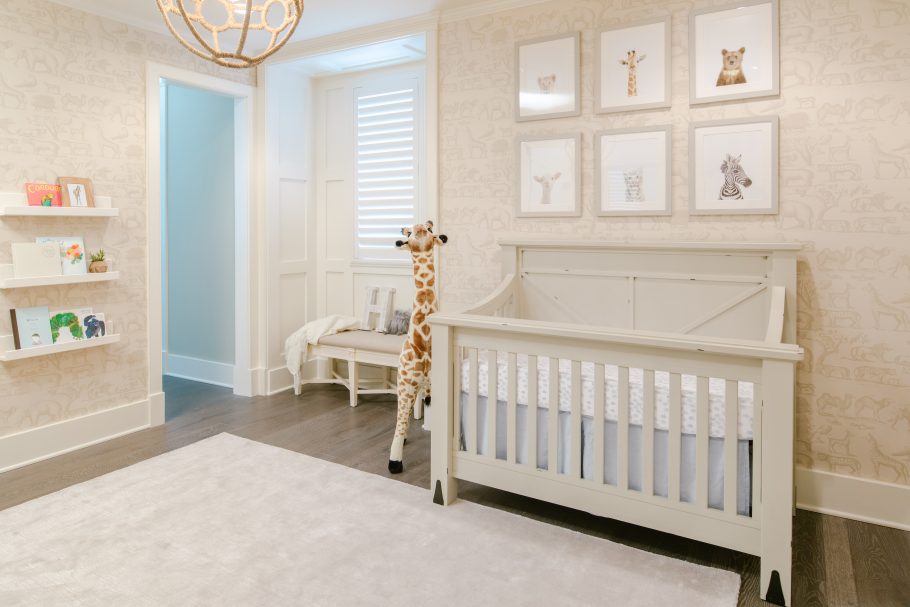 This Neutral Safari Nursery has a pretty giraffe stuffed animal that accents the overall animal-themed design.
*This post may contain affiliate links, but don't worry, I only link items that I 100% recommend!*
[et_bloom_inline optin_id=optin_10]