We spend a lot of time choosing artwork for nurseries because it needs to not only be stylish, but also safe. When it comes to art that's going over a crib or child's bed, we have to pay special attention to the type of art as well as the size, weight and how it can be hung. Wall hangings are great alternatives to framed artwork in a nursery! They provide texture through different mediums such as metal or woven materials, but are often light weight and super easy to hang. Below are some of our favorite wall hanging options we love right now!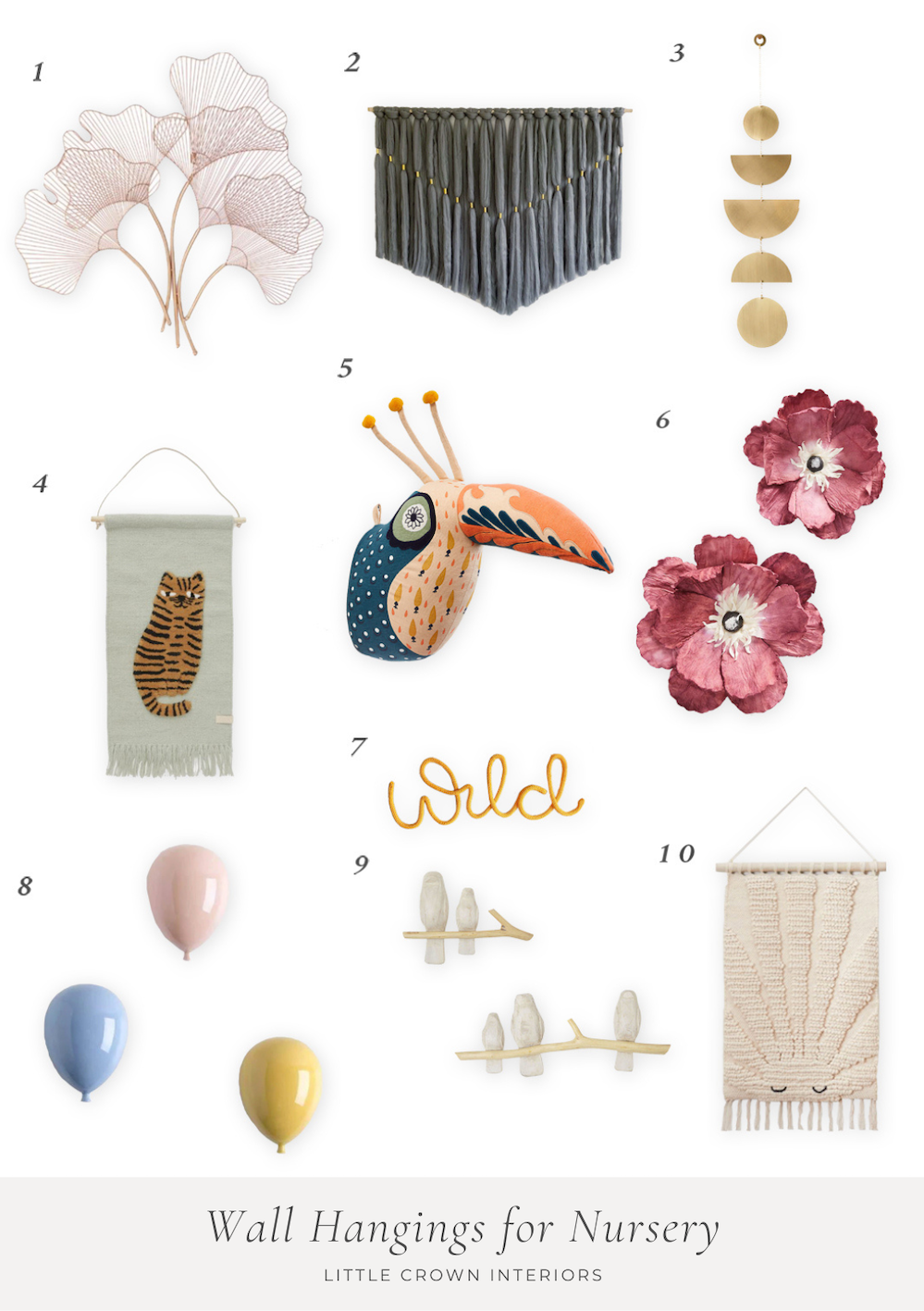 1. Ginko Leaf: This beautiful but simplistic metal leaf wall hanging has a natural vibe and would look amazing above a crib or child's bed. For a piece like this, it's important to make sure it's super secure my using multiple screws and wall anchors, and tugging on it to check that it won't budge.
2. Sunwoven Wall Hanging: This woven piece comes in multiple colors and has a more boho look. The slight hints of brass in the middle give it a lot of visual interest!
3. Gold Moon Wall Hanging: This brass piece is simple yet elegant, reminiscent of a wind chime. Vertical wall hangings like this are great for small areas, like the side wall of a closet or between two windows.
4. Tiger Wall Rug: I'm a sucker for anything with a cute animal on it, so this little tiger wall hanging caught my eye. This one would be great in a playroom too.
5. Curious Tucan: This vibrant tucan is a cool pop of color for a room. Its 3D element makes it stand out from a regular art piece. Pairing multiple animal wall heads together can make a statement as well! And if you're creeped out by animal wall heads, you're not alone. Luckily, there are plenty of other options!
6. Paper Flowers: These large paper flowers have a natural look to them and would be so gorgeous over a crib. The large floral trend is still going strong, so this could be a great option if you don't want to commit to a large floral wallpaper.
7. Wild Rope Sign: A completely customizable option! This rope sign comes in multiple colors and any word or name you would like. We used a rope wall name years ago in a nursery, and it was really great. They are super simple, light weight and have that personal touch.
8 .Ceramic Balloons: These are ceramic balloons in various colors that look almost real with the perfect glaze. You can get multiple colors or all in one! Since these are ceramic, they're not the best choice to hang over a crib, but they could go on another side wall in a nursery or kid's room.
9. Perch Wall Decor: You've probably seen a few of our designs that have wall birds in them because they are adorable! This is a new set that we haven't used before, but I love the detail of the little branches.
10. Neutral Sleeping Sun: This is a new design from one of our favorite designers! The neutral sun will be sure to add some light to your nursery, and the soft material feels cozy and bohemian.
What do you think about wall hangings? Or do you prefer traditional framed artwork in the nursery?
*This post may contain affiliate links, but don't worry, I only link items that I 100% recommend! You can view our Disclaimer here.