Finding the nursery glider that fits all of your needs is crucial to how much you will enjoy spending time in the nursery. I place so much emphasis on recommending gliders that I know and love to clients. I always want to be sure that clients understand the importance of this piece! That said, not everyone can splurge on a pricey glider, but luckily, there are so many great options on the market to fit every price point. You can still find some really great options that are more budget-friendly while still getting style and comfort. I hope that your next glider is somewhere on this list!
If you're looking for a rocker instead of a glider, check out this post on nursery rockers for every budget.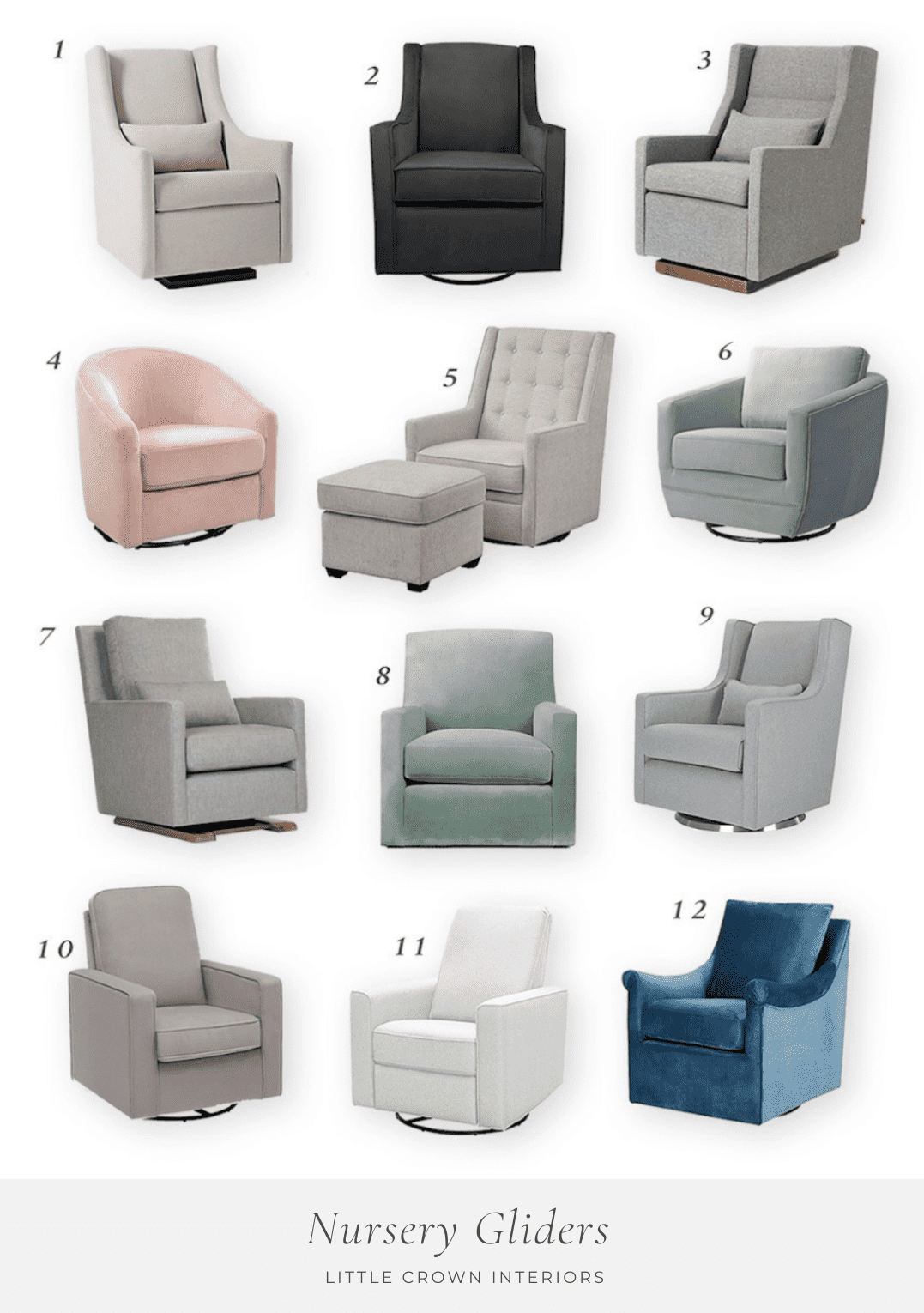 Graham Glider: The Graham Glider is perfect for so many different design styles because of its sloped simplistic frame. Endless fabric options make this a piece that can be customized to fit many color schemes. It is on the pricier end of the list but if this piece falls within your budget, I definitely recommend making the splurge!
Rathbun Swivel Glider: This glider has a super high end feel for a lower price. It is available in the standard range of neutrals with some really fun and bold fabric options mixed in.
Sparrow Glider: The lines of this piece are so strong and structural. This is a great choice for a more masculine and modern nursery. I also really like to find gliders with a base that ties into my furniture selection. Pair this one with a walnut crib and dresser for a super cohesive feel!
Madison Swivel Glider: A blush colored glider is a piece I see requested a lot! This is the perfect option for a small space nursery as the rounded back minimizes the silhouette. The price point is great as well! This is definitely one that I recommend to clients with a smaller or awkward space.
West Hill Glider and Ottoman: I love the masculine and Mid Century vibe of this chair. I also find that many of my clients want a glider that has a matching ottoman. This keeps the design more cohesive and minimal.
Gogh Swivel Glider: The rounded barrel curves of this swivel glider are so chic. Again, a curved piece such as this works really well for smaller scale nurseries since it can sit closer into the corner. The dusty rose fabric option is a really fun choice as well!
Como Modern Glider: Soft and sumptuous, the Como Modern Glider is one you'll sink right into for rest and relaxation! The glide is super smooth and calming. This is probably the most popular glider with my clients—you'll see it in a lot of my work!
Ellia Glider: I adore the light blue-green velvet color of this glider—it's so so unique! From a comfort standpoint, the deep seat and plush cushion make this a super cozy choice. This one also comes in some other really pretty colors.
Nesta Swivel Glider: The stainless steel base on this glider makes it extra special and adds a sleek modern feel. The silhouette is similar to that of the Graham but if you are aiming for chrome or silver accents in your design, this one would tie in especially well!
Landry Nursery Glider: This is a very reasonably priced velvet glider option with great reviews. If you are ordering a key piece like a a glider online, it is always extra comforting to take a look at what other buyers had to say. This piece does not disappoint!
Emma Nursery Glider Recliner: If you are in search of a glider with a recliner function, this is a really great one. I really like this piece in white for a bright and neutral feel. The fabric is more durable if you are worried about a light fabric.
Lundell Swivel Chair: Okay, so this one isn't technically a glider but it is so gorgeous I couldn't help but add it in! The fabric color is absolutely stunning and the removable back cushion and tufted arm detailing give this piece loads more personality.
Happy shopping!
*This post may contain affiliate links, but don't worry, I only link items that I 100% recommend!*
[et_bloom_inline optin_id=optin_10]