Choosing the perfect nursery rocker is one of the most important decisions you will make for your nursery design. So many expecting parents underestimate the amount of time they will spend in this seat! Unfortunately this can also be one of the most expensive elements of the design. Whether you are buying for yourself or for a lucky parent-to-be, selecting a rocker or rocking chair that is beautiful, functional, and that fits in the budget can be a challenge! I have created a list below of my favorite nursery rockers that span a range of budgets and styles. Hopefully this list will lead you towards the rocker you have been searching for!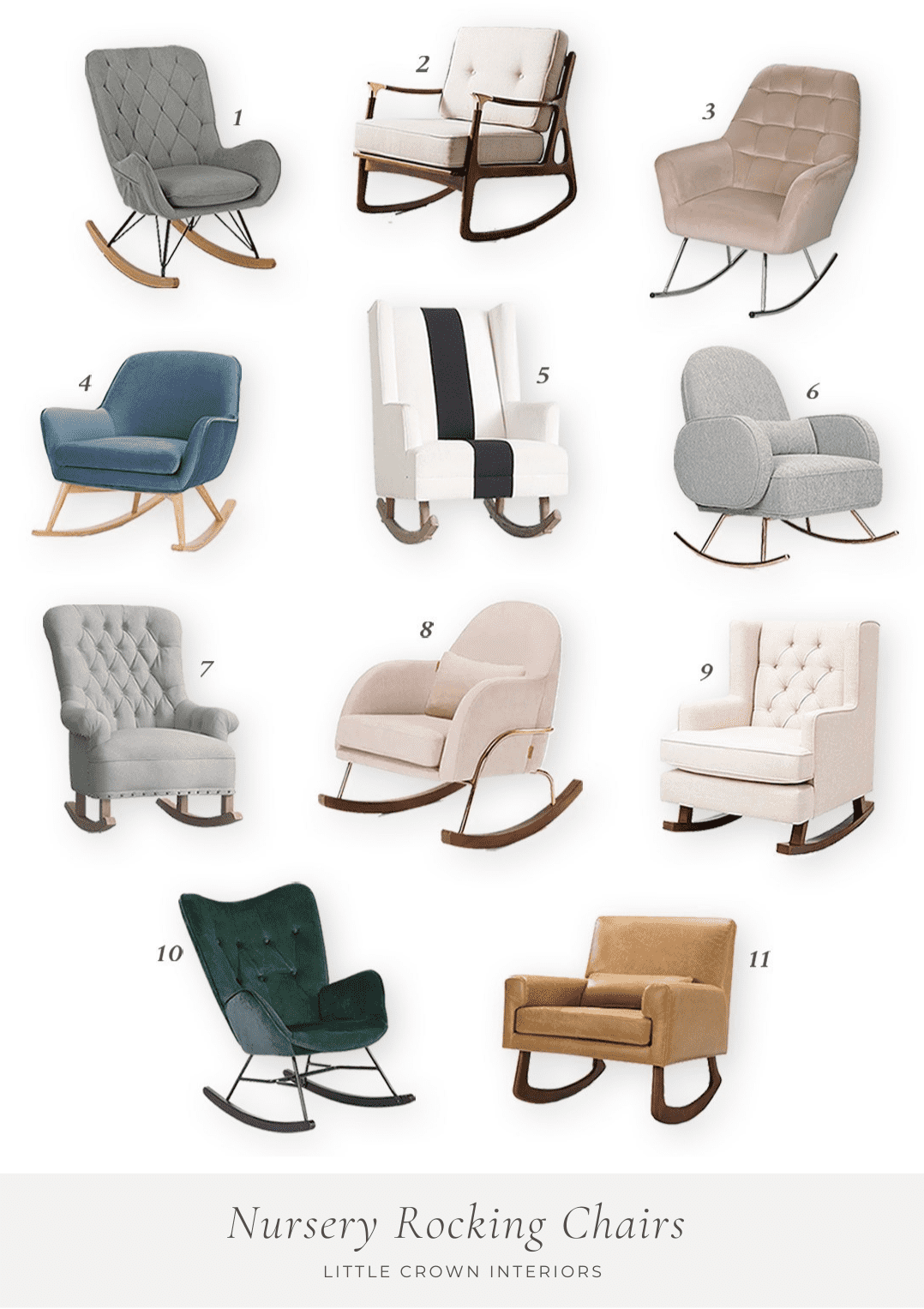 Schlenker Rocking Chair: The uniqueness of this rocker comes from the combination of a more traditional tufted back paired with an industrial-modern leg. The deeper gray fabric is luxurious and easy to clean.
Haverhill Rocking Chair: There is so much character hiding in this vintage inspired rocker with a Mid-Century vibe. This piece feels like a tried and true heirloom in the best way possible!
Marcas Rocking Chair: The fabric of a rocking chair is so important for comfort, and velvet has to be one of my favorites! I also like that the base is a bright chrome. While gold is a super popular accent metallic, not everyone loves gold, so it's nice to have a silver option as well.
Lullaby Rocking Chair: This is another cozy velvet option, this time with more of a Scandinavian and minimal feel. The muted teal adds just the right intensity of color.
Modern Wingback Rocking Chair: I have had my eye on this piece for quite some time now. This rocker makes such a statement and brings along so much sophistication. This would be a stunning addition to a monochromatic nursery design. Black and white nurseries are gaining popularity as well!
Compass Rocker: The ultra mod curvature of this piece is so whimsical. The detailing of the rose gold legs is so unique, and the overall design is super sophisticated.
Radcliffe Rocking Chair: This rocker is such a classic and timeless piece and could work in so many different spaces. You truly can't go wrong with this one!
Blush Pink Rocking Chair: If you are a fan of the Compass rocker, you will surely love this blush pink version! An extra bonus of this piece is the smaller scale that can nestle into corners and work into smaller spaces. I used the neutral version of this rocker in my navy modern nursery.
Tufted Wingback Rocking Chair: This is another tried and true classic piece that can work with just about every style and theme. The beige fabric adds a bit of warmth and pairs so well with light pastel accent colors.
Channel Rocking Chair: If you are on the lookout for a statement rocker, this is a great find. The Channel is available in a variety of bold shades of velvet and is offered at such a reasonable price point. And you all know how much I love emerald green!
Sleepytime Leather Rocker: Leather can often feel too heavy for a nursery, but this light and soft leather finish makes for the perfect compromise. In case you are not a fan of leather, this style is also available in upholstery.
Happy shopping!
*This post may contain affiliate links, but don't worry, I only link items that I 100% recommend!*
[et_bloom_inline optin_id=optin_10]