Nursery tech has come a long way over the years as technology is advancing. Some parents like to keep a low-fi nursery while others want all the latest tech they can find! We love incorporating some of these items certain things easier for our clients. From monitors to wipe warmers, we rounded up some of our favorite tech items to make your nursery super functional.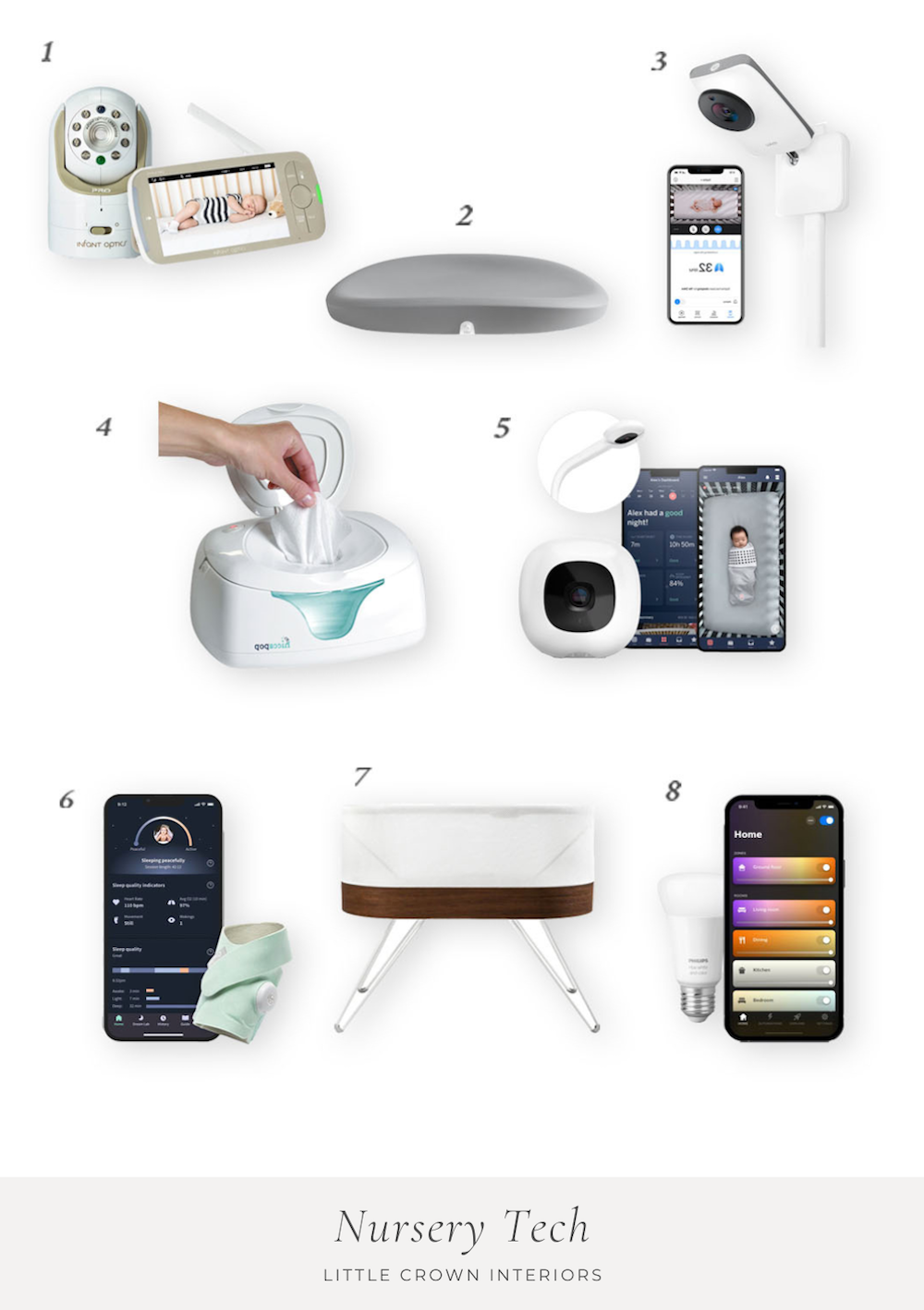 1. Infant Optics Monitor: This baby monitor is non-wifi and hackproof because it only uses radio frequency and operates on a closed loop system. The feed goes straight from the camera to a portable 3.5 or 5-inch screen. This is our go-to recommendation for clients who don't want a wifi baby monitor.
2. Hatch Changing Pad: This is a silicone changing pad equipped with tracking technology to track your baby's weight with a built-in wireless smart scale (up to 44 lbs). In addition, it's Bluetooth compatible with the free Grow and Companion Hatch app. It's heavy compared to other foam changing pads but its sleek design and added features are a plus if you need to track weight gain.
3. Miku Monitor: This is an excellent option for a wifi baby monitor. It's also the only monitor on the market that tracks breathing and sleep patterns without any additional wearables. The biggest advantage of the Miku is that it has a better floor stand feature than the Nanit (#5 below). The floor stand is smaller and sleeker than the Nanit, so it takes up less floor space.
4. Wipes Warmer: Having a wipes warmer is definitely a luxury item and not a necessity, but it can help with giving babies less of a shock when changing. This product is a game changer if your baby doesn't like cold wipes. It's best to keep a wipes warmer on the changing table, and it will need to be plugged in (so make sure the cord is safety tucked behind the dresser).
5. Nanit Monitor: The Nanit is our favorite recommended wifi baby monitor, mainly because of the ease of their phone app. It also comes with a breathing band wearable if you want to add breathing and movement tracking. The camera is nice quality and it does have a floor stand available (although it does take up some floor space).
6. Owlet Dream Sock: If you're looking to monitor your baby's breathing, heart rate, oxygen levels and/or sleep outside of your baby monitor, the Owlet is a great choice. It wraps around baby's foot for optimal readings throughout your baby's sleep cycles. This is something we recommend to nervous first-time parents who want to make sure their baby is breathing throughout the night!
7. SNOO: You've probably hear of the SNOO since it's so popular! This bassinet automatically soothes the baby with gentle rocking and comes with a swaddle to reduce dangerous rolling. It has a modern design with mesh sides for optimal airflow. The only cons are that it's cumbersome, quite heavy, and must be placed near a plug. So If you have a multi-floor home, this will not be easy to move up or down the stairs, or even into a different room.
8. Hue Smart Lighting: This high-tech light bulb is not nursery-specific, but still a great product. It's compatible with almost all lights and lets you turn on lights remotely or by voice command from your phone. Lighting settings such as dim level can be saved in the app so that nighttime feedings will be easy to control. This is an excellent addition to any room for it's energy saving and light control abilities.
What do you think? Do you want to incorporate more technology into your nursery?
*This post may contain affiliate links, but don't worry, I only link items that I 100% recommend! You can view our Disclaimer here.