Recently some of our favorite brands have come out with nursery furniture and decor collections that we love! Leanne Ford has an amazing nursery and kids collection for Crate&Kids, and Sarah Sherman Samuel has a new collection for West Elm Kids. So the question remains—which collection is better? We've pulled some of our favorites from each line to see how they measure up. Let us know who you think takes the win in the comments!
LF – Rattan Woven Mushroom Lamp | SSS – Modern Flower Table Lamp
LF – Natural Wood Arch Crib | SSS – Scallop Crib
LF – Heart Mirror | SSS – Scalloped Edge Floral Mirror
LF – Heart Baby Blanket | SSS – Snake Print Blanket
1. Lighting is always a must for nurseries, and why not make it fun! Leanne Ford comes in with a whimsical rattan mushroom lamp and Sarah Sherman Samuel has a calming, serene flower lamp—both excellent options for a side table or dresser in a nursery.
2. Cribs are always the focal point of nurseries, so choosing the right one is always a top priority. These two are stunning, and both have very unique design details. Light wood is a major trend right now in nursery design, and these two designers both interpreted it in different ways.
3. Mirrors can really help to open up a small nursery space, These choices can add both with a bit of edge, with LF heart mirror and SS wave mirror.
4. Blankets are added to our nursery designs because they add a sense of warmth to a bedroom. LF adds a warm yet organic feel with the abstract hearts, and SSS is a playful and bold original snake print.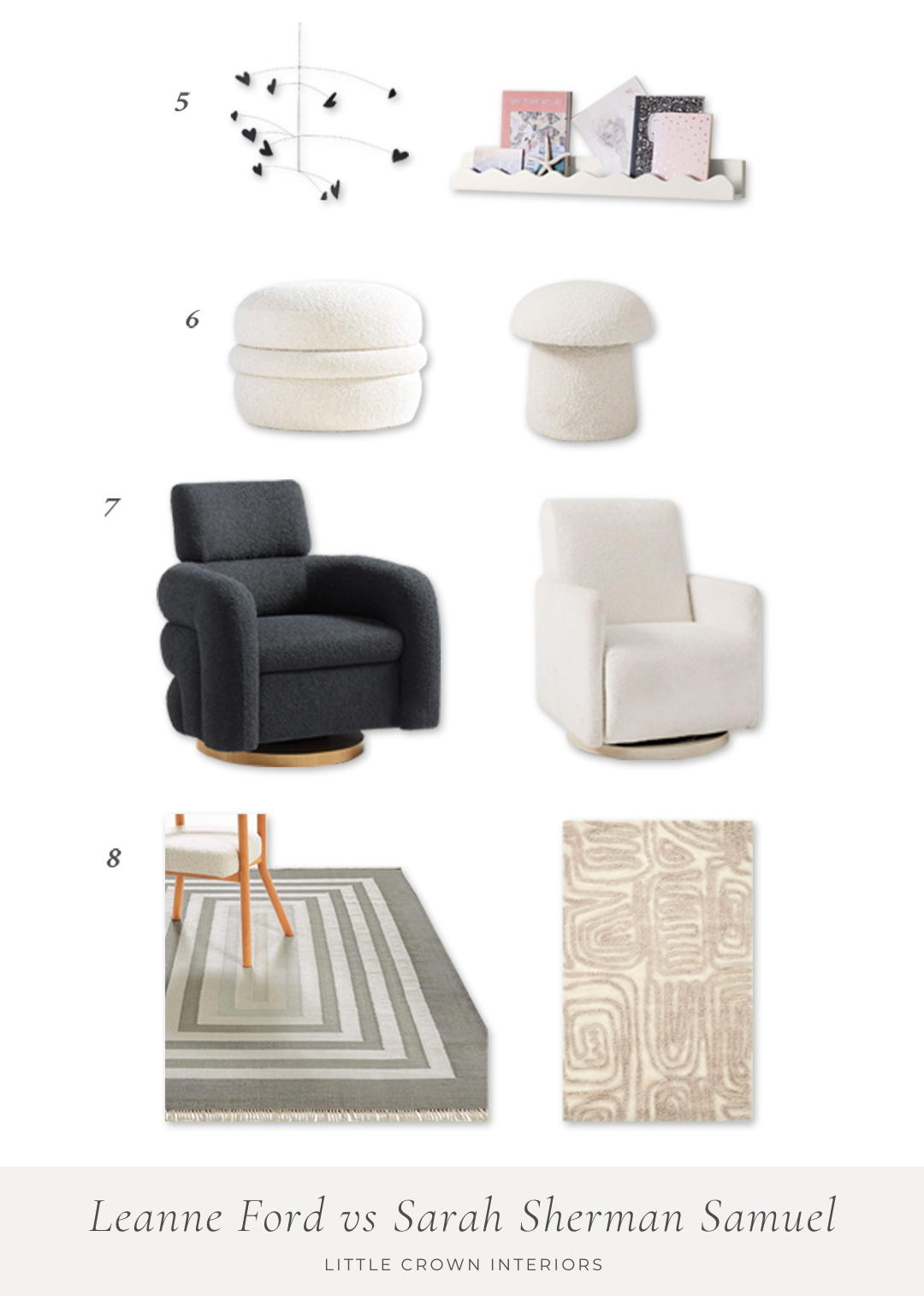 LF – Flying Heart Mobile | SSS – Wave Wall Shelf
LF – Round Boucle Storage Ottoman | SSS – Boucle Mushroom Pouf
LF – Retro Boucle Glider | SSS – Modern Boucle Glider
LF – Geometric Rug | SSS – Sand Trails Tufted Rug
5. Decor is so important in nursery and child design because these spaces really allow you to stretch your creativity. Every space is different, but adding personal decor to the space makes a big impact. Leanne Ford has an adorable black heart mobile, and Sarah Sherman Samuel has an adorable neutral wave shelf. Which is more your style?
6. Ottomans go hand in hand with a glider, and we recommend using them in every space not only for style but also to have an additional seat for another adult who may also be in the space. Both of these ottoman contenders have a soft boucle fabric and lots of style!
7. Gliders get a lot of use in nurseries, so it's about style plus comfort when you are looking for one. The Leanne Ford glider gets style points with the curving lines and deep color. The Sarah Sherman Samuel glider has cozy simplicity with more modern lines.
8. Rugs pull a nursery together and add warmth and texture to a room. Leanne Ford is bringing in geometric shapes with a darker tone, and Sarah Sherman Samuel adds some flair with a natural tufted rug with a fun pattern.
Both of these nursery collections are gorgeous! It's pretty impossible to pick a favorite. Which collection is your favorite?
*This post may contain affiliate links, but don't worry, I only link items that I 100% recommend! You can view our Disclaimer here.