After years of gorgeous neutral nursery trends, we are now seeing the deep, rich colors and more intricate prints making their way back. Morris & Co is an extremely well established company and their popular botanical print designs are well over 100 years old. They are nostalgic and full of charm! It's a fun spin on the animal and floral trend in nursery design featuring birds, florals and vintage botanical patterns. See some of our favorite Morris & Co prints and inspired products and other nursery decor below.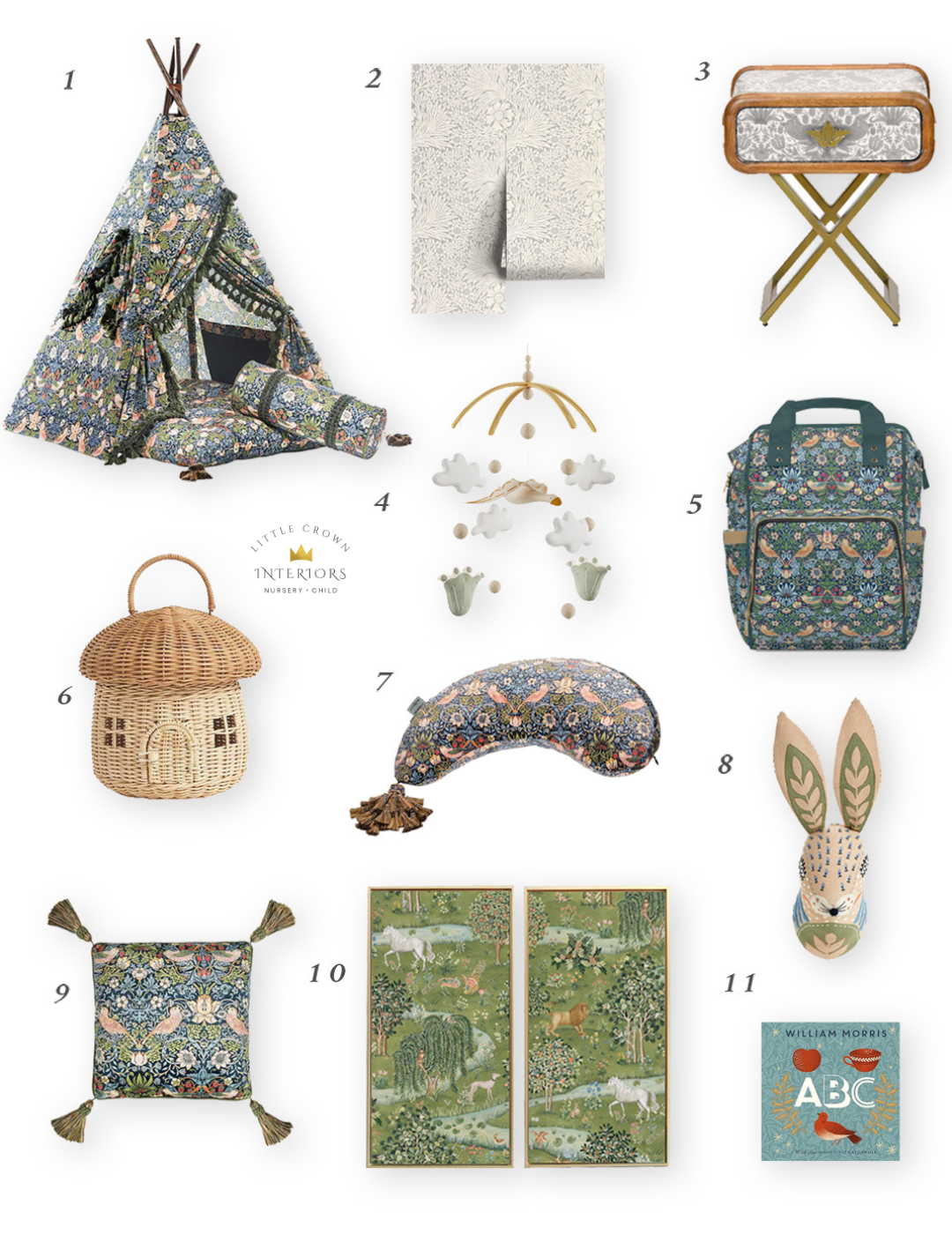 1. Whimsical Play Tent: Boho and oh-so-darling teepee tent for a whimsical playroom. This is the folklore inspired Strawberry Thief print perfect for imaginative and open-ended play.
2. Neutral Botanical Wallpaper: This wallpaper is the stunning Marigold design, which is one of Morris & Co's most popular designs. It's charming, whimsical and won't overwhelm your space. This botanical wallpaper can definitely grow with your child.
3. Patterned Side Table: Adding mis-matched furniture can create a lived-in look and very personal design. How sweet is this little side table? It adds personality without committing to a big piece of bold furniture.
4. Neutral Fairytale Mobile: This is a super charming heirloom quality hanging mobile with a fairytale feel. Inspired by Morris & Co, the bird and cloud mobile is gender neutral and handcrafted in Brazil from locally sourced quality materials.
5. Botanical Diaper Bag: This deep green and blue diaper bag with the Strawberry Thief Morris & Co pattern is sure to impress. It's lightweight, has a space for a bottle, and has easy access pockets. The backpack style will keep you hands-free to chase toddlers.
6. Mushroom Wicker Basket: This is the sweetest, magical mushroom inspired basket. It can be displayed as decor and add a little extra storage to your nursery. This can easily move into the playroom as your little grows as it doubles as a little playhouse.
7. Nursing Pillow: Nursing pillows are usually tucked away, but not this one! It has a playful shape and fun tassels. It's a stunning pattern and easily earns a spot on the glider or sofa.
8. Bunny Wall Decor: We love quirky and playful wall decor for the nursery.  This bunny is a fun play on the beautiful Morris & co universe of prints, and it would be a fun addition to a playroom as well.
9. Velvet Throw Pillow: This is the cutest little bird throw pillow! The deep navy velvet feels luxurious and adds a vintage charm. It will instantly add style and personality to a space, or elevate the look of a plain nursery glider.
10. Canvas Wall Art: If you're not ready to commit to wallpaper but still want to make a statement, large canvas art can have the most amazing effect in a nursery. These pieces are where art and wallpaper pattern meet! It's such a playful and whimsical scene, and the frame is customizable.
11. ABC Book: How could we not include this classy little ABC book in the style of the William Morris universe? We love this board book as a display piece on a wall ledge in the nursery.
There are so many ways to add more botanical prints, rich pattern or moody color to your nursery and the Morris & Co universe is about as charming as it comes. Are you team neutral forever or looking to add a little more pattern and color?
*This post may contain affiliate links, but don't worry, I only link items that I 100% recommend! You can view our Disclaimer here.