One thing that's been great about 2023 design trends is that we're seeing a lot of clients who are open to different colors and non-traditional combinations. This Virtual E-Design client wanted a design for her daughter that was fresh and fun, full pf pattern, and had pops of blue, purple and pink.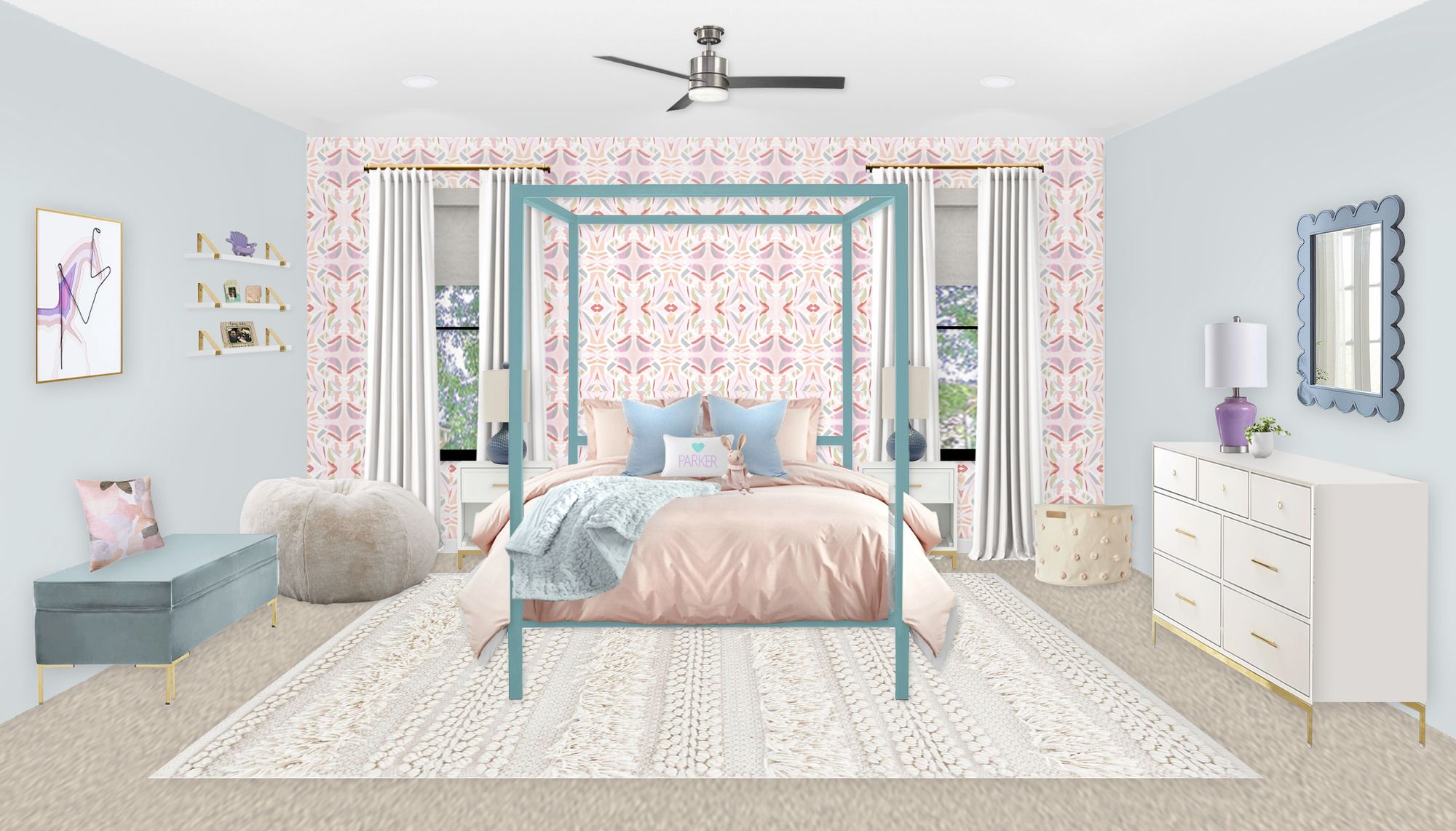 Patterned Wallpaper | Teal Canopy Bed | White & Gold Night Stands | Velvet Storage Bench | Floral Throw Pillow | White & Gold Dresser | Neutral Textured Rug | Blue Scalloped Mirror | Horse Wall Art | Light Blue Throw Blanket | Pompom Storage Bin | Personalized Throw Pillow | White Blackout Curtains (fabric) | Teal Table Lamps | Light Pink Bedding
We don't use a lot of purple mainly because it's not requested very often, but recently we've seen more interest showing up for this gorgeous hue. While the foundation of the room is light blue, the purple pops add dimension and whimsy.

We started this design by searching for the perfect wallpaper. We knew it needed to be fun, a little bold, and colorful. We found this gorgeous pattern with a touch of light blue and lavender in it, and then built the rest of the color palette out from there.
Our client specifically asked for a blue room with some light pink accents, but not too much pink. We used a little for the bedding and there's some in the wallpaper, but we layered in those purple touches as well so the room wasn't overly pastel.
We also found a fantastic teal canopy bed—this room is fairly large so the bed won't overwhelm the space. We paired that with a teal storage bench and then layered in some other tones of blue. The dresser and night stands are white since we didn't want to go too overboard with color.
The window treatments are a beautiful textured white fabric that's lined in blackout. Even though this isn't a nursery, the client still wanted the option for a full blackout. Since this room has carpet, we added a rug on top to give the room a more designer look. Layering a rug on top of carpet is not always easy, but we've used this specific rug before and know that it lays well.
We just love how this colorful girl's room came out!
Want your own nursery Virtual E-Design? Take a look at our design services page—we do book up quickly!
*This post may contain affiliate links, but don't worry, I only link items that I 100% recommend! You can view our Disclaimer here.