Often times when I start working with a new client, they have one or two pieces already in mind for their space. They have found an inspiration item, but then get stuck as they try to build a full design around it. These base items can be anything from an inherited rocking chair to a swatch of wallpaper. Pulling a room together around a single piece can be challenging but can also be a lot of fun! I've created a nursery design below as an example. For this design, I based the entire look around "Made in Heaven" art print from Minted (artist is Fernanda Martinez). Here's what I came up with!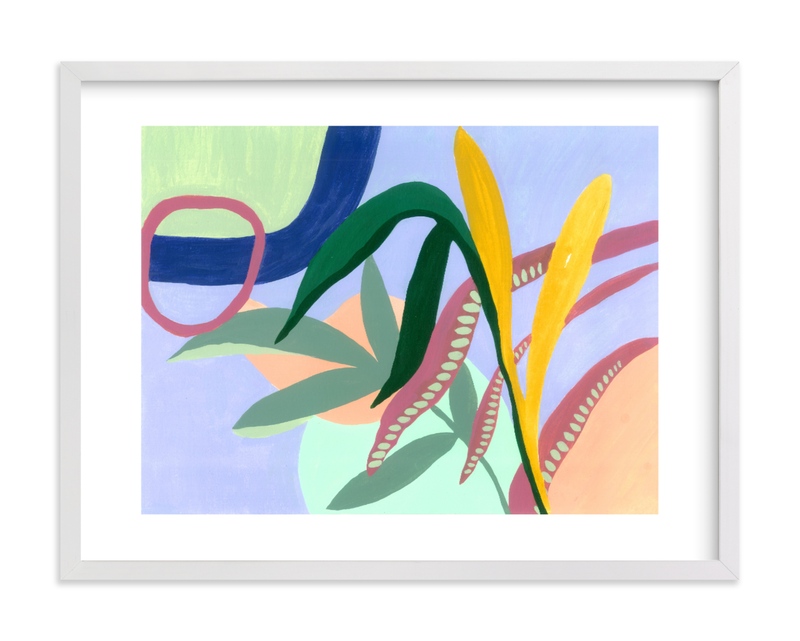 The artwork is so colorful and fun, so I wanted the nursery design to reflect those ideas as well. It's such a great piece for a nursery because it feels whimsical, but not overly juvenile. I also love anything periwinkle, so of course I was attracted to this particular piece.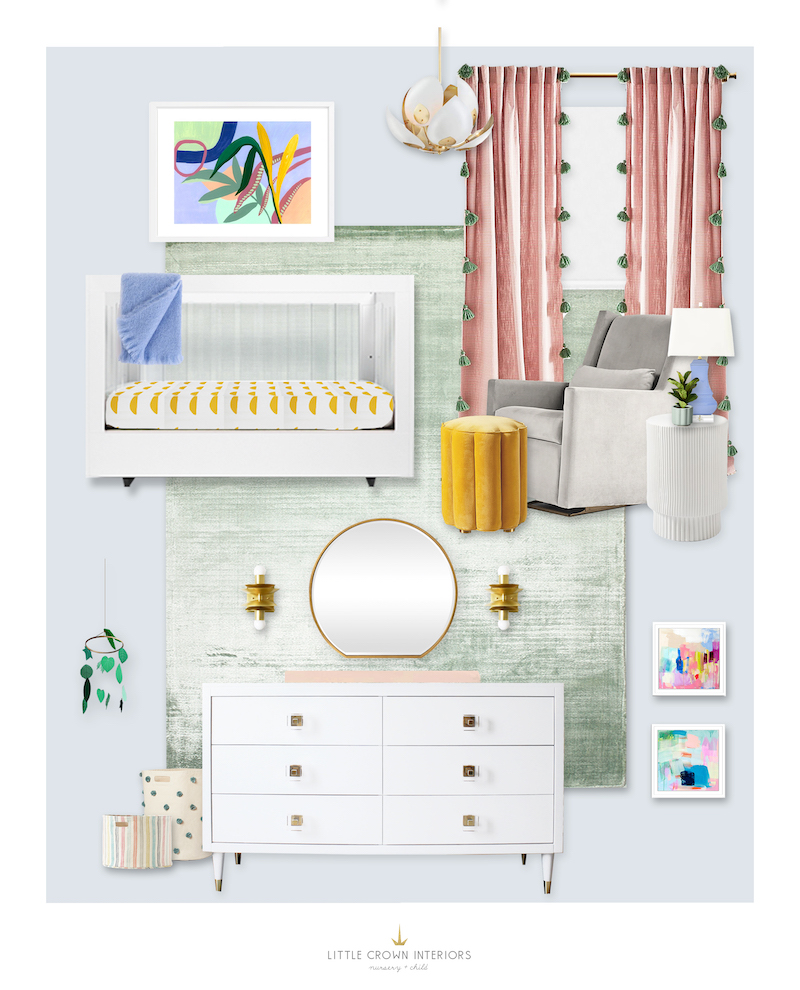 Crib | Dresser | Glider | Side Table | Ottoman | Mirror | Chandelier | Sconces | Curtains | Crib Sheet | Inspiration Artwork | Abstract Artwork | Blanket | Table Lamp | Planters | Hamper | Mobile
My first step in building a design around a singular piece is to spend some time analyzing the piece itself—what do I like about it? What colors, shapes or patterns can I borrow from? For this art print, the style and palette led me towards a bright modern base design with pops of bold color. Once I determine the direction, I begin hunting for pieces to incorporate.
I went with bright white for the large furniture pieces to keep things clean and modern. Keeping the base elements neutral ensures that the artwork would remain the focus of the design. I wanted to choose furniture in a modern style, and the acrylic detailing on the crib and dresser pulls made for the perfect pairing.
The trickiest part of this design was finding colors to match those found within the art piece. The color scheme has variety but features colors that aren't super straight forward. I aimed to reflect nearly all of the colors in the piece for a unified look. To keep the design more relaxed I chose calming accent colors for the larger elements such as the mint green of the rug and the muted pink of the curtains.
Is there an item you would like to see a room designed around? Let me know in the comments below!
*This post may contain affiliate links, but don't worry, I only link items that I 100% recommend!*
[et_bloom_inline optin_id=optin_10]