It's always so fun to see how nursery design trends develop over time. We always have our ear to the ground, but since we design so many nurseries, it's pretty easy to see when clients are asking for something specific. Lately, that specific thing has been delicate florals and Chinoiserie patterns. This nursery E-Design client wanted a nursery with a more delicate floral wallpaper, rather than the larger scale florals that have been super popular in the past. The room was fairly large, so we wanted to make sure that the floral wallpaper didn't overwhelm the space.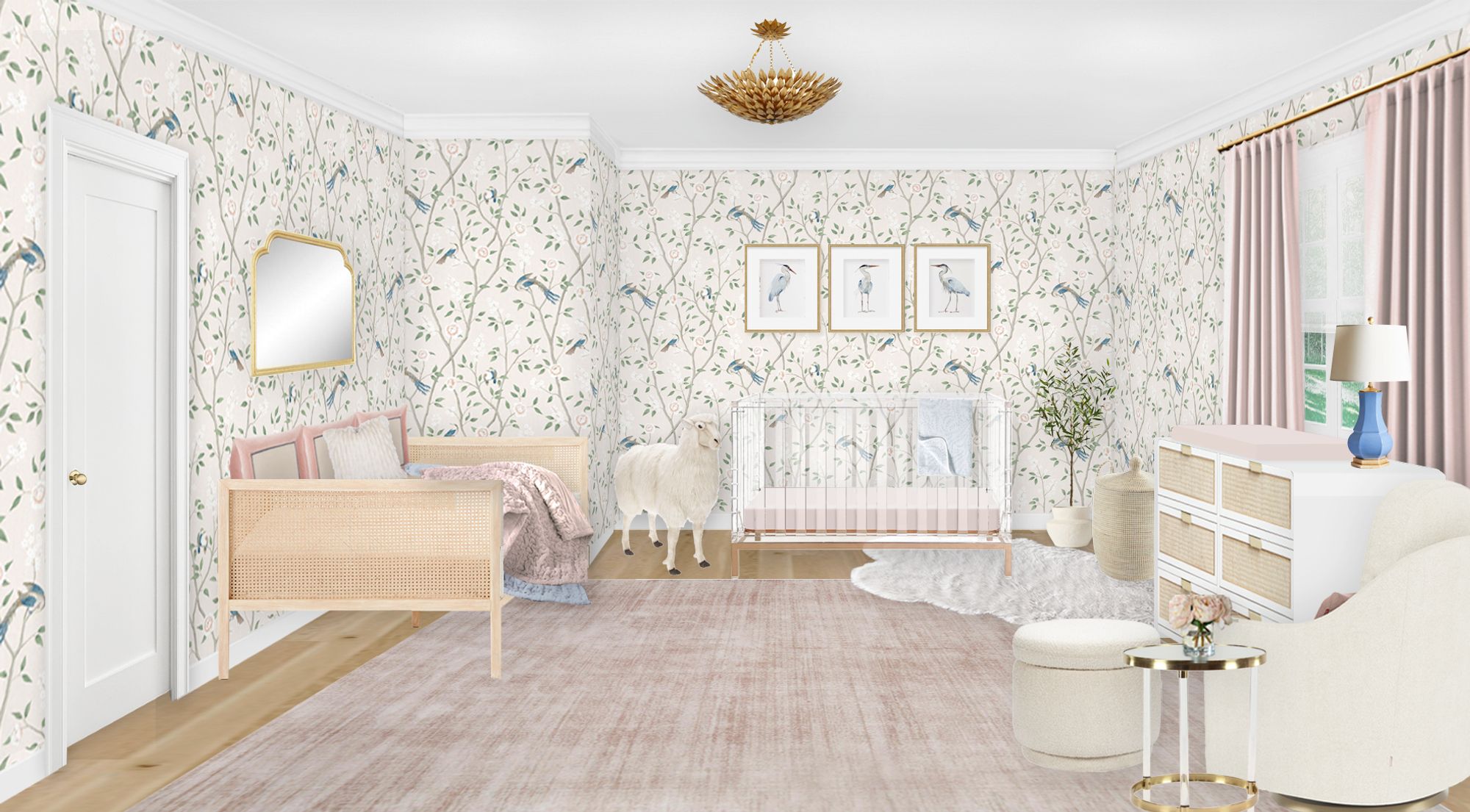 Delicate Floral Wallpaper | Acrylic Crib | White Dresser | Natural Rattan Daybed | Neutral Glider | White Storage Ottoman |  Acrylic and Gold Side table | Antique Gold Chandelier | Floor Lamp | Mauve Rug | Faux Sheepskin Accent Rug | Gold Arch Mirror | Bird Wall Art | Gold Frames | Neutral Storage Bin | Knit Throw Blanket | Faux Olive Tree | Neutral Planter | Blush Throw Pillows | Muslin Baby Blanket | Large Plush Sheep
We started with this pretty delicate floral wallpaper that has a soft neutral background—that way the room will still feel bright and airy. The client wanted the room to feel somewhere in between traditional and modern, so we included elements of both.  The acrylic and gold crib is a stunner, and we paired it with a white dresser with cane detail. The cane detailing brings some warmth and texture into the nursery, which we then mirrored on the other side of the room with the cane daybed. The glider is a bit hard to see in this rendering, but it's a gorgeous curved back glider in a neutral fabric. We paired that with an acrylic and gold side table to coordinate with the crib.

Our client wanted accents of pink, but not a super baby pink. We chose custom blackout curtains in a more mauve rose pink, and a rose pink rug as well. The metallic accents are in gold to bring in more warmth. The chandelier is an amazing rich gold color with a whimsical design. There are a few other gold accents in the nursery as well, like the mirror, art frames and curtain hardware.
We added a last touch of blue since the wallpaper has some blue in it. The blue lamp on the dresser is such a cute little accent, and the blue in the daybed bedding helps to pull it all together. What do you think of this design? Are you seeing more delicate floral nursery designs around too?
Want your own nursery E-Design? Take a look at our design services page—we do book up quickly!
*This post may contain affiliate links, but don't worry, I only link items that I 100% recommend! You can view our Disclaimer here.