This year has been eventful, to say the least. 2020 has been the busiest year I've ever had, in part because I was writing and producing a book on top of working with my clients. Projects have gone on a little longer than normal because of vendor and shipping delays, and installations and photoshoots have been cancelled and rescheduled. Because of all of that, my blog is a little out of sync with my real-time life, but I'm working hard to get things back on track! This room below is almost complete already (you can see a sneak peek on Instagram), but I realized that I never shared the design board with you. So while we're waiting to get the room finished up, I wanted to get that up on the blog.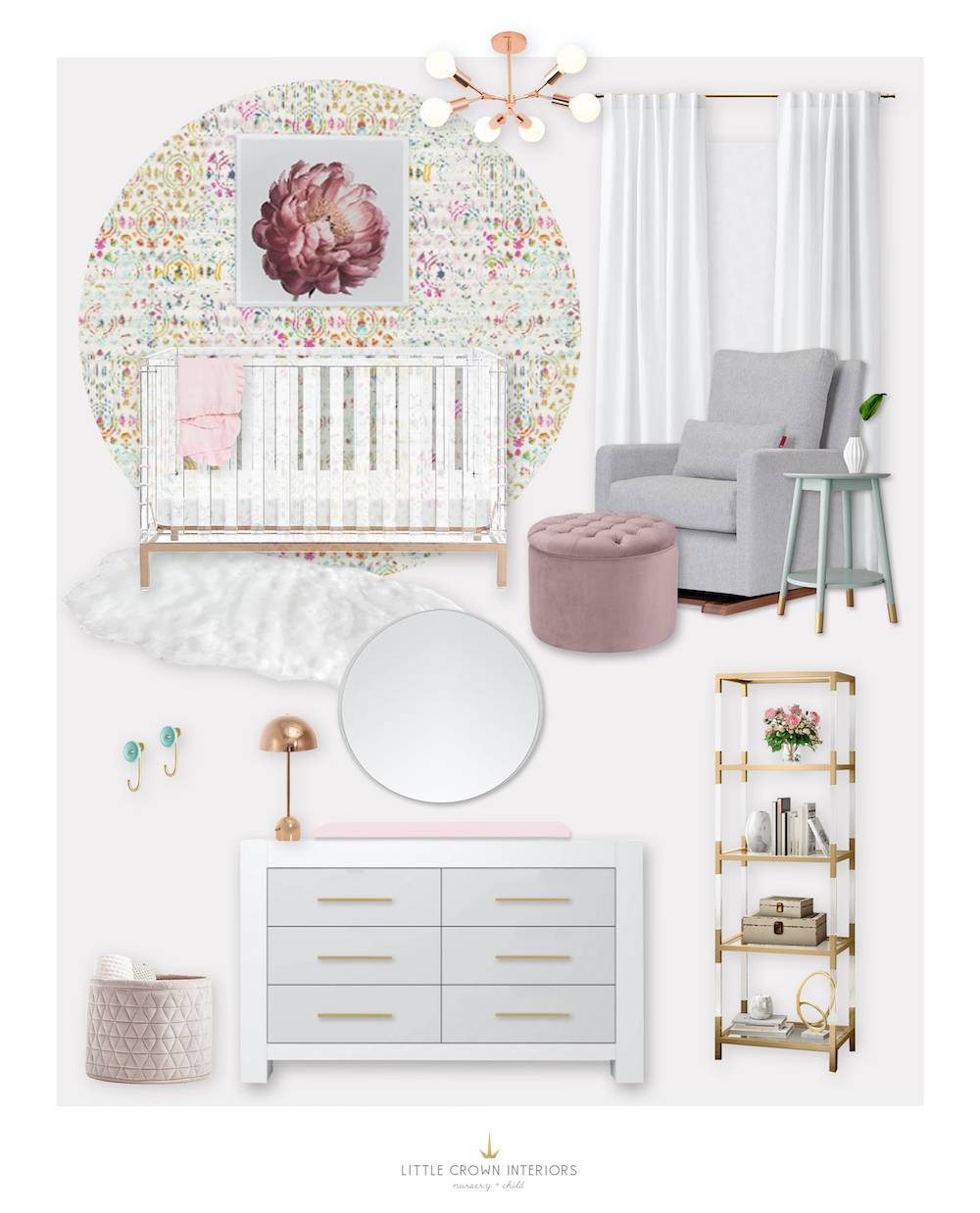 Wallpaper (Contact Us) | Acrylic Crib | Glider | Ottoman | Wall Mirror | Side Table | Chandelier | Table Lamp | Faux Fur Rug (similar) | Throw Blanket | Storage Bin | Wall Hooks | Acrylic Etagere | Mauve Peony Art | Blackout Curtains
The obvious and most amazing part of this nursery is the wallpaper. It's an absolutely stunning pattern from France and it's some of the nicest wallpaper I've worked with—it's a nice thick material with an almost silk-like texture. It's seriously gorgeous in person! My clients knew they wanted the wallpaper and also had their eye on the Luma acrylic crib, so I created a design that pulled in those elements.
In the earlier version of this design, we decided to just wallpaper an accent wall and paint the rest of the room a light mauve color. But after the wallpaper sample arrived, we decided to just do the whole room! So there's actually no more mauve paint in here. We also switched out a few other little things like the chandelier (which is now a more floral option), and we nixed the acrylic etagere for some wall shelves instead.
Perhaps my favorite piece in this nursery is the pink peony photograph over the crib. It's a gorgeous large-scale print and the color is so rich. I love that it's not overly pink, but more of a muted mauve color. It also has a soft gray background which coordinates with the other gray pieces we have in the room, like the glider and the front of the custom dresser.
We topped off the room with blackout curtains (of course), a mint green side table, a mauve storage ottoman, a fluffy faux sheepskin rug and a velvet storage bin.
*This post may contain affiliate links, but don't worry, I only link items that I 100% recommend!*