Sometimes when I'm working on a nursery design, I'm presented with a unique challenge. For this modern boy's nursery, it was the shape of the room. It's hard to tell in the photos, but this nursery is actually kind of triangular shaped. Yes, it's a triangle! The other issue was that there was a big window on the back wall and that was pretty much the only spot we could put the crib. If we put the crib on one of the other two walls, it would have a door opening into it. (A little secret about interior photography—the rooms always look bigger than they are).
So alas, we had to put the crib under the window. Not ideal, especially in California. In order to get around the safety issues here, we used shutters (which despite the brightness in the photos, provide a ton of coverage), added fully lined blackout curtains on top, and pulled the crib out from the window a few inches. Once we got past the safety issues, it was on to the design! My client wanted something fresh, modern and masculine. She loved the acrylic crib I showed her and wanted to pull in some navy to give the room contrast.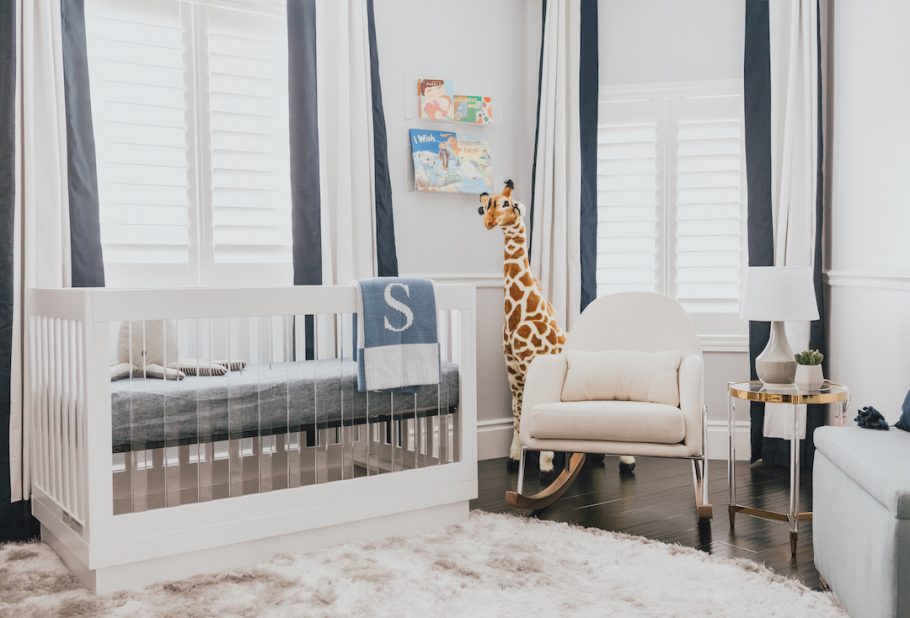 Acrylic Crib | Neutral Rocker | Acrylic Side Table | Stuffed Giraffe | Initial Letter Blanket | Bordered Blackout Curtains| Acrylic Wall Ledges | Small Gray Lamp
Choosing a changing table wasn't easy, and there aren't a lot of options for navy that come in a nice larger size. So I went with one of my favorite customizable brands and chose a custom two-tone white and navy dresser that allowed us to get the perfect color and the perfect size. We also had a custom changing tray made for the top to be fully flush.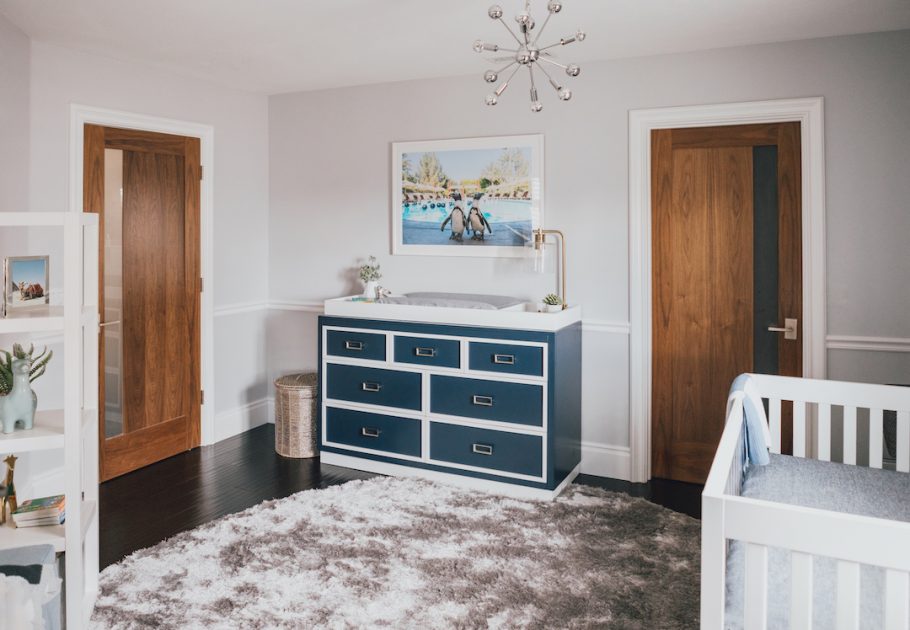 Custom Navy Dresser | Penguin Wall Art | Acrylic Crib
One of my favorite pieces in this nursery is the modern rocking chair. It's a smaller size but still super comfortable. And the style fit perfectly with our design. As you can see, we used mixed metallics in this space, so the chrome legs on the rocker work with the gold accents on the side table.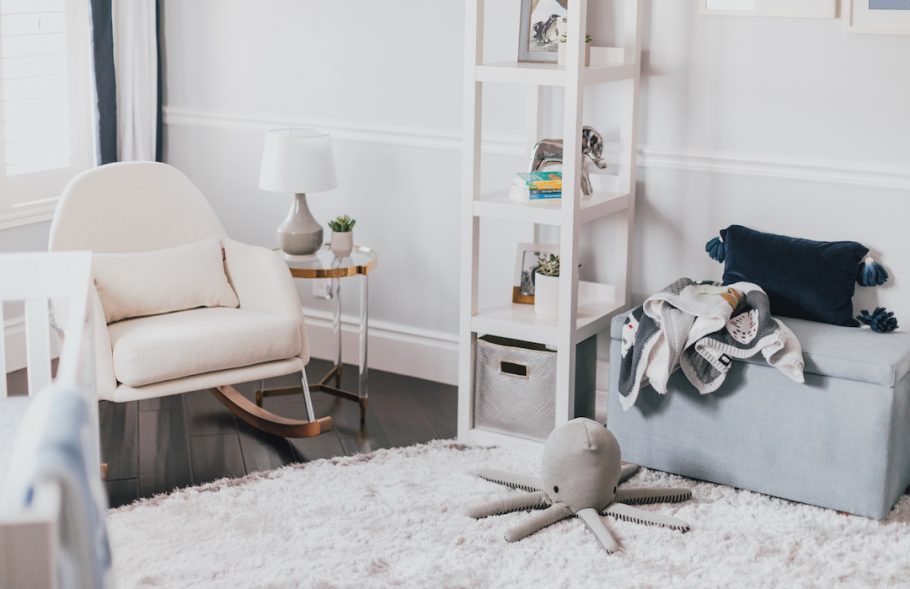 Neutral Rocker | Acrylic Side Table | White Bookcase | Bordered Blackout Curtains | Small Gray Lamp
On the other side of the room, we had a nice long wall to add some storage and decor, but we couldn't do anything too deep because it would interfere with the door swing. Because this family has another older child, I wanted to incorporate a second spot to sit, so I chose a modern storage bench that doubles as both storage and seating. Then we flanked that with two white shelving units for picture frames, books and accessories.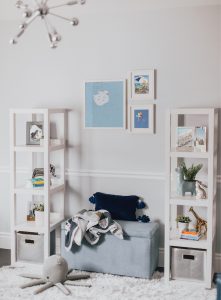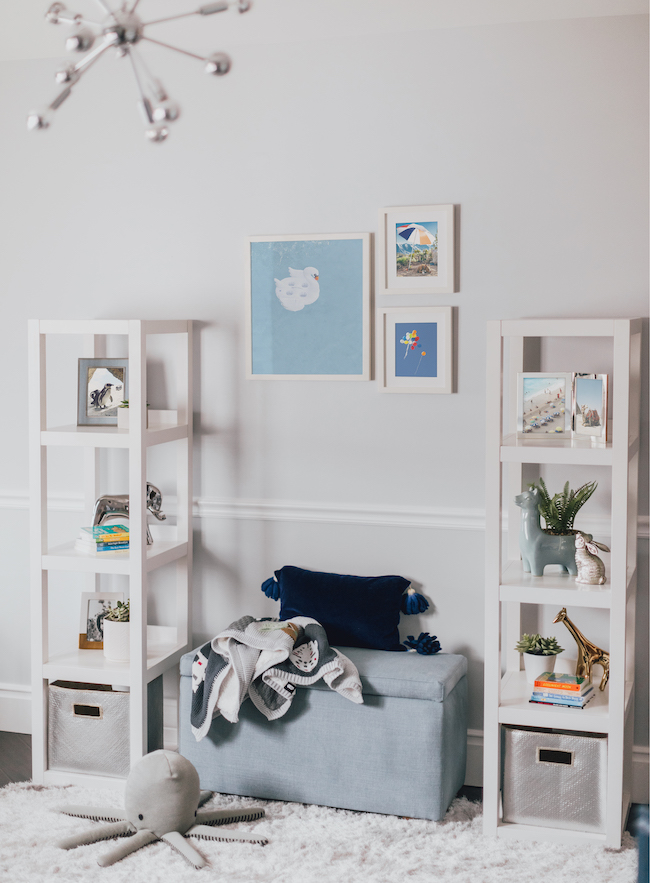 White Bookcase | Star Wars Blanket
I absolutely love the pop of color on the inside! The textured rug adds a cozy feel to the space—it's actually metallic too! Because of the shape of the room, we couldn't really use a rectangular rug, but luckily this round one fit perfectly.
Star Wars Blanket | White Bookcase
My client fell in love with this penguin photograph, and it's really the statement piece in the room. This piece was an investment, but it's something she loved so much, and it's versatile enough to use in a kid's room or teen room down the line. It adds just a touch of playfulness to the space—a necessity for any nursery design!
Custom Navy Dresser | Penguin Wall Art
*This post may contain affiliate links, but don't worry, I only link items that I 100% recommend! You can view our Disclaimer
here
.