It's time for another nursery e-design reveal! This one was really fun to design even though we had a challenge right from the start. My client really loved florals and wanted a removable floral wallpaper accent wall. After she sent over her photos of the room, I noticed that she had a pretty heavy orange-peel texture on the walls. This is not ideal for peel-and-stick wallpaper! I suggested that instead of wallpapering the wall and risking it peeling off, we could instead buy a few panels and frame them. This is one of my favorite ways to use wallpaper because it allows you to use a smaller amount of wallpaper and really customize the feel of it.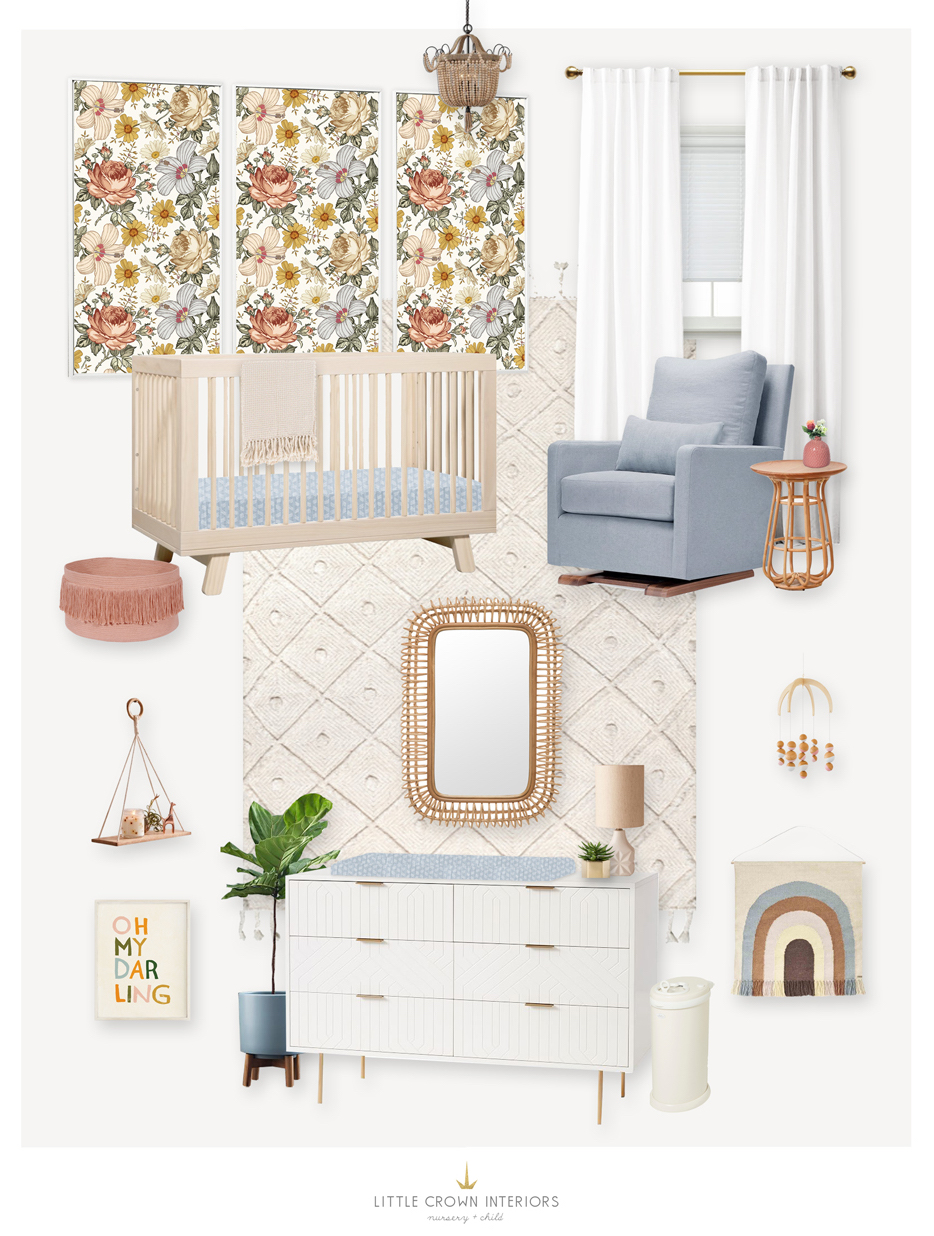 After the wallpaper challenge was sorted out, we could get into the rest of the design. My client loved light colors and wanted some touches of modern Scandinavian decor. I chose an unfinished wood crib and paired it with a fun modern dresser. I chose most of her other artwork and decor in slightly muted colors to coordinate with the wallpaper and included lots of texture like rattan.
I also love the use of blue in this nursery. It's a girl's nursery, but that definitely doesn't mean that blue is out. I love using interesting color palettes and slight varieties on standard colors. If you look closely, you'll see that the blue isn't baby blue—it's more of a light slate blue. The pink isn't just light pink, but more of a rose mauve color. Simple tweaks like this can elevate a design and give it depth.
This room got a lot of natural light through the window, so it was important to use nice blackout curtains, even though she already had some existing blinds. I finally got around to creating custom length blackout curtains for my online shop! I've found that finding great blackout curtains in the right length for a decent price is one of the hardest parts of designing a nursery. So now I offer my own! If you're not sure what the right length is, read my post about how hang to install a curtains in a nursery.
I love how this room came out! Blush has been super popular lately, but that's not the only color out there. Mauve, rust and coral are all equally as fun to use, especially when paired with blue (or variations of blue).
HERE ARE THE NURSERY SOURCES
Crib | Dresser | Glider | Blackout Curtains | Chandelier | Blush Tassel Bin | Mobile | Rattan Mirror | Side Table | Hanging Shelf | Oh My Darling Print | Floral Wallpaper | Rug
*This post contains affiliate links, but don't worry, I only link products that I would 100% recommend!*
[et_bloom_inline optin_id=optin_10]