As you may know, I'm still working through backlogs of E-Designs that haven't been "revealed" yet. I've been working on so many projects this year that my design reveals have fallen a bit behind! This floral nursery E-Design was from a while ago, but I loved it and still wanted to share.
My client saw this Blush Floral Wall Mural and fell in love with it, and knew she wanted to use it when she contacted me about designing her nursery. This room was a little tricky because it had a sloped ceiling, and part of the ceiling height was very low. So we had to figure out how to configure all the furniture so it was all safe and convenient, and so that nothing was in a weird spot in relation to that ceiling sloping down.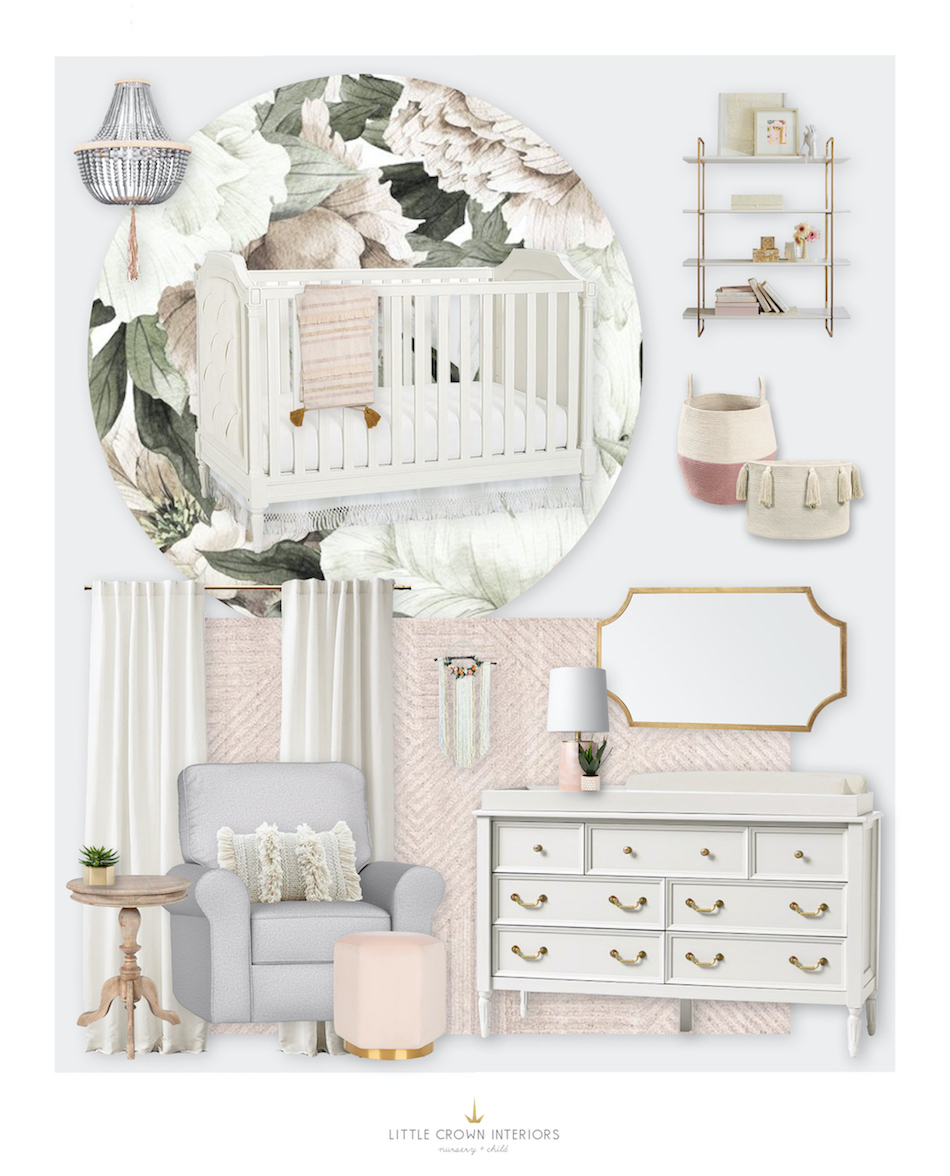 Wall Mural | Crib | Dresser | Glider | Rug | Wall Shelf | Table Lamp | Mirror | Wall Hanging | Curtains | Wall Hooks | Crib Skirt | Crib Sheets | Pillow | Tassel Decorative Basket | Decorative Basket
Once we got the floor plan all nailed down, it was time for design! Obviously, I started with the floral wall mural as the main inspiration piece. My client had already purchased her crib, so I took direction from that. The crib was white and had a more traditional feel with tufted panels, so I pulled pieces that were on the traditional side, but then also mixed in a few more bohemian modern touches to balance the space.
It turned out that the changing table was what ended up where the low ceiling height was, so we has a spot to hang something above, but not much. I found a mirror that could be hung horizontally so it wouldn't be too tall, and that worked great! Mirrors are also great because they can help make a space feel larger.
We added a few blush and gold accents, a beaded chandelier and the space came together!
*This post contains affiliate links, but don't worry, I only link products that I would 100% recommend!*