It's the first E-Design reveal of the year! By the looks of things on my calendar, this year is going to be another record breaker for E-Design nurseries. The design below was from a client in New York, all the way on the other coast of the country.
This client came to me with an idea of doing a whimsical art piece with a surrealist feel. After a few options, we landed on this Whimsical Artwork piece from artist Paul Bond. We were looking for something with mostly blues and greens since my client wanted the nursery to flow with the rest of their home (which had similar colors). I then sprinkled in our accent colors using a subtle abstract rug, a light blue pouf, a solid moss colored crib sheet and lots of natural greenery. I decided to punch up the color with pops of orange found in the artwork and chose some orange decor and accessory items.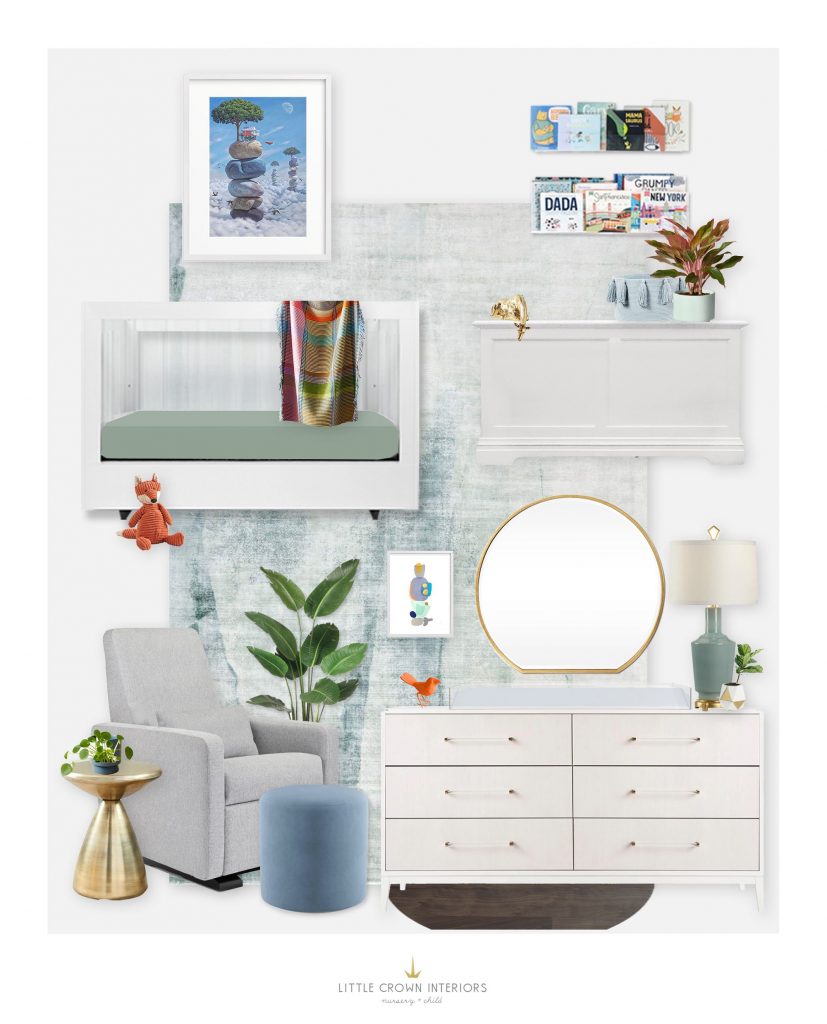 Crib | Dresser | Changing Tray | Glider | Pouf | Side Table | Rug | Wall Shelf | Table Lamp | Mirror | Crib Artwork | Abstract Art | Throw Blanket | Crib Sheets | Planter | Tassel Decorative Basket | Hamper | Giraffe Decor
The shape of this room was really tricky. It was long and skinny and had a super high ceiling. Like, really high. In order to help visually bring the ceiling down, I suggested a half-paint method where the walls are painted up to about 10′ in one color, and then the rest of the way up and the ceiling in another. It helps to break up the space and add visual interest.
Nurseries in areas with colder climates also sometimes have room heaters or radiators (not so much here in California). See that thing in the design board above that looks like a toy chest? That's actually a radiator cover. It's built into the wall, so we had to design the floor plan of the nursery around it. We hung wall shelves above it and used its surface to display some decorative items (being careful not to actually block the vents).
That's perhaps my favorite part about designing nurseries in other states—there are so many interesting challenges based on location alone!
*This post may contain affiliate links, but don't worry, I only link items that I 100% recommend! You can view our Disclaimer here.