I was so excited about this E-Design because the client wanted to do a large-scale black and white floral wallpaper, and if you've been following me for a while, you'll know that that's right up my alley! When large florals first bloomed onto the scene (pun intended) several years ago, we weren't sure if it was going to be a quick trend or not. There were only a few companies with those big florals at the time and they got so popular that more companies starting selling them. Here we are several years later and they are as popular as ever!
So, back to the nursery design. My client sent me several inspiration images that were all black and white with touches of blush. She already had a nursery for her other daughter, and she wanted this one to be fresher and more modern. So I chose one of my all-time favorite cribs, the Babyletto Harlow Acrylic Crib. Similarly to the large florals, the acrylic crib trend is just not going away (and for good reason)!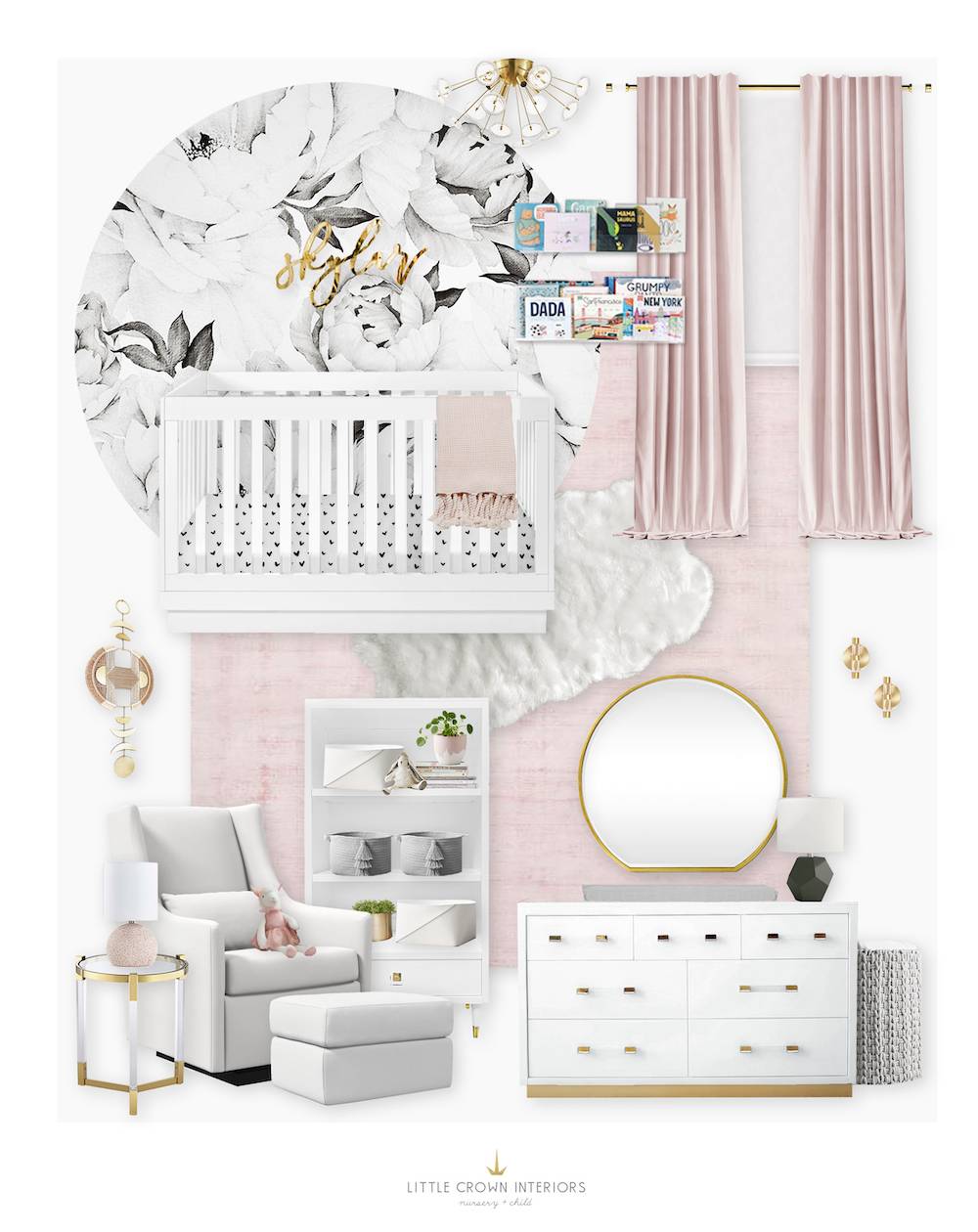 Acrylic Crib | Floral Wallpaper | Dresser | Glider | Ottoman | Bookcase | Side Table | Geometric Lamp | Terrazzo Lamp | Blush Rug | Faux Sheepskin (similar) | Mirror | Moon Wall Hanging | Name Sign | Acrylic Wall Ledge | Window Hardware | Crib Sheet | Wall Hooks | Pink Blackout Curtains | Gray Hamper | Gray Tassel Baskets
The changing table and bookcase are also modern, but have that touch of gold which gives an extra edge of glam. The changing table also has acrylic handles which mirror the crib. We also chose acrylic book ledges to pull everything together (it's always good to use every color or texture in a few places around the room for balance).
One of the best ways to liven up a nursery is to add a great light fixture. We had an 8 foot ceiling in this room, so we couldn't do anything that hung down too low. For ceilings like this, it's great to go with a flush mount or semi-flush mount light fixture since they aren't as tall.
We added some other black and white elements all around the nursery like the crib sheets, black geometric lamp, and even the base of the glider. Some blush velvet blackout curtains will help keep unwanted light out, and a big gold mirror over the changing table will help open up the space.
Interested in an E-Design for your nursery? Check out my services page. But hurry—E-Designs book up fast!
*This post may contain affiliate links, but don't worry, I only link items that I 100% recommend! You can view our Disclaimer here.