Who's up for a pink, gold and glam girl's room? My latest e-design client had an 8-year old daughter who wanted her room to be all of those things, and she also asked for a fun wallpaper accent wall and an upholstered bed. Because of all of the home learning going on nowadays, it was also important to make room for a desk in her new room as well.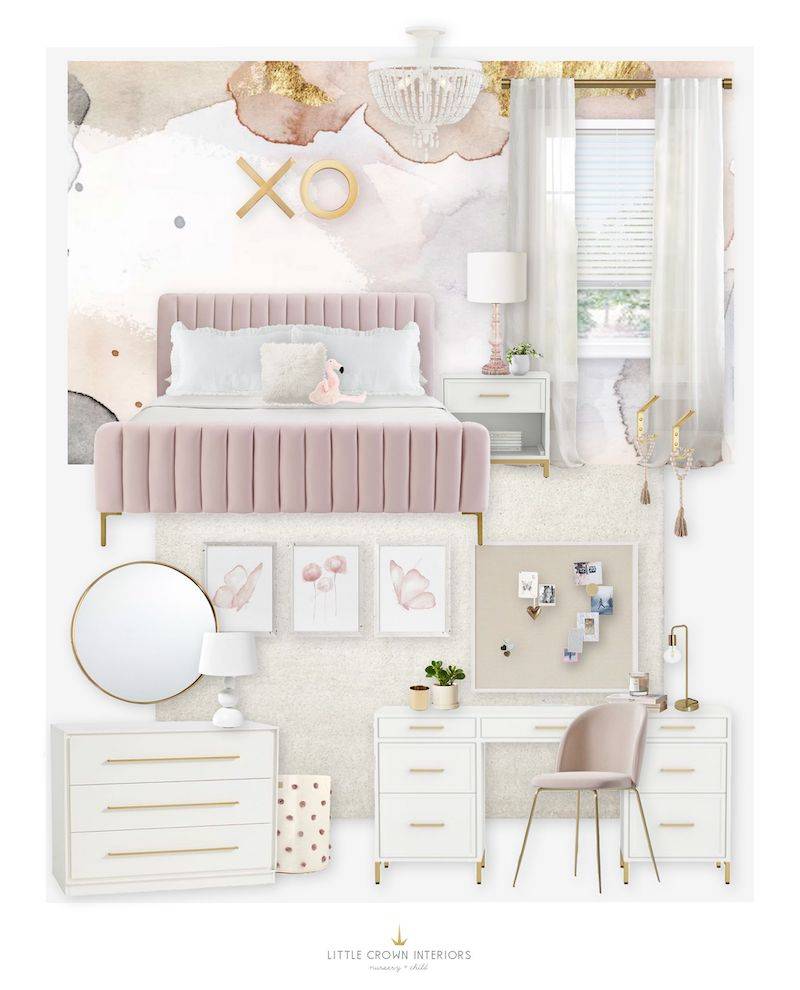 ---
· Room Details ·
Wallpaper | Upholstered Bed | Nightstand | Dresser | White Lamp | Pink Lamp | Desk | Desk Chair | Chandelier | Bulletin Board | Desk Lamp | Rug | Mirror | Blush Art Prints | XO Wall Letters | Wall Hooks | Sheer Curtains | Curtain Rod | Small Plant | Pom Pom Hamper | Linen Sham Covers | Fuzzy Throw Pillow | Plush Flamingo | Wood Bead Decor | Wall Color
---
When I work with e-design clients that request wallpaper or a wall mural, I usually start by looking for that since it often dictates the rest of the design. Her inspiration photos were primarily white, gold and blush pink, so I stuck to that color scheme while shopping around. I absolutely fell in love with this watercolor wall mural because it had such a softness, but was also bold and beautiful.
We were able to fit a queen bed in here so she could grow with it, and found a fun upholstered bed in a soft blush velvet fabric (with gold legs!). We included as much storage furniture as possible as well, so there's a white and gold dresser, storage desk, and coordinating white and gold nightstand.
Because this room was for an 8-year old and not a baby, we didn't need to do blackout curtains. Instead, we opted for some pretty white sheer curtains to give the room some softness without blocking all of the light. The curtains are lightweight, so we were able to use a simple gold curtain rod as well.
A few pretty details in white, blush and gold fill out the room, like the beaded chandelier, gold XO wall letters, bulletin board and blush butterfly art prints. We also chose a very soft warm white paint color for the walls that's zero VOC, Greenguard certified and washable.
If you're interested in a nursery or kid's room e-design of your own, make sure to contact us as soon as possible! Our e-design services book up very quickly and we have limited slots available.
*This post may contain affiliate links, but don't worry, I only link items that I 100% recommend! You can view our Disclaimer here.