It's time for another nursery E-Design reveal! We've been doing so many E-Designs the year already, so you can look forward to a lot more reveals coming soon! For this project below, the client wanted a neutral nursery design with some pops of lavender and a cozy vibe.
We always start with the floor plan, which you can see below. The crib is on the left wall since that's the safest spot for it, and the glider fits nicely in the corner with an ottoman and side table. We had just enough space for a wide changing table between the closet and bathroom, and the client opted to put the diaper pail in the bathroom to make use of that larger changing table. We had a little space on the bottom wall for some toy storage and shelving, and made sure those items weren't too large as to block either of the nearby doors.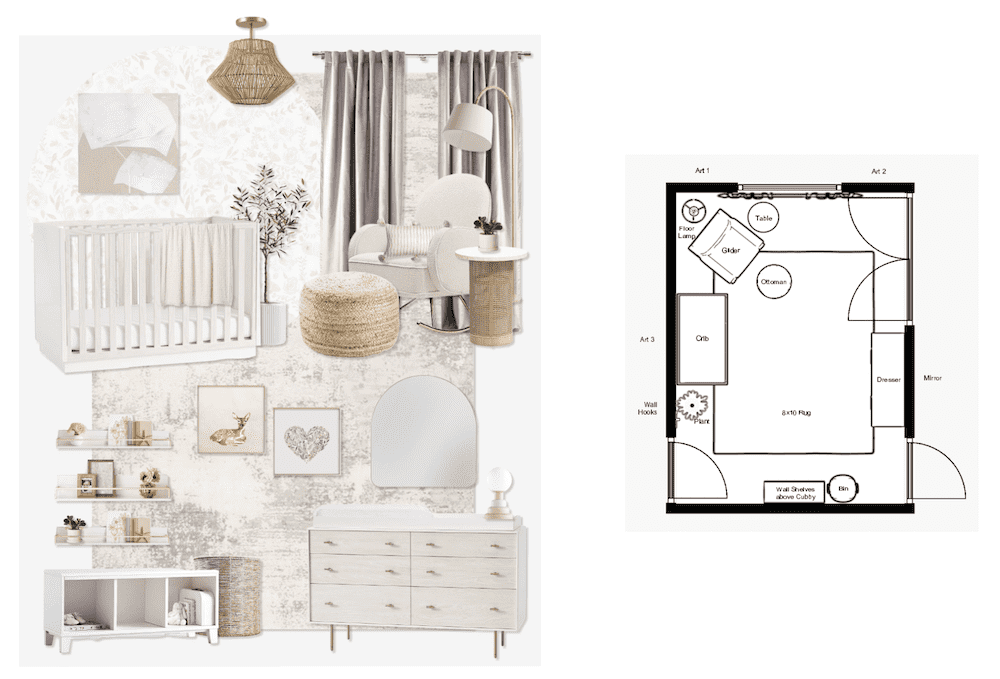 For the design, we started with a neutral base and looked for nursery furniture that felt a little more modern. The crib and changing table bot have sleek lines and a two-tone finish, and the dresser has gold hardware too! The client wanted some natural textures as well, so we added a rattan ottoman, woven chandelier and a woven storage basket as well.
The best part of this nursery design is that there is wallpaper going on the ceiling! The room has molding detail on the ceiling creating an inset perfect for a wallpaper feature. To make sure the room didn't feel too overwhelmed by pattern, we kept the wallpaper neutral and subtle with a soft floral pattern.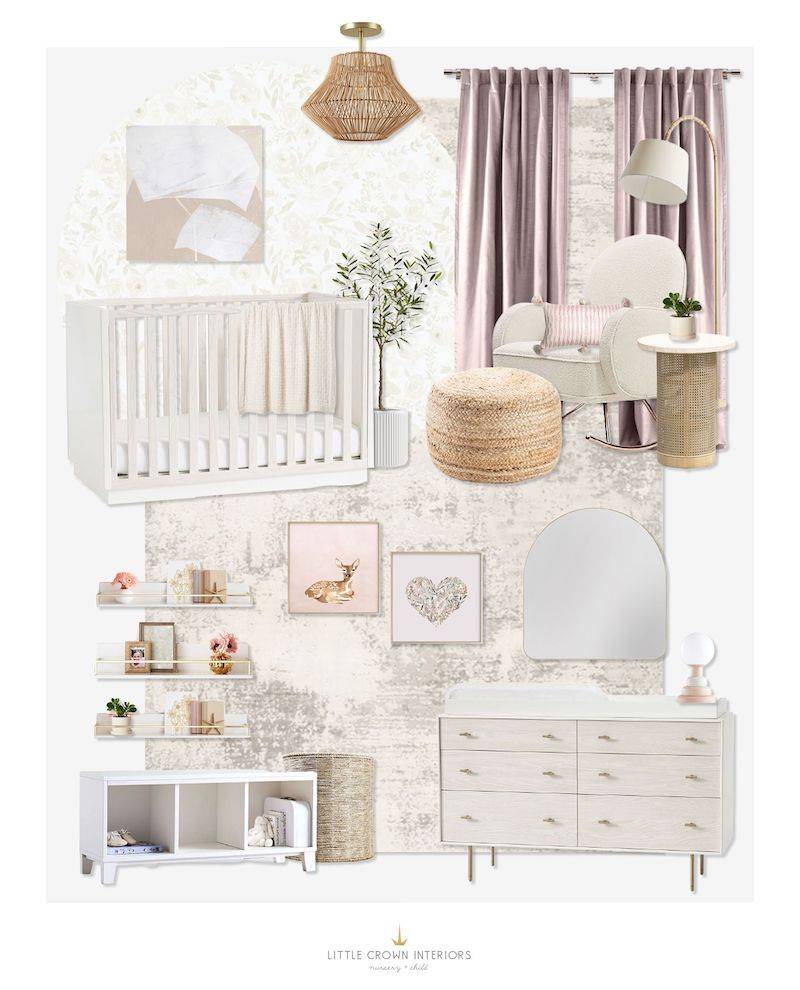 We finished off the design with some neutral abstract artwork over the crib, some gorgeous velvet blackout curtains, and lots of gold touches. There are also two smaller art pieces that go on either side of the window to finish off the room.
---
· Nursery Details ·
Neutral Floral Wallpaper | Light Wood Crib | Light Wood Changing Table | Boucle Rocker | Rattan Ottoman | Gold Side Table | Woven Chandelier | Gold Floor Lamp | Neutral Rug | Gold Mirror | Modern Pink Lamp | Wall Ledges | Heart Art | Fawn Art | Neutral Abstract Art | Velvet Blackout Curtains | Woven Storage Bin | Faux Olive Tree | White Planter | White Cubby Storage | Throw Pillow
---
Want a nursery E-Design of your own? Check out our E-Design page for all the details. We do book up in advance!
*This post may contain affiliate links, but don't worry, I only link items that I 100% recommend! You can view our Disclaimer here.