Another nursery E-Design reveal headed your way! This client wanted a nursery that was warm and inviting, and that had some deeper colors. She really loved the idea of using dark wood nursery furniture to give a richness to the space, and we decided to accent that with navy, gray and a touch of gold.
The soon-to-be-nursery was a bright space with a very large window, so there is plenty of natural light. However, the space isn't huge (most nurseries are small), so it was important not to overwhelm the space with dark tones even though there was a lot of natural light. We decided on a walnut crib and a navy dresser, but kept the walls, blackout curtains, glider and rug on the lighter side. To give the nursery some vibrancy, we chose some fun navy wall decals in an abstract design. This way, the wall has interest, but it's not a full wall of dark navy.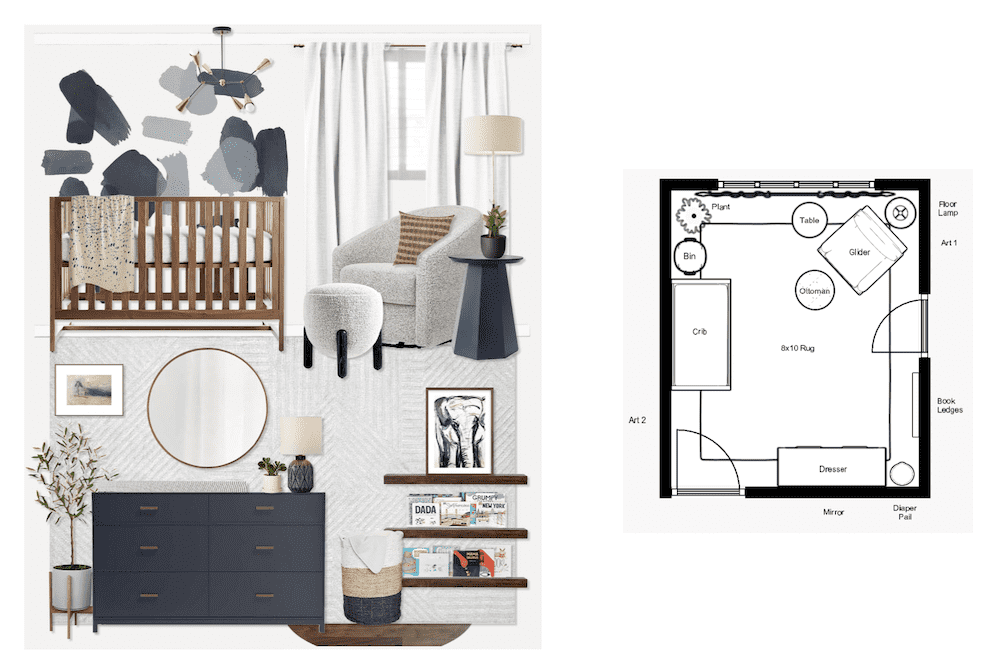 As you can see in the floor plan above, there was enough space to get nice furniture pieces in here, and a small attached closet as well. We were able to get an 8×10 rug in here which will really help to open up the floor. We also had space to add a floor bin, plant, side table and ottoman, so this nursery will be super functional! Pro tip: Don't forget to plan for things that need to sit on the floor, like the diaper pail and storage bins!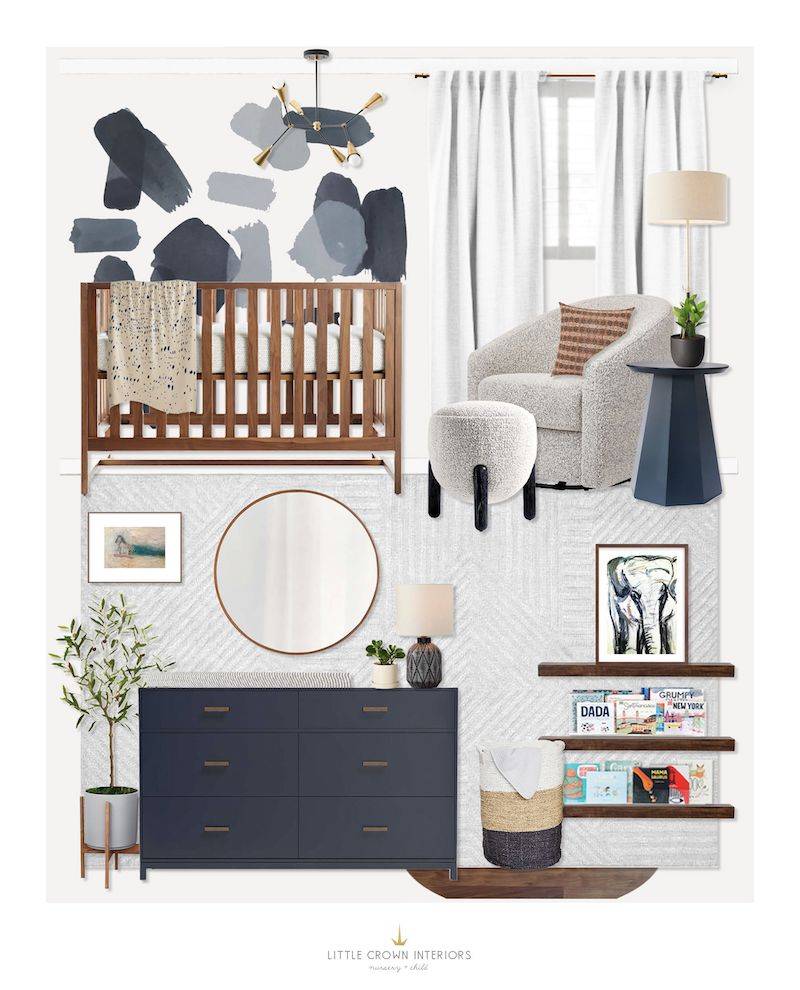 ---
· Nursery Details ·
Walnut Crib | Navy Dresser | Rug | Glider | Ottoman | Side Table | Abstract Wall Decals | Mirror | Floor Lamp | Chandelier | Hamper | Faux Olive Tree | Larger Planter | Wall Ledges | Table Lamp | Elephant Wall Art | Zebra Wall Art | Throw Blanket | Blackout Curtains | Small Plant
---
As with all our nursery designs, the details are so important! We pulled in a little gold to warm up the space by using a chandelier, wall mirror and floor lamp that all had gold in them. To balance the walnut crib, we used walnut wall ledges on the other side of the room. To balance the navy dresser, we used a navy side table (and of course the fun navy wall decals).
Part of the reason we went with wall decals instead of wallpaper is that our client didn't want to put any artwork over the crib. Wallpaper and wall decals are great for using above a crib since they add tons of style, but don't pose any safety risk. Of course, there are ways to safely add artwork over a crib as well, which many parents opt to do.
*This post may contain affiliate links, but don't worry, I only link items that I 100% recommend! You can view our Disclaimer here.