This premium package nursery e-design was for a client in New Jersey who wanted a sophisticated soft blue design for her baby boy. The best thing about this room (as you can probably guess!) is that amazing curved ceiling. I love architectural details like this, and it really makes the room feel grand and large.
The walls are actually a light blue grasscloth wallpaper (it's a little hard to tell in the rendering since the pattern is so small). My client wanted texture on the walls, but since the room is large, she didn't want anything too busy. By choosing a subtle grasscloth, we were able to bring some color and texture into the room without it feeling overwhelming. Plus, grasscloth is super versatile and can still work even if the design of the room is changed up in later years.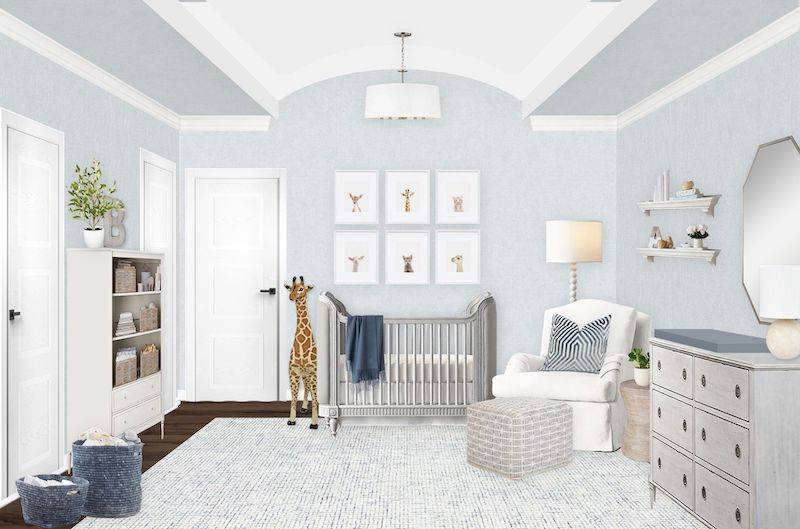 Wallpaper | Crib | Gilder | Rug | Dresser | Table Lamp | Ottoman | Pillow | Side Table | Book Case | Baby Animal Art | Wall Shelves | Mirror | Floor Lamp | Wall Letters | Giraffe | White Crib Skirt | Storage Bins | Changing Pad Cover | Faux Plant | Small Faux Plant
Even though the space has light blue wallpaper and a light blue rug, my client didn't want it to feel overly pastel. We layered in some grays and a little slate blue to give the nursery design some contrast and depth. We also used a white bookcase to pair with the gray furniture so it didn't feel too matchy.
The home already had a really great chandelier with a silver canopy, so we used silver as the metallic in the room (even though there aren't really many metallic items). The mirror is a pewter color, as is the hardware on the dresser. I also chose a standing letter "B" to sit on the bookcase to bring that silver color across the room.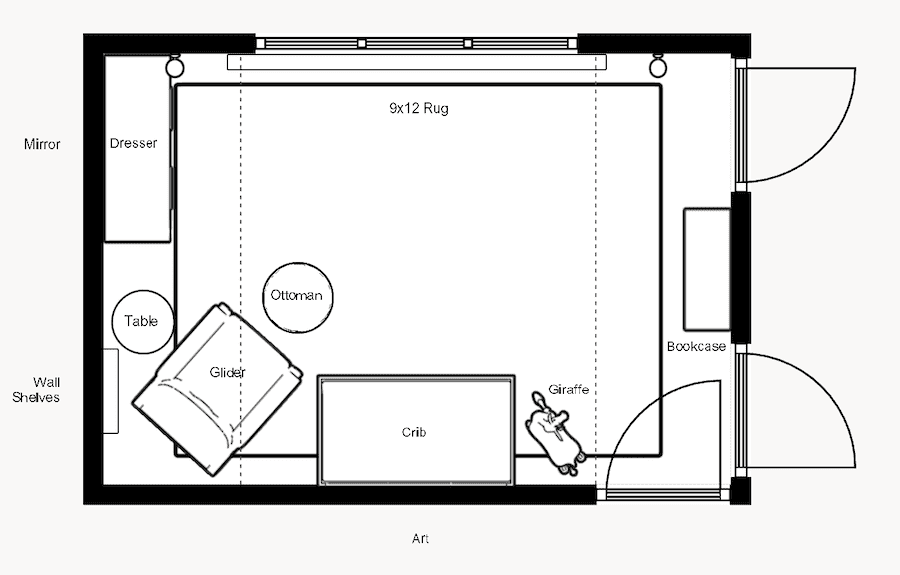 As you can see in the floor plan, there is also a nice big window on the other side of the room with sconces on either side of it. This space really gets a lot of natural light, so we made sure to include blackout window treatments. This was a little tricky though since there was a floor radiator the whole width of the window, so we couldn't do curtains. We also couldn't put any furniture in front of it since it would be a safety issue. Instead, I suggested to her that she can get some floor bins to put under the window as long as they aren't touching the radiator.
Luckily this room also has a full closet and bathroom, so there is plenty of storage. I really love how this one came together, and just can't get over how cool that ceiling is!
*This post may contain affiliate links, but don't worry, I only link items that I 100% recommend! You can view our Disclaimer here.