Neutral nursery designs have been super popular this year, and I have another nursery e-design to reveal that's neutral with black and white, and super adorable. My client wanted a space that felt both neutral and a little fun with some contrast. She didn't have a specific theme in mind, but wanted it to feel sweet and cozy.
The nursery is often a small space, and that was the case here. We didn't have a ton of room, so we had to make use of the space as best we could. Luckily, there was a nice wall for the crib with no safety issues, so that's where we started. We had room for a changing table, but needed to find one that wasn't too large so we also had room for a diaper pail (pro tip: always make sure you have room on the floor next to the changing table for this!).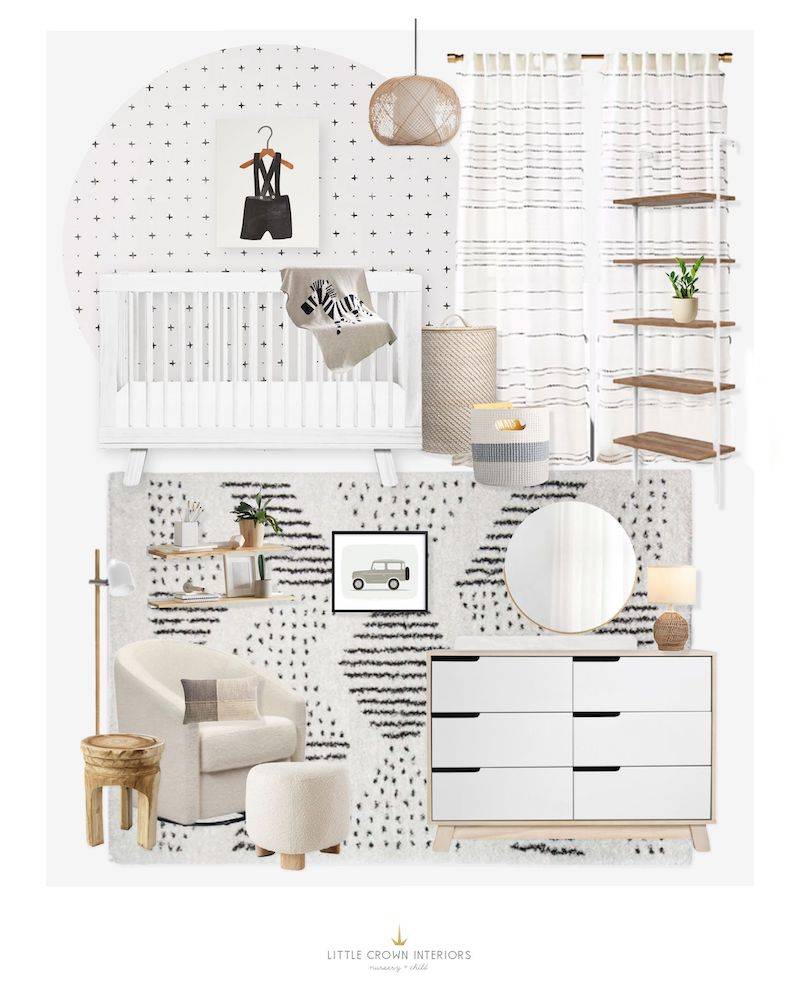 Wallpaper | Crib | Dresser | Glider | Ottoman | Bookcase | Wood Side Table | Lamp | Chandelier | Rug | Mirror | Wall Shelves | Window Treatments | Large Storage Basket | Storage Basket | Zebra Blanket | Car Art Print | Overall Art Print | Throw Pillow
My client also wanted to incorporate a wallpaper accent wall, but since the space was small, we didn't want to overwhelm the space. We chose a sweet little black and white wallpaper—since the pattern in small, it will give the wall interest without being overwhelming.
For a little fun, we added a bolder rug with a black and white pattern, and some curtains with a soft stripe as well. The nursery glider is a solid neutral to balance the patterns, and it's also a petite size to fit in this space.
We had a little room left for some storage on one of the walls, so we went with a slim bookcase. That way, there will be space for books and some smaller toys. There is also a storage basket next to the crib which can be used for larger toy storage or bulkier items.
I think my favorite thing in this nursery is the overalls artwork over the crib—I just love how cute it is! The great thing about this piece is that it's available as an art print or a canvas. We opted for a canvas since it's going over the crib, so there is no need to frame it.
If you're interested in a nursery e-design of your own, make sure to contact us as soon as possible! Our e-design services book up very quickly and we have limited slots available.
*This post may contain affiliate links, but don't worry, I only link items that I 100% recommend! You can view our Disclaimer here.