Whenever we interview new clients, we always make sure to address not only the crib, but the bassinet as well. When designing a nursery, we often end up dealing with some spaces that are in other areas of the home since it can overlap. Does our client plan on keeping the baby in a bassinet for the first few months? Do they have a larger home where they might want a bassinet downstairs? Are they having a C-section which will make it difficult to go up and down stairs? These are all questions we ask to help direct our clients to the right products, even if it's outside the nursery design. Here are some of our favorite bassinets that we recommend to clients, and that our clients love.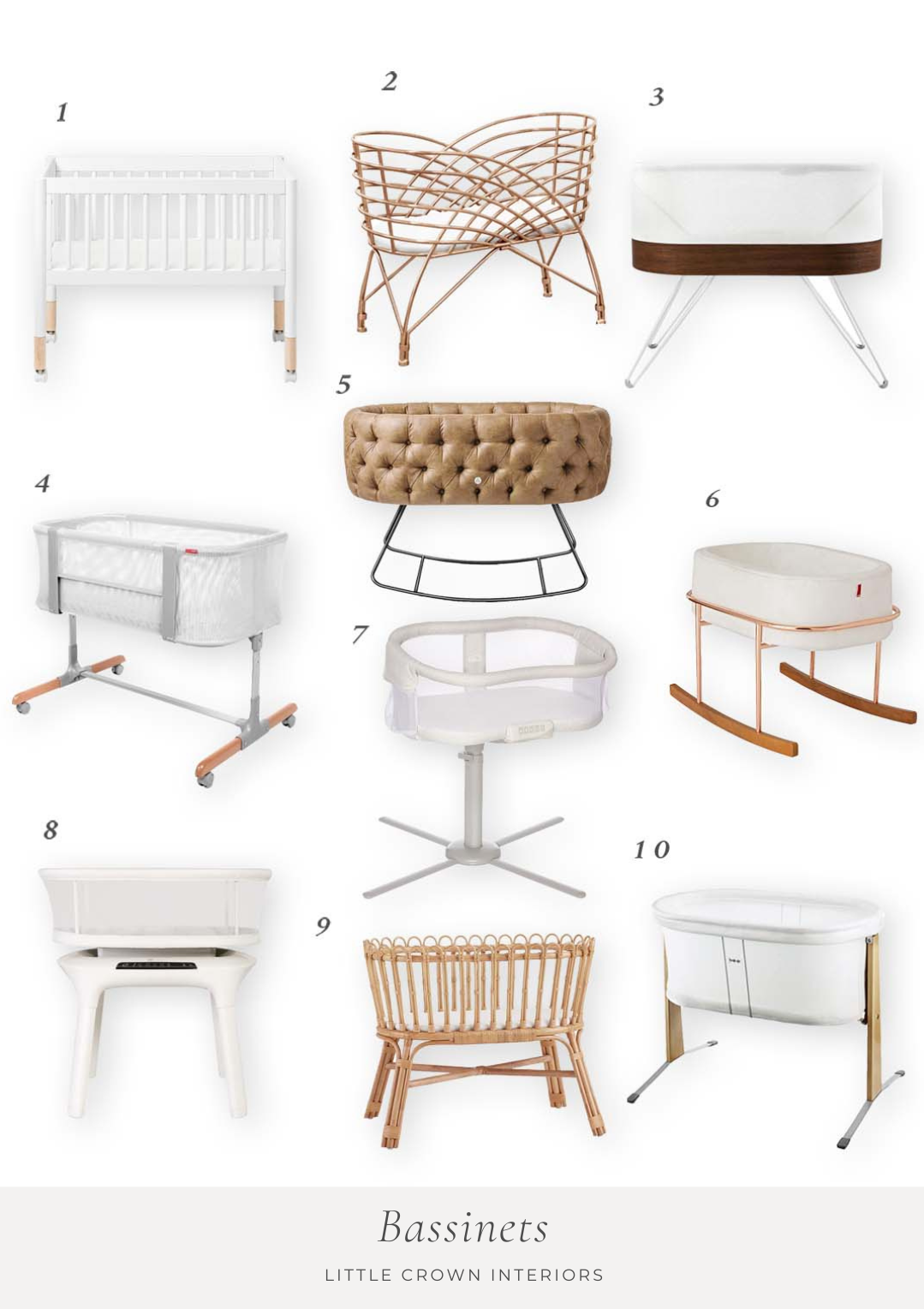 1. Babyletto Gelato: This bassinet has a completely portable design with added wheels for functionality. It's a clean and modern design, but still has a touch a coziness with the little wood foot. It also has an adjustable height option!
2. Aura Metal Bassinet: This rose gold metal bassinet is so beautiful, and we've used it in so many homes. It has open sides so breathability is never an issue, and wheels so you can move it around. We love that this bassinet is a statement piece that just oozes elegance.
3. SNOO Smart Bassinet: You've probably heard of the SNOO Smart bassinet. With a notable reputation, this bassinet has a couple of great perks such as mesh sides for optimal breathing, automatic soothing response, and an integrated safety swaddle feature. Some cons are that it's cumbersome, must be placed near a plug, and some parents worry that their baby will get used to it and have trouble sleeping later on. We have a "SNOO speech" when clients express interest in this one since it can be fairly polarizing. Which side of the fence are you on?
4. Skip Hop Cozy: This is a great bassinet options with wheels that's affordable and cute. This one can double as a bed-side sleeper with it's fold down side and the mesh sides keep it nice and breathable. This bassinet is a gold standard!
5. Tufted Leather Cradle: The beautiful craftsmanship and design of this cradle is seriously gorgeous and will make a statement in your home. It has a rocking base and a tufted top that come in a few other options as well. This one is high-end and pricey, but so beautiful!
6. Monte Rockwell: Monte is a mainstay for nursery gliders (we use them in almost every nursery design), but they also make a great bassinet! The Rockwell has a sleek modern design with its microsuede basket, copper base and walnut rockers. What we also love is that this can be used as a floor bassinet as well—it just lifts out of the base and can be set on a bed or other surface. The microsuede basket cover is removable and machine washable, and Monte's fabrics are second to none.
7. Halo BassiNest: This is an award-winning bassinet for its convenience, safety, and comfort. It's known for its 360-degree swivel and soothing center with vibrations, sounds, and lighting settings. This bassinet has a lot of bells and whistles with great reviews by parents to back it up!
8. MamaRoo: The MamaRoo is another smart bassinet rooted around the science of infant sleep. It has multiple speed and noise options inspired by a parent's soothing motions. Like other MamaRoo products, this is a must-have for hands-free safety and soothing.
9. Rattan Bassinet: Nope, we're still not over rattan! If you want to bring an earthy, natural look to your space, this bassinet is made of rattan that is very on trend right now. We love this look to add texture and design to a room without compromising the baby's safety.
10. Baby Bjorn Cradle: This modern cradle is a lovely rocker that can be swung by you or by the motion of your baby. It's simple and very light for quick moves around the house. We love this simple design that's high on both function and style.
Do you plan to use a bassinet for your nursery, bedroom or other area? Which one is your favorite?
*This post may contain affiliate links, but don't worry, I only link items that I 100% recommend! You can view our Disclaimer here.