Nursery mobiles are a classic item you may want to add to your design. They bring whimsy to the nursery and many children love to stare up at them. There are a ton of beautiful designs that hang from the ceiling and we've pulled together some of our favorites for you below. Keep in mind that mobiles do need to be hung safely. If it's going above the crib, make sure it's securely hung from a ceiling hook that screws in tight. As for the height, you'll want the bottom of the mobile to be high enough so that the baby can't reach if even if they stand up in the crib.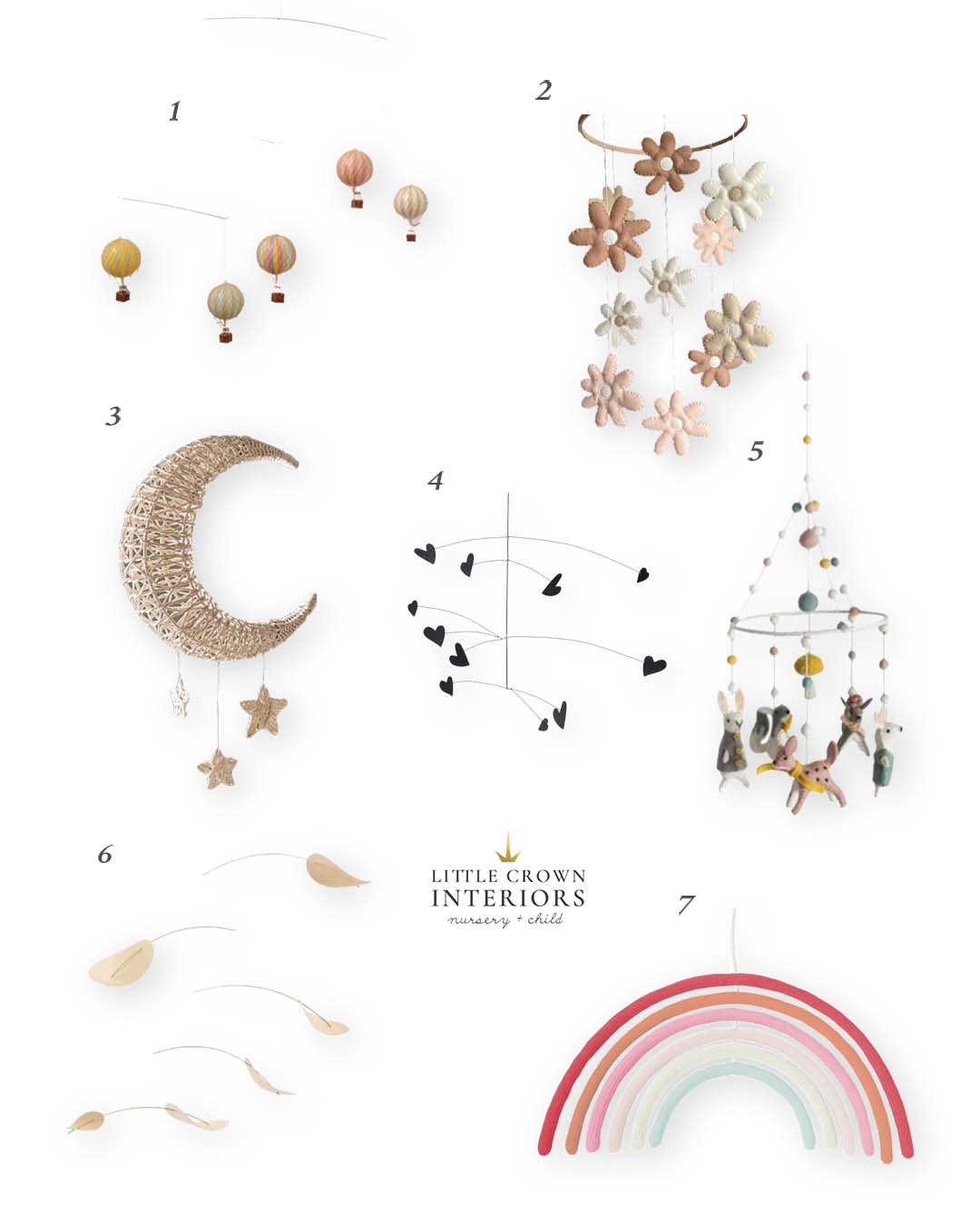 1. Hot Air Balloon Mobile: This is a classic mobile with a more traditional hot air balloon design. We also love the playful touch of the multi-color balloons. 
2. Flower Mobile: This is a fun and funky mobile for your little flower child. This mobile is handmade and can be done in custom colors to match your nursery. 
3. Rattan Moon Mobile: This is such a beautiful woven piece! This mobile has a great texture to add to a boho nursery. Rattan is very on trend right now, but we suspect that trend will be around for a while!
4. Heart Mobile: This mobile has modern elements with its simplicity and metal frame. We love its bold color, yet the hearts make it soft! This could even work in a kid's room or teen room since it feels a little more sophisticated. 
5. Magical Forest Mobile: This is a whimsical mobile to entice magical daydreams. The muted colors and animals are neutral enough to go with most nursery decor, and the style is sweet and endearing. 
6. Drifting Clouds Mobile: Made from natural wood, this beautiful mobile floats like drifting clouds above. It's more of an abstract piece, but still feels whimsical and fun. This is an excellent nod to the simple yet beautiful Scandinavian design trends.
7. Rainbow Mobile: We end with a bright addition to our other mobiles—a perfect felted rainbow. This mobile comes in different colors and can also be used as a wall hanging. Rainbows are always an option for nurseries since they express so much joy!
*This post may contain affiliate links, but don't worry, I only link items that I 100% recommend! You can view our Disclaimer here.