Choosing artwork is often one of the hardest parts of any nursery design. There are endless options available all over the internet, creating instant overwhelm. While it's wonderful that there are so many different types of artwork out there now, it can be a hindrance when trying to narrow it down to just a few great pieces for your space. I usually avoid getting caught in the black hole of online shopping by going to a few of my favorite nursery artwork resources first.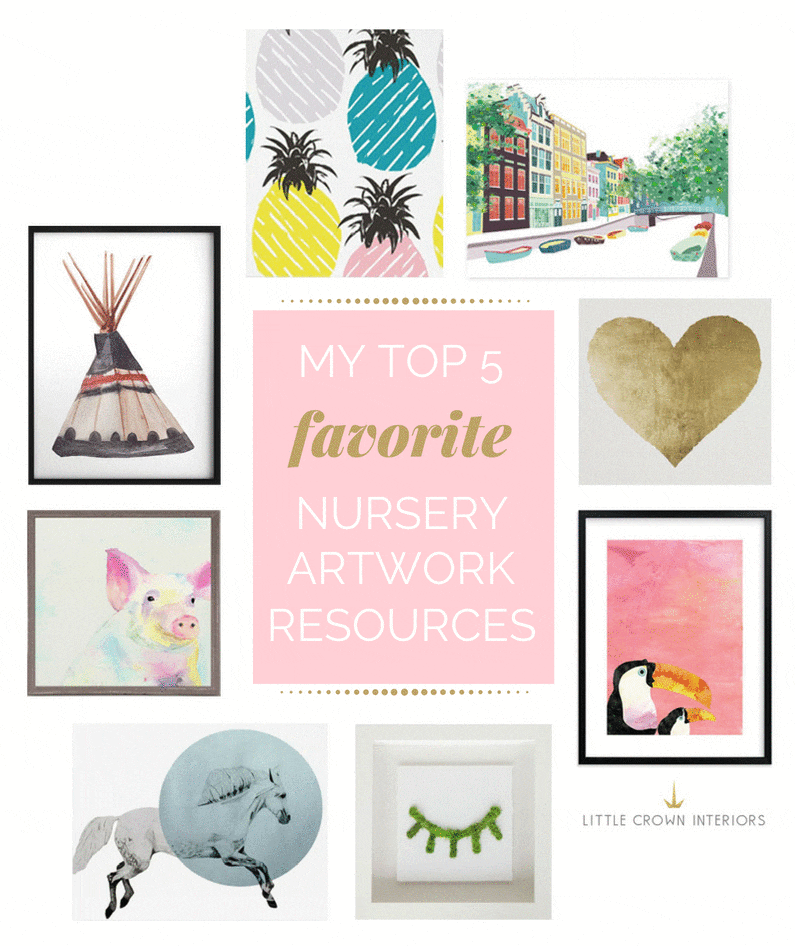 1. A great place to start is Minted. They have a fresh catalog of new and rising artists, and carry artwork in a lot of styles. Everything can also be ordered framed (in a variety of styles), so there's no need to worry about framing. They also have a great range of sizes, even going up to very large if you're looking to make a big statement.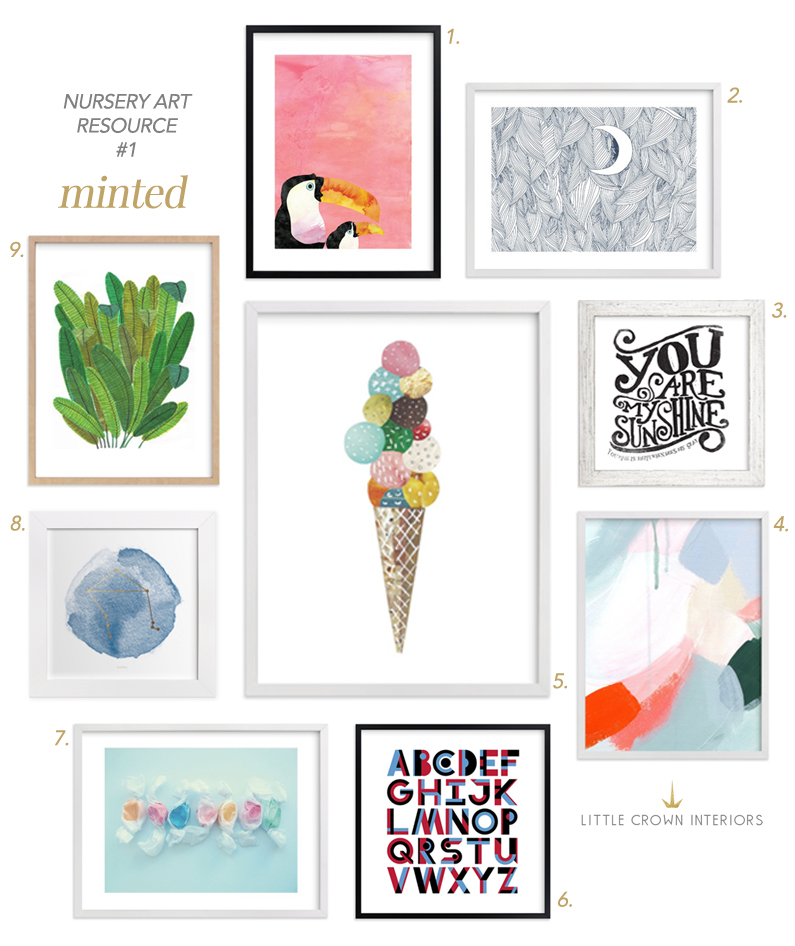 1. Toucans | 2. Peek A Boo | 3. You Are My Sunshine | 4. Enliven | 5. Ice Cream | 6. Geometric Alphabet | 7. Blue Taffy
8. Capricorn | 9. Banana Leaf Bouquet
2. I have been using nursery artwork from Greenbox Art ever since I started my company. They are actually a 3-branch company: Greenbox Art for adults, Wheatpaste for teens and Oopsy Daisy for kids, and they are all combined on one website. Most of their art is available as stretched canvas, which is perfect for the nursery since it's lightweight and safe. However, they also recently launched framable prints too, so the option is there for both.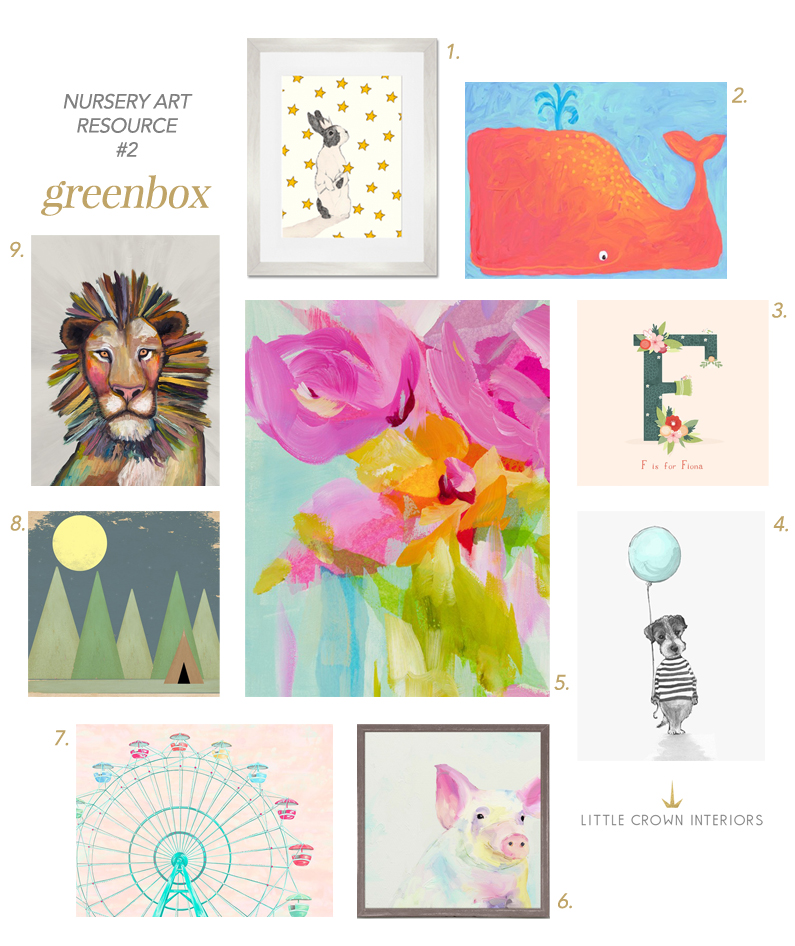 1. Magic Bunny | 2. Red Whale | 3. F is for Flower | 4. Pup with His Blue Balloon | 5. Spring Rain | 6. Happy Pig | 7. Confetti Sky
8. Little Tent Big Dreams | 9. Wild Lion on Cream
3. Oliver Gal is a slightly more high-end company that offers a large variety of stretched canvas pieces and some specialty material pieces. They have a lot of feminine and glitzy artwork, so I always check here first if I'm working on a girly nursery or a girl's bedroom that needs a little feminine flair.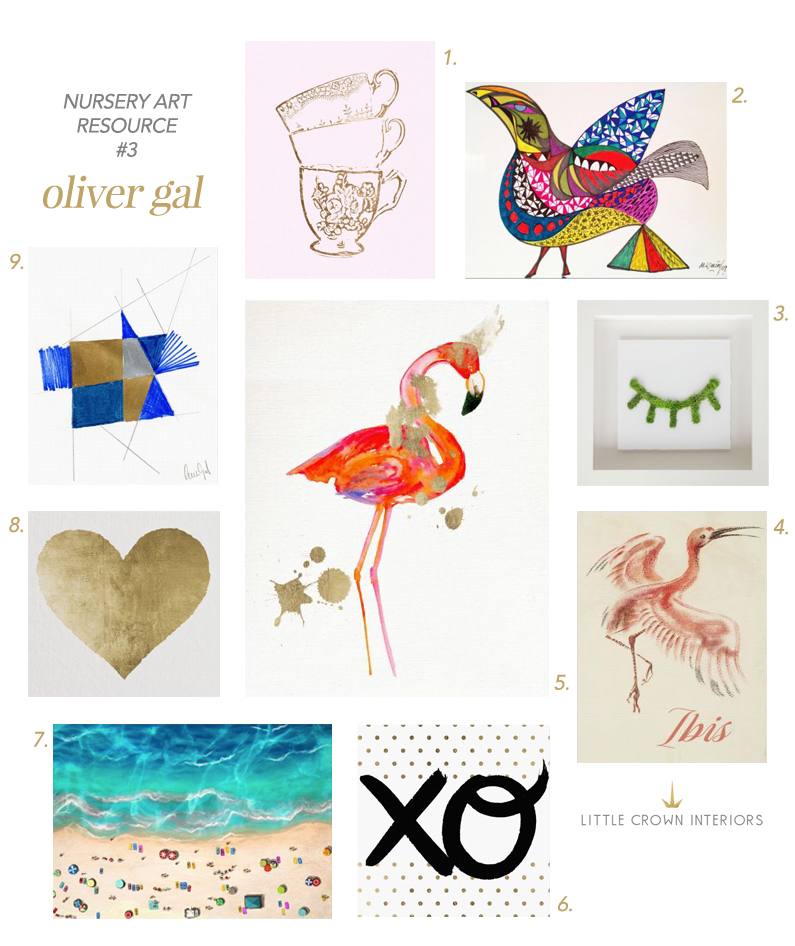 1. Tea Time | 2. Bird | 3. Moss Wink | 4. Ibis | 5. Ballerina Flamingo | 6. XO | 7. A Day at the Beach | 8. Forever and Ever
9. Mondrian Star
4. Remember that black hole I warned you about earlier? Well, DENY Designs is one of those shops where you suddenly realize you've spent 2 hours browsing. They have a massive catalog of artwork, both stretched canvas and framed prints. It can be a little overwhelming, but if you know what you're looking for, it's a great place for cute and affordable art.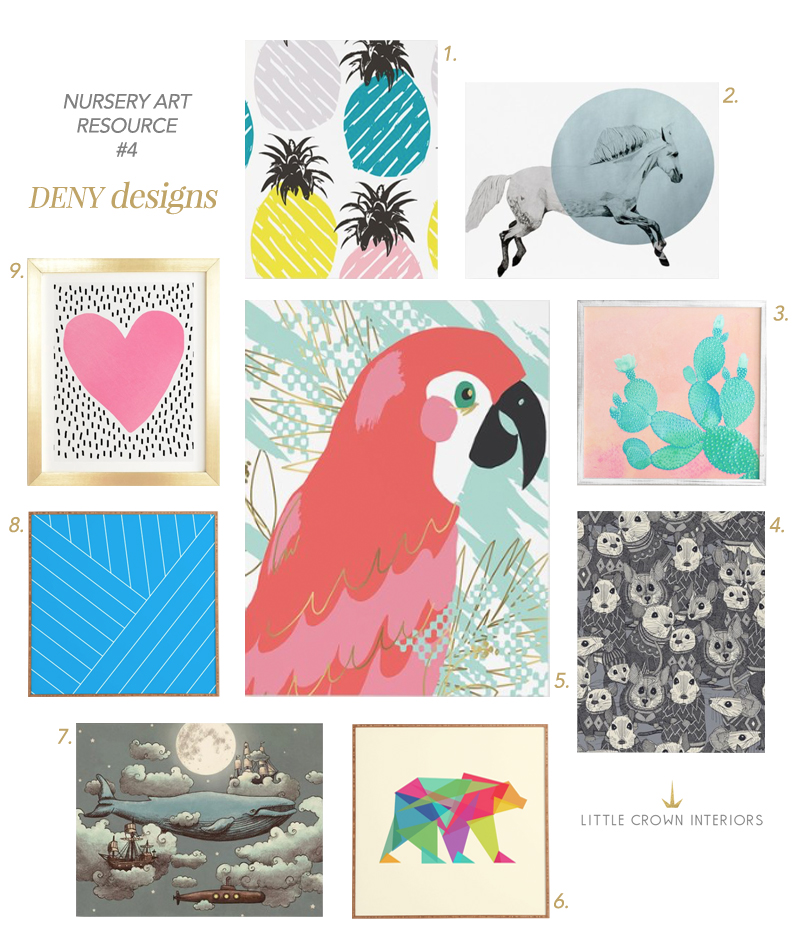 1. Pineapple Pastel | 2. White Horse | 3. Pastel Cactus | 4. Sweater Mice | 5. On the Wings of Love | 6. Fractal Geometric Bear
7. Ocean Meets Sky | 8. Wave Blue | 9. Pink Heart
5. If all else fails, I head to Etsy. I usually try to narrow down the options as best I can in the search requirements, and I have a few tried-and-true search keywords that I use to help me locate quality art. I love Etsy because you have access directly to the artist, so questions and customization requests are usually answered in a timely manner.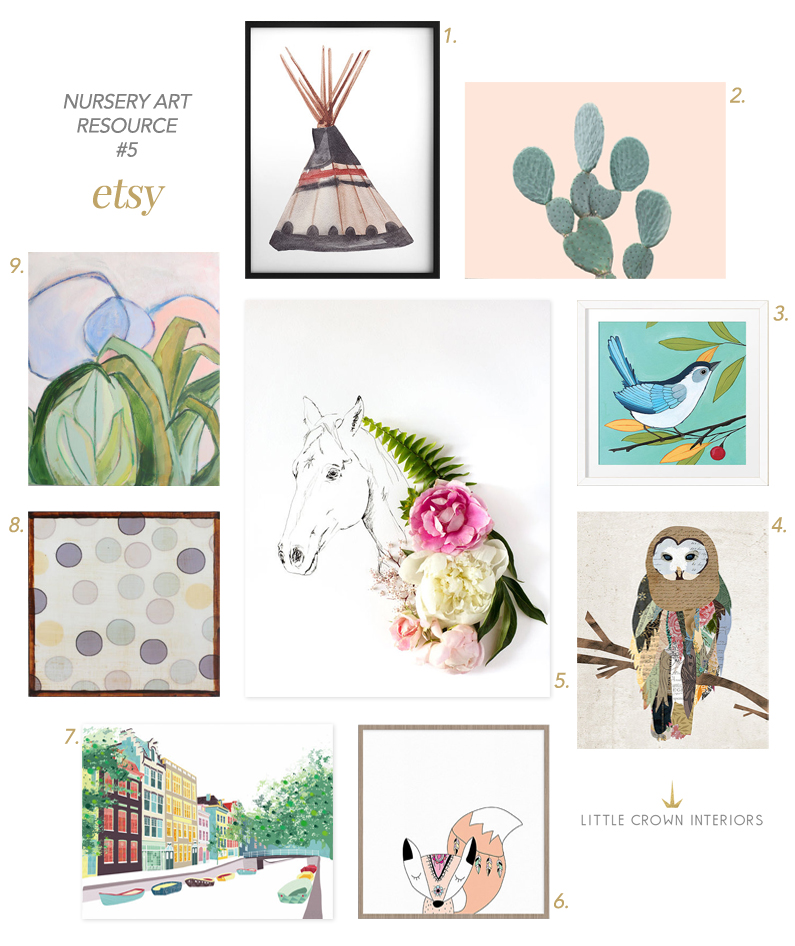 1. Teepee Poster | 2. Minimal Cactus | 3. Bird Print | 4. Owl Collage | 5. Horse | 6. Fox | 7. Amsterdam Canal | 8. Polka Dot
9. Coastal Moon
The crazy online world of nursery artwork is delightful and inspiring at its best, and overwhelming and time consuming at its worst, but it's worth it when you find that perfect piece to showcase over your crib.