Lighting can make such a major impact in a nursery design! We use statement light fixtures and chandeliers all the time in our designs. It's great to use pieces that function not only as lighting, but also as decor. Lately, we've been getting a lot of requests for floral lighting. Floral chandeliers and lamps were something we used to use fairly frequently in the earlier years of Little Crown, and it looks like they are coming back!
Florals don't have to be super traditional or feminine. It's just inspired by nature, so the options are endless. We've pulled together a bunch of our favorite floral lighting options for both chandeliers and lamps below!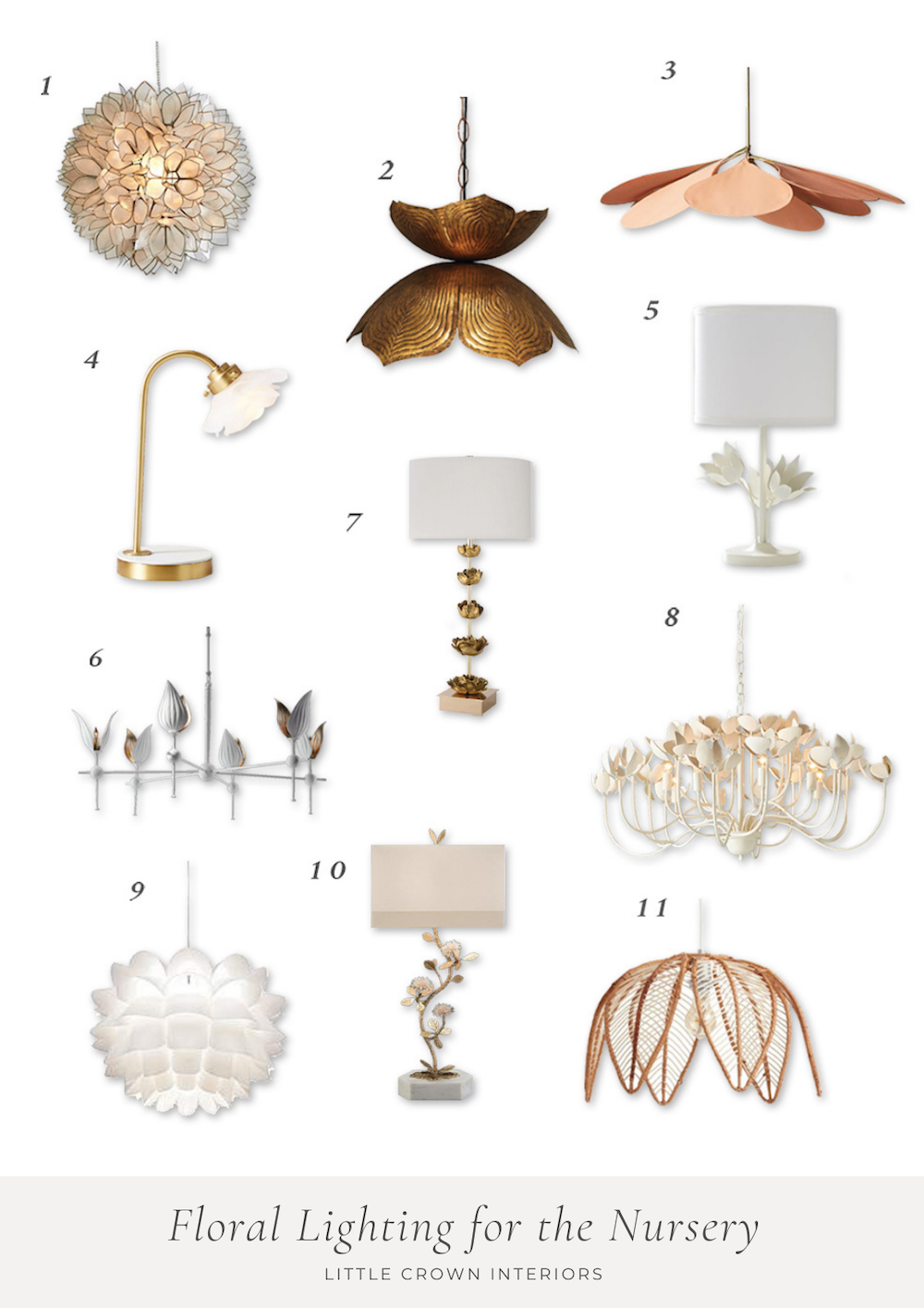 1. Capiz Flower Pendant: We just used this Capiz shell floral chandelier in a nursery recently! It hasn't been installed yet, but you can be sure there will be photos of it when it is. The shape and size will work with lots of room layouts, and the brass details give it so much glamour.
2. Mariposa Pendant: This piece is a bold hand-hammered lotus flower design in antique brass. The overall design is so subtle and sophisticated.
3. Petals Pendant: This light fan-like petal pendant is the perfect airy piece for a nursery! It has more of a flat style so it would work in a space that doesn't have very high ceilings.
4. Blossom Lamp: If you're looking for something small and delicate to accent your nursery or kid's room, this little floral lamp is great. The gold finish and frosted glass detail give it a traditional look, but it's modern enough to use in a transitional or eclectic space.
5. Flower Bud Lamp: This flower bud lamp is a great neutral piece to add a festive floral touch to any room. It's simple and white, but so whimsical!
6. Peace Lily Chandelier: With its silver leaf interior details, this peace lily chandelier appears both antique and delicate. This is a BIG chandelier, so definitely a statement piece for a larger room with high ceilings!
7. Adelina Lamp: Another large statement piece for a bigger space, this gold floral lamp is stunning! If you have an area with a large dresser and want something bold, this will fit the bill.
8. Gardenia Chandelier: You may recognize this amazing floral chandelier from our Traditional Gray and Lavender Nursery! This is a larger chandelier at 38″ wide, but we hung it close to the ceiling so it didn't overwhelm the nursery.
9. Euro White Flower Chandelier: If you're after something less traditional but still want a floral look, this modern floral chandelier is a beautiful choice! It has a sleek design, but is still sweet, subtle and versatile.
10. Quartz Flower Lamp: This lamp is a very high-end option, but a stunner! Dripping with quartz crystal flowers and a solid marble base, this would make a fully designer nursery very happy.
11. Rattan Flower Avery Pendant Shade: If you're looking for more of a boho look, this beautiful floral pendant is made of rattan in a warm brown for a natural look.
What do you think? Would you add floral lighting to your nursery or kid's room?
*This post may contain affiliate links, but don't worry, I only link items that I 100% recommend! You can view our Disclaimer here.