About 2 years ago, I started getting emails from friends, family and colleagues asking why I didn't tell them I was secretly working on designing George and Amal Clooney's nursery. I was so baffled by this because I had nothing to do with their nursery, nor did I even know they were expecting. Many confused emails were exchanged until I figured out what had been going on.
It turns out they weren't even expecting at that time, but some reporter somewhere had made up a story about me designing the Clooneys' million dollar nursery, and it got plastered all over the internet. I'm living proof that most of what you read about celebrities is probably not true. If you search for "George Clooney Nursery Naomi Alon", there are many websites reiterating the same article, mostly UK based. How they even got my name? I have no idea. Here's a fun excerpt from one of the articles:
"The couple has reportedly began construction on their Berkshire, England Mansion and according to a new report they are building a $2 Million baby wing."
"It will include a nursery, spa, mini swimming pool, children's library, two playrooms, and nanny quarters, an insider told In Touch. "They have already hired Los Angeles nursery designer Naomi Alon, and Amal is putting orders in at designer baby boutique Petit Tresor. Amal wants it to be a dream sanctuary!"
Nope. Not even a little bit true.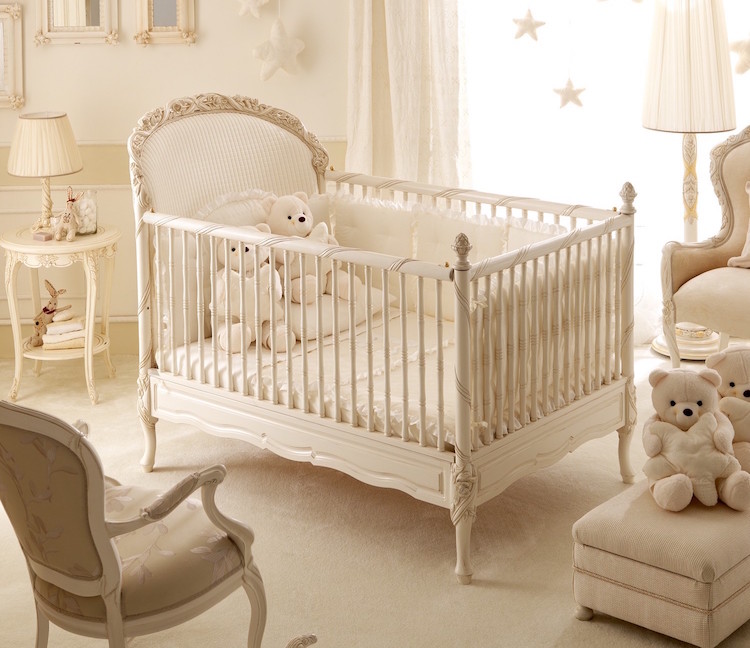 When I saw yesterday that the Clooney's had welcomed home their twins, it reminded me of this funny story. Here's the thing though – I did a little internet searching to see what the articles are saying now about their nursery design, and the information is all over the place. A few sites have mentioned that they purchased the Petit Tresor Notte Fatata Crib above, but who knows. What have we learned? Don't believe anything you read about celebrities.
I've designed a few celebrity nurseries before, for Laila Ali, Spice Girl Mel B., J.R. Martinez, and a few others that I can't name, but I definitely did NOT design George Clooney's nursery. So there you have it, straight from the source.
[et_bloom_inline optin_id=optin_10]