Contrary to what many may believe, working from home can be more challenging than it sounds. Getting up and ready to go, avoiding distractions, and separating your home and work life is hard enough, but working at home AND watching over a baby can be an overwhelming task. More and more moms are choosing to move their work to the home when possible, so designing a functional home office is a very relevant topic! Here are my top tips for creating an inspiring home workspace while managing childcare at the same time.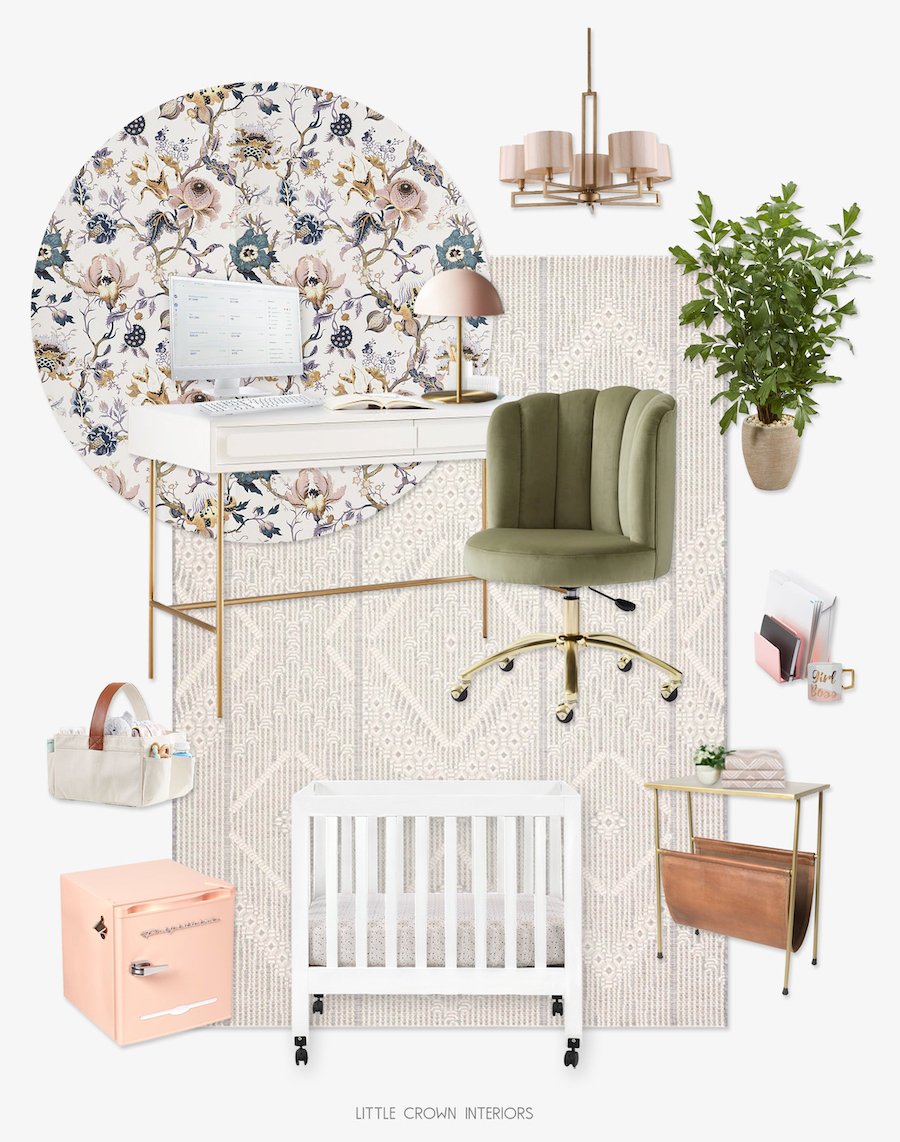 Desk | Desk Chair | Floral Wallpaper | Blush Lamp | Floor Plant | Pink Paper File | Magazine File Table | Mini Crib | Neutral Rug | Girl Boss Mug
Make the office a place that you want to be. Whether you have a dedicated office, or are designating a specific spot within your bedroom or living room, ensure that your space motivates you to get to work! A great plus of working at home is that you have the flexibility to make your work area what you want it to be—no cubicles or uncomfortable office chairs! Choose a desk and decor that make you feel inspired, a comfortable chair you can sit in for longer periods of time, and plenty of plants and natural light to help you avoid feeling stir-crazy.
Separate work space from living space. When you work from home, it is much easier to carry the day's work along with you into every room of the home, past your scheduled work time. Set boundaries for yourself so that you avoid the trap of associating your entire home with work (I am super guilty of this). Have a designated work area and avoid carrying your laptop to other rooms of the home no matter how tempting and comfortable they may be. Creating a separation between work and home is key!
Make space for yourself. Creating a clear mental space is crucial for working at home as distractions are everywhere! If you have childcare or another stay/work at home parent, consider investing in a white noise machine or noise canceling headphones. That way, if someone is in the other room playing with the baby, you can focus on your work.
Make room for baby. If your baby is too small to be alone and you need to keep a close eye on them while you work, a portable mini crib or bassinet is a great option. The example linked to the design board has casters on the feet so it can easily be rolled around the home. This is a great solution if you have more than one area of the home dedicated for work! A portable changing caddy is another piece that will prove useful in this situation.
Add some conveniences. Depending on the location of your room and the age of your baby, adding a little mini fridge can be super convenient for keeping water, milk or little snacks nearby. This can be especially helpful if you live in a 2-story home, or if you need to work in the office quietly while baby sleeps. The accessibility will also cut down on the time you spend going to and from the kitchen and will help maintain your focus! If you want to be super prepared, pre-make lunches (as you would for an office job) and store these in the fridge as well. You'd be amazed at the amount of time this saves during the work day!
Get serious about storage. Try to keep your office space as organized as possible, and teach your child from a young age that it is a hands-off space. If you're prone to clutter, consider getting a secretary desk that closes up, or a cabinet you can hide things in when needed. Clutter distracts the brain and will slow down the speed that you are able to work at. Plus there is nothing more uninspiring than walking into an office that is messy and disorganized. Keeping your workspace organized and clear will keep your mind open and clear as well!
*This post may contain affiliate links, but don't worry, I only link items that I 100% recommend!*
[et_bloom_inline optin_id=optin_10]