I'm still working my way through my massive backlog of nursery design reveals! I'll admit, blogging sometimes isn't a huge priority, especially when I've got a lot of design work to do (which is always). I'm trying to really focus on it so I can get all these reveals out to you!
This E-Design was for a Miami client who wanted something fun, colorful and high energy for her boy's nursery. She knew she wanted to incorporate blues and greens and keep the nursery furniture modern and white. I started with a design board, which you can see below, and then turned it into a full rendering after we'd made a few little tweaks.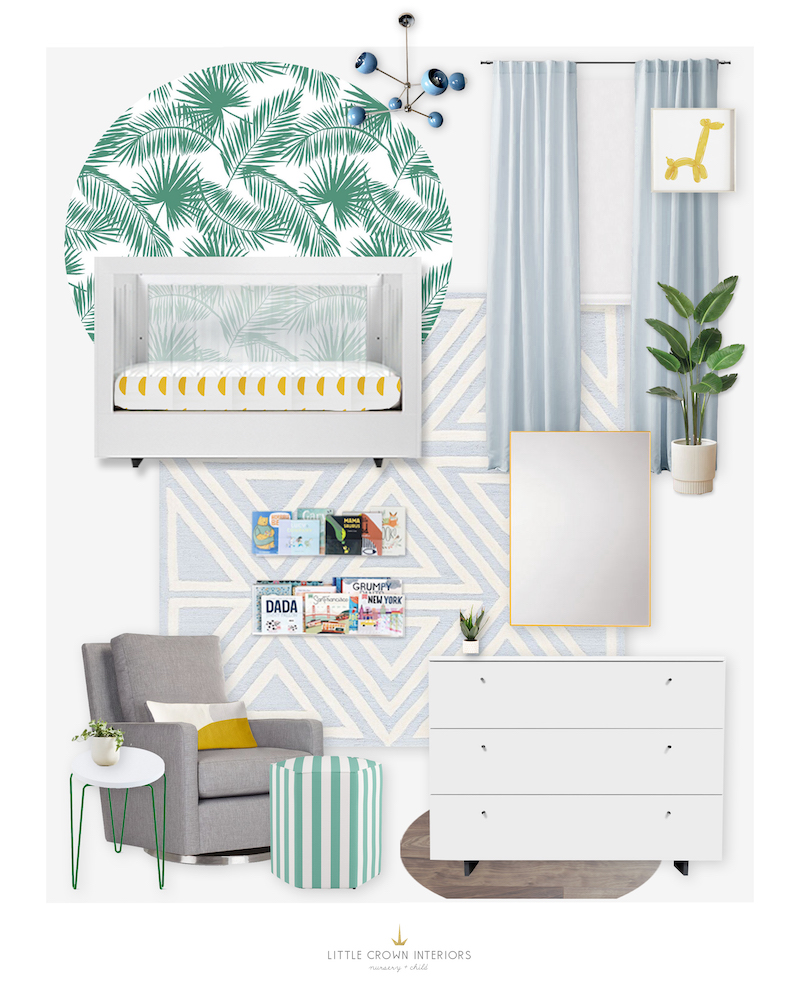 Acrylic Crib | Dresser | Glider | Ottoman | Rug | Pillow | Wall Ledges | Side Table | Chandelier | Crib Sheet | Blue Curtains
The ceiling in this nursery was REALLY high, like 12 feet high, so the biggest challenge was how to incorporate a wallpaper accent wall without it looking like a big stripe on the wall. The way we worked around this was to add molding on the wall about 2 feet below the ceiling, and paint that whole area. That way, it gives the illusion of a lower ceiling while giving us less vertical space to cover with the wallpaper. And as a bonus, a painted ceiling is super fun!
The ceiling height also posed an issue with choosing blackout curtains. Blackout curtains aren't available in a ton of sizes online, so we needed to go custom. In the above design board, I started with light blue curtains and then we ultimately switched to white which you can see below, and both are customizable with blackout lining and length.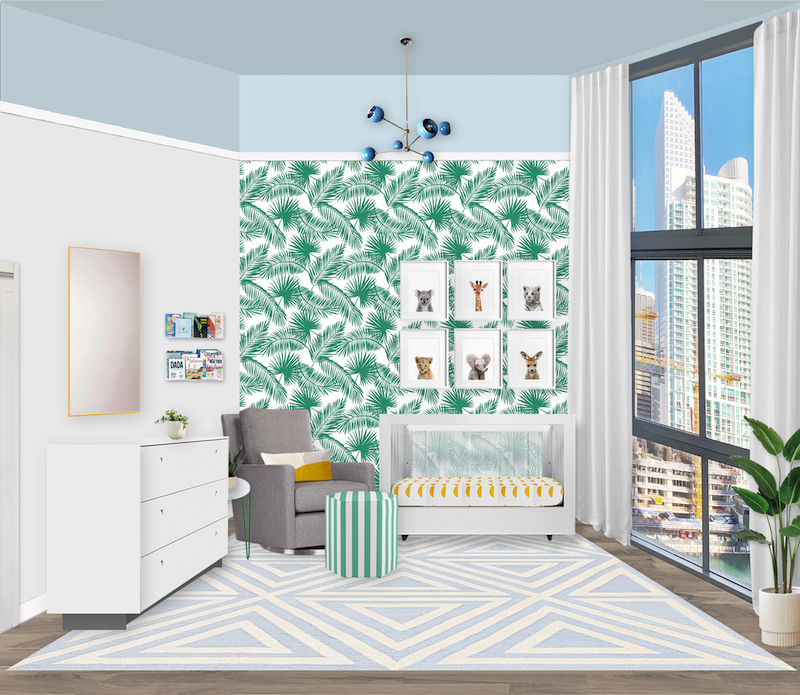 Acrylic Crib | Dresser | Glider | Ottoman | Rug | Pillow | Wall Ledges | Side Table | Animal Artwork | Chandelier | Crib Sheet | White Curtains
I chose a crib and changing table that were sleek and modern, and the crib has a great acrylic accent. I've used this furniture brand before, and it's so well made. It even holds up to chewing and the finish doesn't flake off.
The palm wallpaper has a bright green color which pairs nicely with the light blue. I threw in a pop of yellow to give it some more contrast and excitement, and then added some animal artwork. I love that this boy's nursery is unexpected and vibrant—I'm a huge fan of using colors and patterns that inspire intrigue and imagination.
*This post may contain affiliate links, but don't worry, I only link items that I 100% recommend!*
[et_bloom_inline optin_id=optin_10]