Back when I started Little Crown Interiors, one of my very first clients was living in a traditional home in Beverly Hills but loved modern design. I worked with her to come up with a compromise for her son's room. Then a few years later, she moved into a very modern home and called me asking for a very colorful and modern bedroom for her son, now age six. Some of his favorite things are video games and astronauts, so I created a design that was bright and bold with modern touches and lots of fun.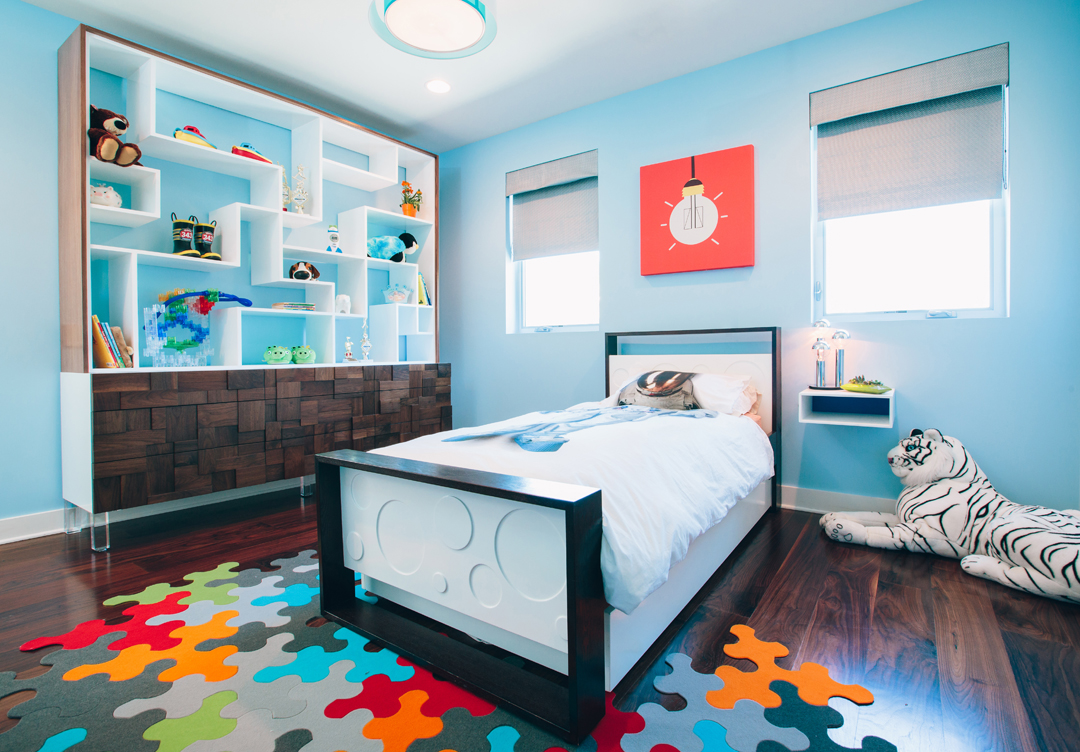 She already owned the Nursery Works bed from his last room, so we re-used it in this design (sadly, it's discontinued now). There was a very long empty wall for a dresser or bookcase, so I suggested the Kubist Dresser from ModShop, which has such an amazing modern design. To add some serious drama, I designed a custom bookcase that we added on top for all his toys and collections.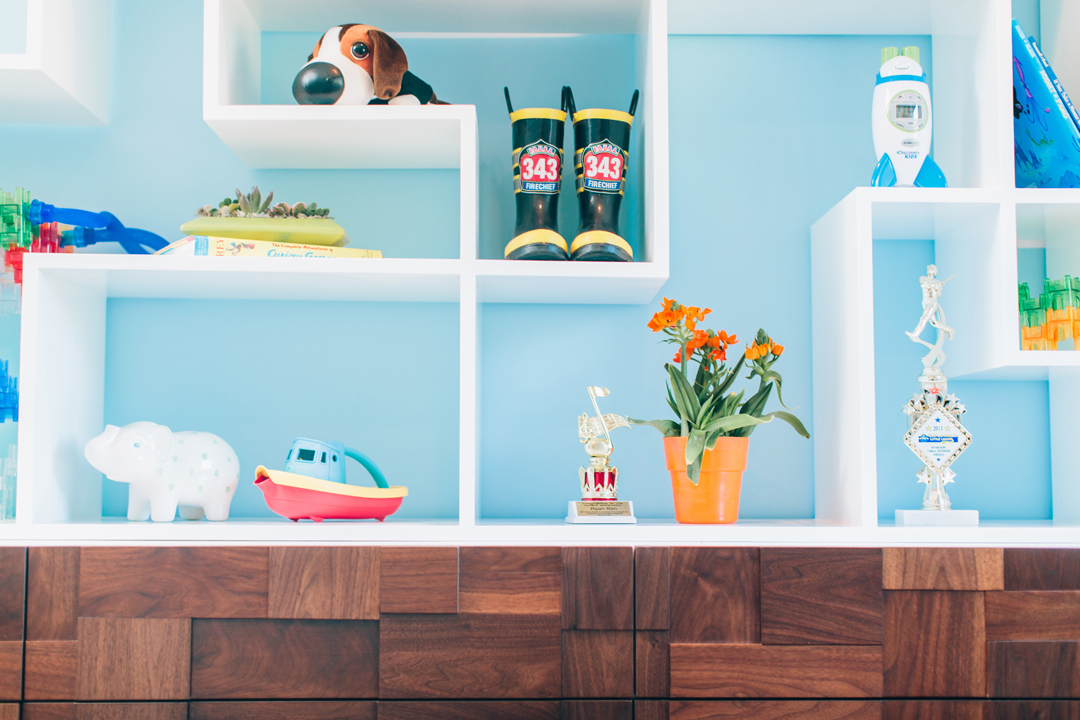 In the other corner of the room, I wanted to create an area for pure fun. My client expressed interest in having a hanging chair in the room, so I jumped at the chance to install an acrylic bubble chair! Behind the chair, we added white and silver upholstered "pixels" for a fun video game feel and to protect the walls. For a pop of color, we sent in a photo to All Pop Art and had a fun Warhol style art piece made.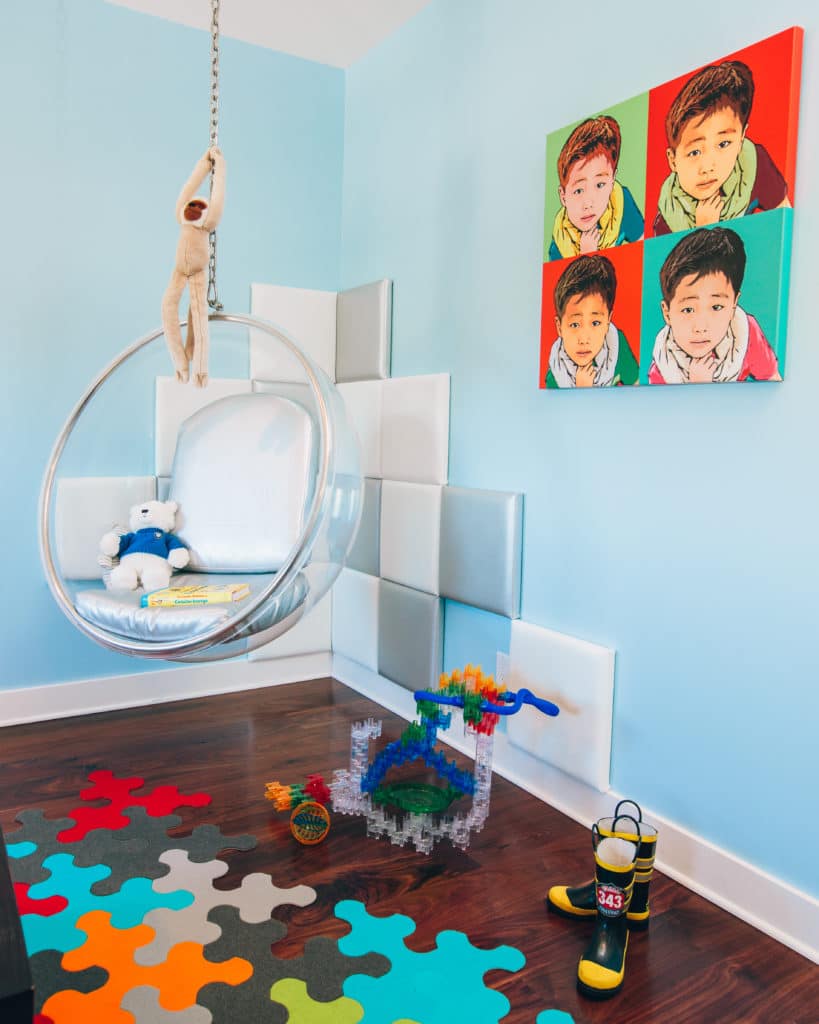 One of my favorite parts of this room is the Puzzle Rug. It's a rare thing to come across an area rug that also functions as kid's entertainment! The whole thing is modular, so he can play around with it and move the puzzle pieces around as he chooses. To complement the design, I added a floating side table, some custom silver roman shades and a fun modern ceiling pendant.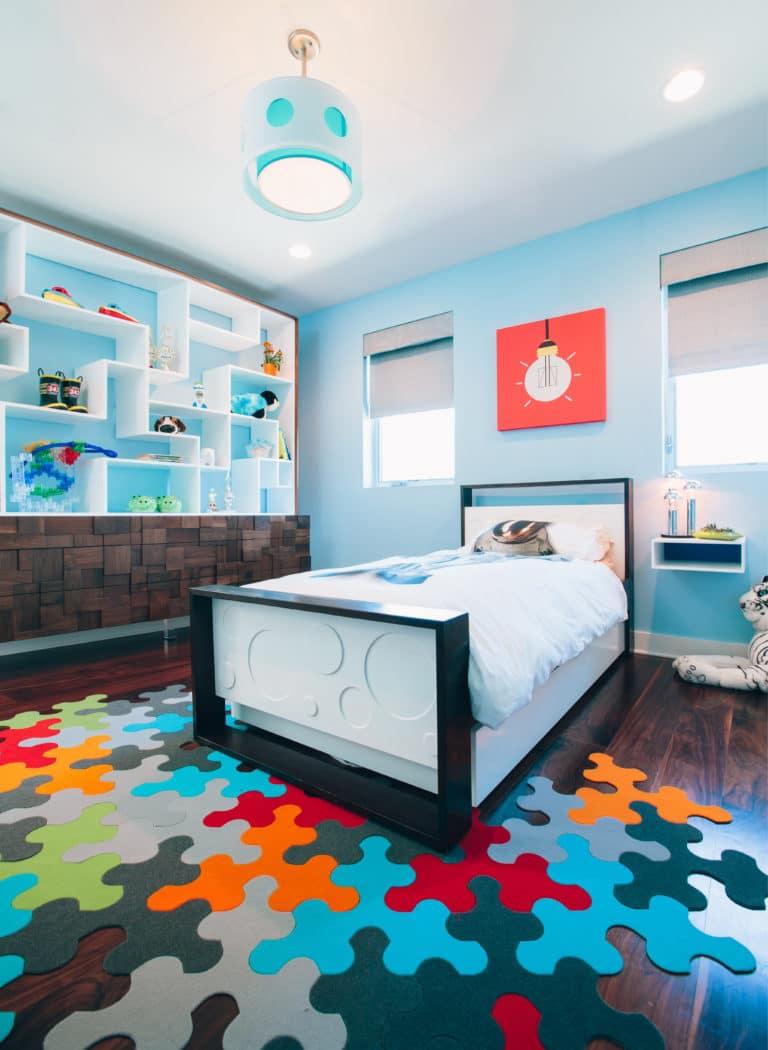 The final touch was a life-sized astronaut printed on the duvet and a helmet on the pillowcase. Every night as he goes to sleep, he gets to pretend he's an astronaut heading into space.
Click here for all the photos of this fun boy's bedroom.
Photos by Full Spectrum Photography
*This post contains affiliate links, but don't worry, I only link products that I would 100% recommend to my own clients.
[et_bloom_inline optin_id=optin_10]