It's time for another nursery e-design reveal! This client came to us wanting a nursery that was all things natural. It was super important to her to have organic products, non-toxic finishes and eco-friendly materials when possible. Luckily, the nursery decor world has expanded so much in recent years, so finding these products isn't as hard as it used to be.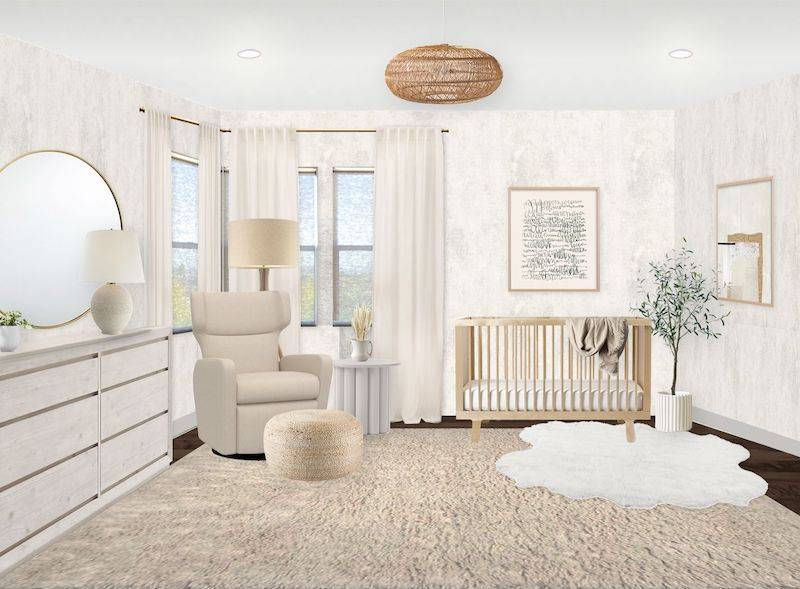 ---
· Nursery Details ·
Light Wood Crib | Glider | Ottoman | Rattan Chandelier | Dresser + Topper | Floor Lamp | Sheep Skin Rug | Faux Olive Tree | Neutral Wallpaper | Side Table | Table Lamp | Round Gold Mirror | Art Over Crib | Abstract Art | Neutral Blackout Curtains | Organic Throw Blanket
---
The room was on the larger side, which meant we were able to include a few little vignette areas, like a bookcase with wall hooks for some extra storage, and a bench for adult seating with some bins for toy storage.
The windows in this room were a bit of a challenge because they connect in the corner. This means that a regular curtain rod can't be used, so instead, we suggested using corner brackets. We use corner brackets frequently for rooms that have corner windows—it allows you to still get full coverage from the blackout curtains (with no light leaking in through that corner). This room had very high ceilings, so we ended up going with custom blackout curtains.
We chose a natural wood crib with no harmful finishes, a Greenguard Gold certified glider, organic crib sheets, a non-toxic rug, and lots of other organic accessories.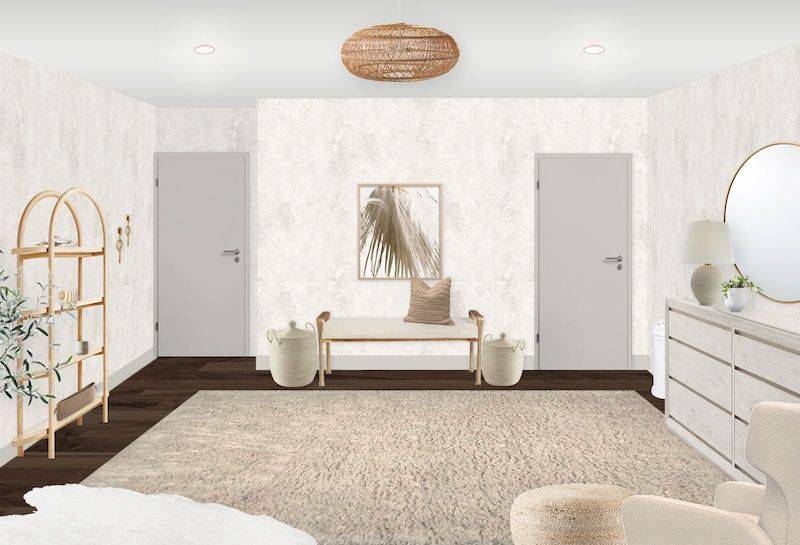 ---
· Nursery Details ·
Light Wood Bookcase | Wall Hooks | Bins | Palm Tree Art | Neutral Bench | Small Basket | Wood Chain Decor | Organic Throw Pillow
---
I love that we had space to create this little seating area! If there is space, having extra seating can be so wonderful in a nursery since it provides seating when there are more people in the nursery. We also had a spot for a bookcase, so we chose a pretty light wood option to coordinate with the crib. The rounded top of the bookcase mirrors the curves of the glider, giving balance to the space.
We finished off the space with some neutral artwork, a rattan chandelier and of course, some greenery.
If you're interested in a nursery e-design of your own, make sure to contact us as soon as possible! Our e-design services book up very quickly and we have limited slots available.
*This post may contain affiliate links, but don't worry, I only link items that I 100% recommend! You can view our Disclaimer here.