The more I get to know The Little Market, the more impressed I am with the products that they offer and the great impact they have globally. If you haven't stumbled upon The Little Market yet, they are a nonprofit fair trade shop who offer ethically sourced, artisan-made products (co-founded by Lauren Conrad). This isn't a sponsored post, I just love what they're doing—I listened to a whole podcast with one of the co-founders and was instantly impressed!
The Little Market seeks to highlight the culturally rich trades and techniques of these artisans to help keep tradition alive. Not only are their designs leading the way for globally inspired designs, but every single item sold gives to an artisan in need throughout the world. Their artisans include refugees and resettled individuals, people with disabilities, young mothers, survivors of sex trafficking, and individuals living in extreme poverty. You can even shop by cause so that you can help the organization that appeals to you most.
Here are a few of my favorite nursery finds from all those great local artisans: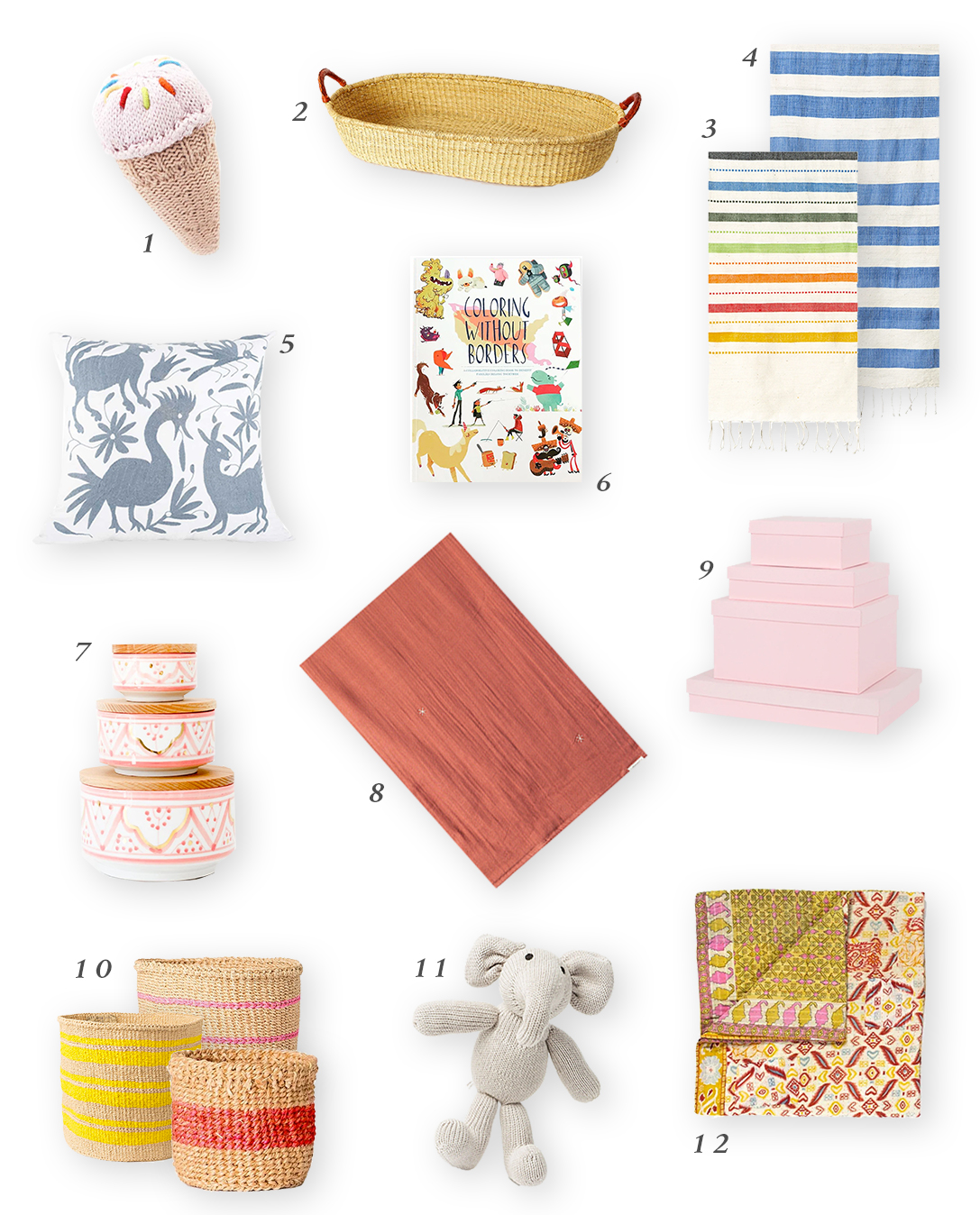 Ice Cream Cone Rattle: Who says ice cream can't be year round? This rattle is all of the cuteness with none of the mess. Also available in mint and chocolate. Yum!
Hand-Woven Changing Basket: This sturdy and versatile basket is hand-crafted from elephant grass with leather handle detailing. This is a fun storage piece to use on a changing table for easy access to towels, diapers, and other necessities.
Rainbow Striped Hand Towel: What an adorable color pop to add to a children's bathroom! I often find that bath decor for kids can be excessively themed and over the top. This precious pattern is playful but a bit more mature.
Cotton Striped Bath Towel: To match the above hand towel, there are beach and bath towels available in a wide array of colors. You can easily find one to match your color palette.
Coloring without Borders Coloring Book (No longer available): This activity book features illustrations from over 80 professional artists from around the world. Every penny is donated to helping children separated from their families.
Tenango Embroidered Pillow: I adore the whimsy of this traditional embroidery! Created by artisans of the Tanango regions of Mexico, the designs represent everyday life, including native plants and animals.
Ceramic Keepsake Boxes: As a child, nothing excited me more than a new place to store my prized possessions (I was into organizing even back then). I love little spots to stash secret notes, jewelry or pebbles from the playground.
Baby Throw Blanket: The dusty red hue of this organic muslin and cotton throw blanket couldn't be more on trend with the current canyon inspired color palettes. I love using a throw as a bold pop of color.
Blush Rectangular Gift Boxes: I don't know if you have ever tried to get crafty with your gift wrapping, but it is no easy feat! The simplicity of these blush boxes is so refined. Add a ribbon or a bow and you're all set! I also love the idea of using these as storage in a closet or bookshelf.
Striped Woven Baskets: I find more and more uses for woven baskets every day—you can never have enough of them. For playrooms, they are perfect for hiding toys or craft supplies, and on a nursery shelf they make for a precious planter.
Elephant Stuffed Animal: This cotton knit friend is as soft to cuddle as a favorite blanket. Plus, this is a stuffed animal you won't mind displaying in your nursery or child's room. I often use a select few stuffed animals as decor when styling nurseries and they add so much character and charm.
Kantha Quilt: When I came across the pattern of this quilt I immediately thought it would be so fun to use in a young girl's room. The colors and pattern are mature yet playful and would age beautifully as she grows.
[et_bloom_inline optin_id=optin_10]