Are you obsessed with everything from Anthropologie like I am?? As long as I can remember, it's been one of my favorite places to shop and wander around. You might think they really only sell clothing and some decor, but they actually have a ton of items that I've used in nursery design over the years. Sometimes it's nice to be able to buy a lot of items from a single store, especially if that shop has a look you like, but it can easily start to look like a page from a catalog. But because of Anthro's signature eclectic style, that rarely happens.
By shopping multiple items at the same store, you can pull together a cohesive look or add to an existing one without having to spend hours looking everyone on the internet. I have selected pieces both from their children's curated items and from their regular line. Choosing items this way can help make a nursery or kid's room feel unique, and can help balance the juvenile pieces to create a more sophisticated feel. Anthropologie has so many great whimsical and playful pieces – here are some of my very favorite for the nursery and kids!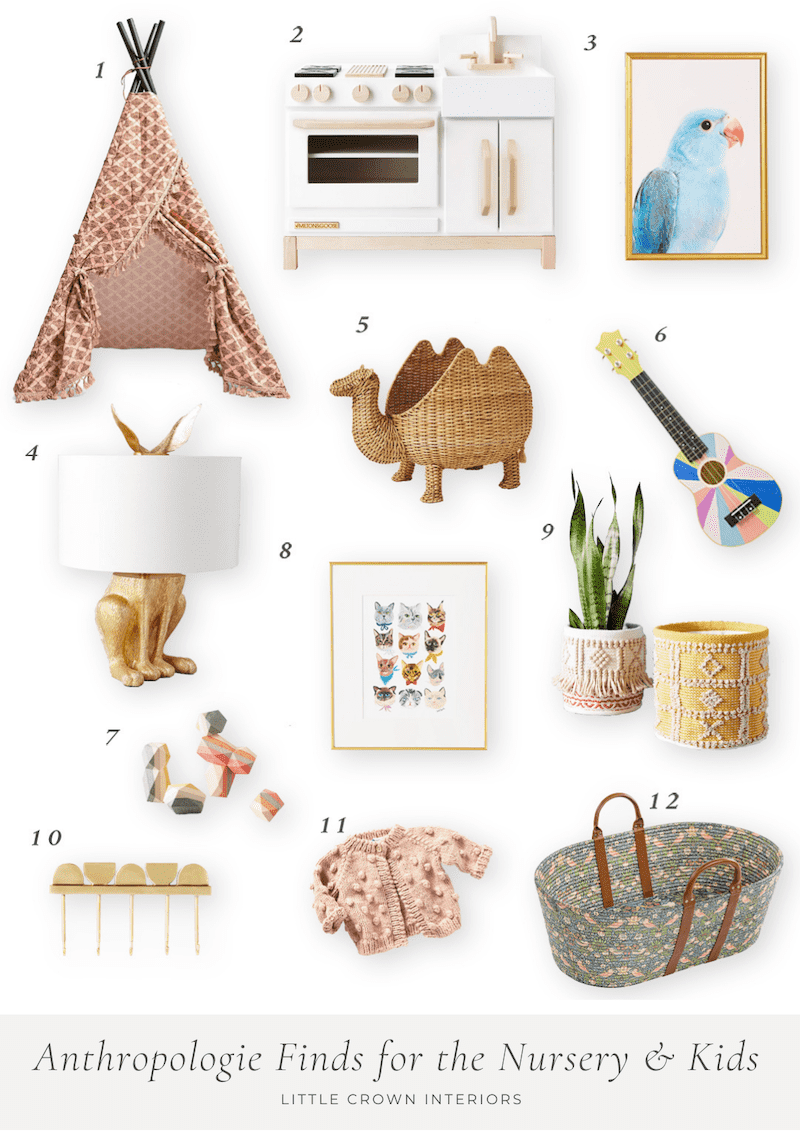 1. Tassel Tent: This dreamy play tent is completely enchanting with windows, tassels and a secret storage pocket inside! Maybe one of the prettiest play tents I've seen. It's perfect for open-ended imaginative play, a secret hideout, fort building, tea parties or a reading nook. Make the most of this fort building corner and add one or two matching floor pillows. Spacious enough for sibling play!
2. White Play Kitchen: Hours and hours of entertainment can be had in this pretty wooden play kitchen! This piece is crafted by American company Milton & Goose using quality materials and nontoxic finishes. They also make an adorable play fridge that matches the kitchen.
3. Framed Bird Art: This is such a bright, colorful, and fun blue parrot piece! This photo art print is big enough to display alone or could be added to a gallery wall. It's a sophisticated way to bring in a little animal decor and could add a fun pop of color in a nursery or playroom.
4. Gilded Hare Table Lamp: Quirky, elegant and playful! I love finding animal details and decor that are fun without being too juvenile since animals are such a great theme for nurseries. The gold stand and white lamp shade makes this lamp quite versatile too.
5. Camel Storage Basket: To me, baskets are a must for nurseries and kid's spaces. They offer a super easy way to keep an area neat and organized. This woven rattan bin is super versatile because it's a neutral color, shape and style. The camel shape makes it a fun and playful addition for a nursery or playroom to store books, stuffed animals, pillows and blankets.
6. Colorful Ukulele: I may be completely obsessed with this colorful guitar! The bright colors are dreamy and it will look so cute installed on the wall or placed in a basket with a few other instruments.
7. Geometric Wood Blocks: These are fantastic for an open-ended play invitation—stack them or hide them as pretend gems. When the blocks are not in use they will double as decor on a play table or a shelf.
8. Cat Art: I think these cats are just the sweetest. I love a quirky nursery moment, and these kitties totally fit the bill. The colors are great as well, and the watercolor feel of the piece feels fresh and whimsical.
9. Boho Baskets: These storage baskets come in two styles, a yellow and a neutral/coral. Whether you use these as a planter or as storage for books, they will add color, texture and personality to your space. Sometimes you just need a spot to throw some stuff!
10. Gold Wall Hooks: These brushed brass wall hooks are designed by Rebel & Quill. I love installing wall hooks in the nurseries I design because they can be so helpful—sometimes you just need a quick spot for a towel or diaper bag. It's also nice to use wall hooks to display a favorite heirloom clothing piece or a small wall hanging like we did in this recent nursery.
11. Pompom Knit Cardigan: This pompom knit cardigan is basically irresistible! I also think this could easily double a decor piece hung on a wall hook like mentioned above. In addition to this soft pink it also comes in a neutral creamy white too. These little baby knits also make a super cute baby shower or keepsake gift.
12. Moses Basket: This unique and stunning Moses Basket is part of the DockaTot x Morris & Co curated by Anthropologie collection (that was a mouthful). It has an eco-friendly coconut coir mattress that is breathable and moisture resistant and comes in a handful of unique patterns with great gender neutral options too.
*This post may contain affiliate links, but don't worry, I only link items that I 100% recommend! You can view our Disclaimer here.