Let's talk rattan! Rattan has been around for a while, but in recent years it has really increased in popularity. The beauty of this current rise in popularity is that the creativity and selection available grows abundantly. There are so many styles to choose from, ranging from a more traditional look to a modern coastal feel to a carefree boho friendly design. Rattan and other similar textures are receiving more interest in nursery design too. With more people choosing to design gender neutral nurseries, this makes perfect sense because this style works incredibly well in those spaces. With all these gorgeous wicker, caned and rattan pieces popping up, I felt inspired to do a roundup of my favorites.
Rattan naturally has a soft, organic look and the natural wood is a great way to add personality and that lived-in eclectic feel to a space. Wicker, caning and other woven wood offers texture and lightness and it makes for super versatile pieces of furniture and decor. It is a great way to add warmth, depth, and texture to a space, especially in tone-on-tone or monochromatic neutral nurseries.
By the way, did you know that rattan is a fast-growing vine that requires little water? When harvested thoughtfully and sustainably, it makes for an eco-friendly choice as well. Neat, huh?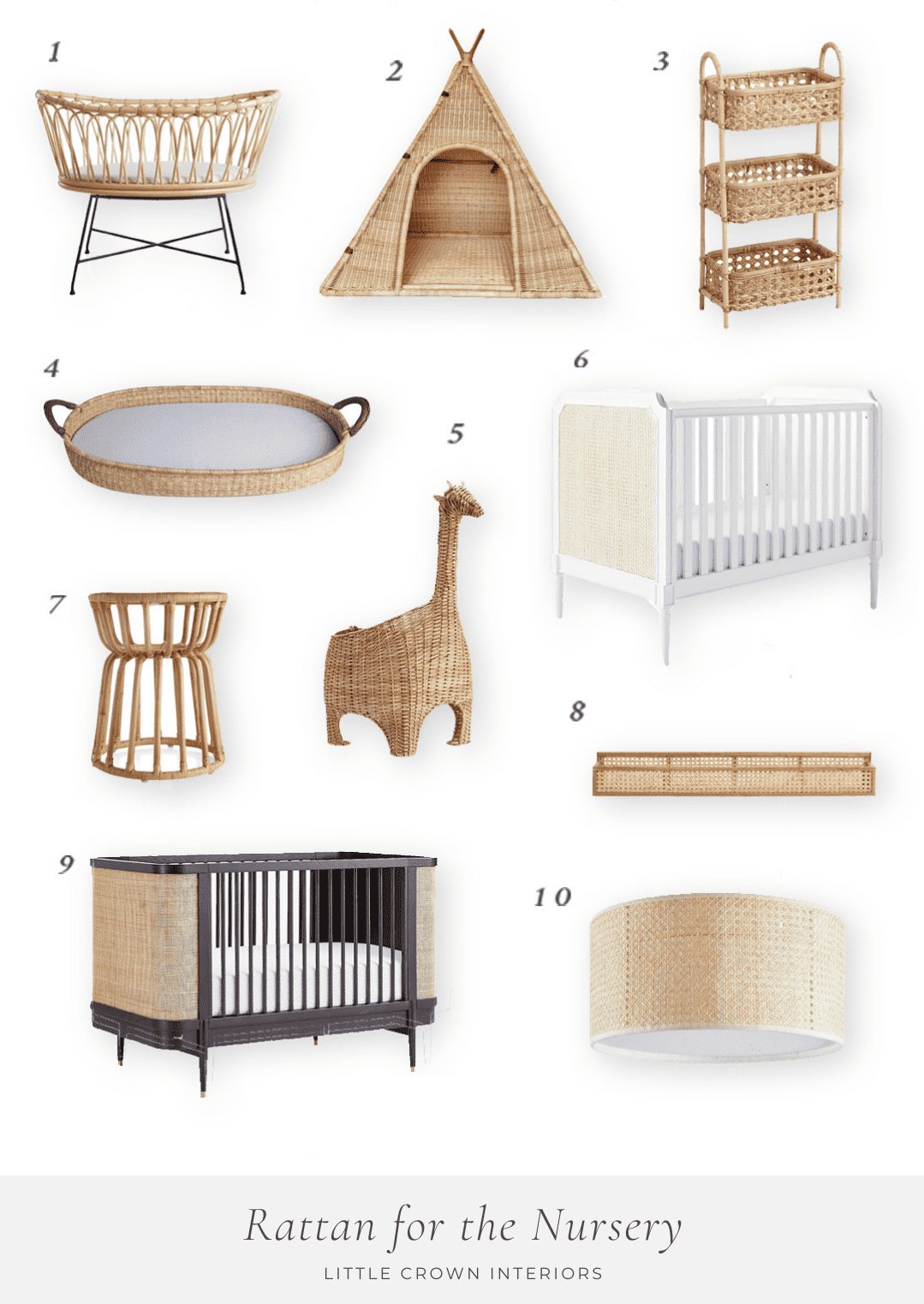 1. Rattan Bassinet: This bassinet has such a versatile look! This is a great option for those first few months before the baby becomes too mobile and it's so pretty it will easily work in your bedroom!
2. Rattan Teepee (no longer available): I could not pass up this incredible wicker teepee! I am sure this will be a favorite in the playroom, but it would also be so cute in a nursery or even in the corner of your living space. Keep in mind that teepees are generally pretty large at the base and do require a fair bit of floor space.
3. Rattan Cane Storage tower: Storage is key in a nursery. I'm loving the idea of this rattan storage tower next to a changing area or to organize a closet space. This would also be a good option in a smaller nursery for a little extra storage.
4. Changing Basket: Swapping your changing tray out for this changing basket will add warmth and texture to your nursery instantly. See how we used a changing basket in a recent nursery here. This one has the option to add a waterproof pad!
5. Giraffe Storage Basket: This sweet giraffe storage basket would be adorable in a safari themed nursery. Baskets and bins are a cute way to organize toys, books, and blankets in the nursery. It's a playful piece that doesn't take away from esthetics of the design.
6. Harbour Cane Convertible Crib: How stunning is this crib? The white mixed with the natural wood caning gives off a laid back elegant feel. This charmer would be gorgeous in a coastal nursery design or even a more traditional style nursery.
7. Rattan Nightstand: This table would be perfect as a side table next to a glider or rocker, and the compact size makes it a great option for a smaller nursery. This piece is probably the most bohemian of the bunch—it would also be so cute in a gender neutral boho nursery or a beach and surf inspired design.
8. Rattan Book Ledge: I love using book ledges in nurseries because they take up so little space. The books are easy for little hands to grab and with all the stunning book covers available you can create your own interchangeable wall art! This shelf could also be styled with little trinkets and a couple of little plants tucked in there!
9. Black and Natural Thornhill Crib: This is the perfect classic and sophisticated statement crib! The black contrasts the light caning and makes this crib stand out. See those gold capped feet? Someone please give me a nursery where I can use this crib!
10. Cane Ceiling Light: I love the simplicity of this white and natural wood flush mount ceiling light. It casts a soothing soft light, and it is such a versatile piece that will grow with your child or space.
What do you think? Would you ever use a rattan piece in your nursery design?
*This post may contain affiliate links, but don't worry, I only link items that I 100% recommend! You can view our Disclaimer here.