I just adore wallpaper! It is one of the most impactful design decisions you can make for a room. Wallpaper lets you completely change the mood of a space whether it's a subtle pattern or a dramatic design. Sometimes wall treatments can feel scary, like a giant commitment (and you probably have memories of dated wallpaper as a child). This is why removable wallpaper is such a game changer, especially for nurseries and kid's rooms.
Removable wallpaper lets you make a bold design choice without wallpaper's remorse (I'm pretty sure that's a thing!) This low commitment type of wallpaper is a great way to go if you want to change the room as your child grows. If you rent or plan on moving, it makes it super easy to create a custom and personal look without having to worry about resale value, angry landlords or difficult removal.
Here's a wallpaper tip from my book: If you know you want wallpaper in your nursery, choose the pattern before any of the other elements in your design. Next, decide on the crib, rocker and the other furniture, and decor. The pattern and color of the wallpaper really sets the tone and choosing decor that compliments is key for a cohesive look. Here are some of my favorites!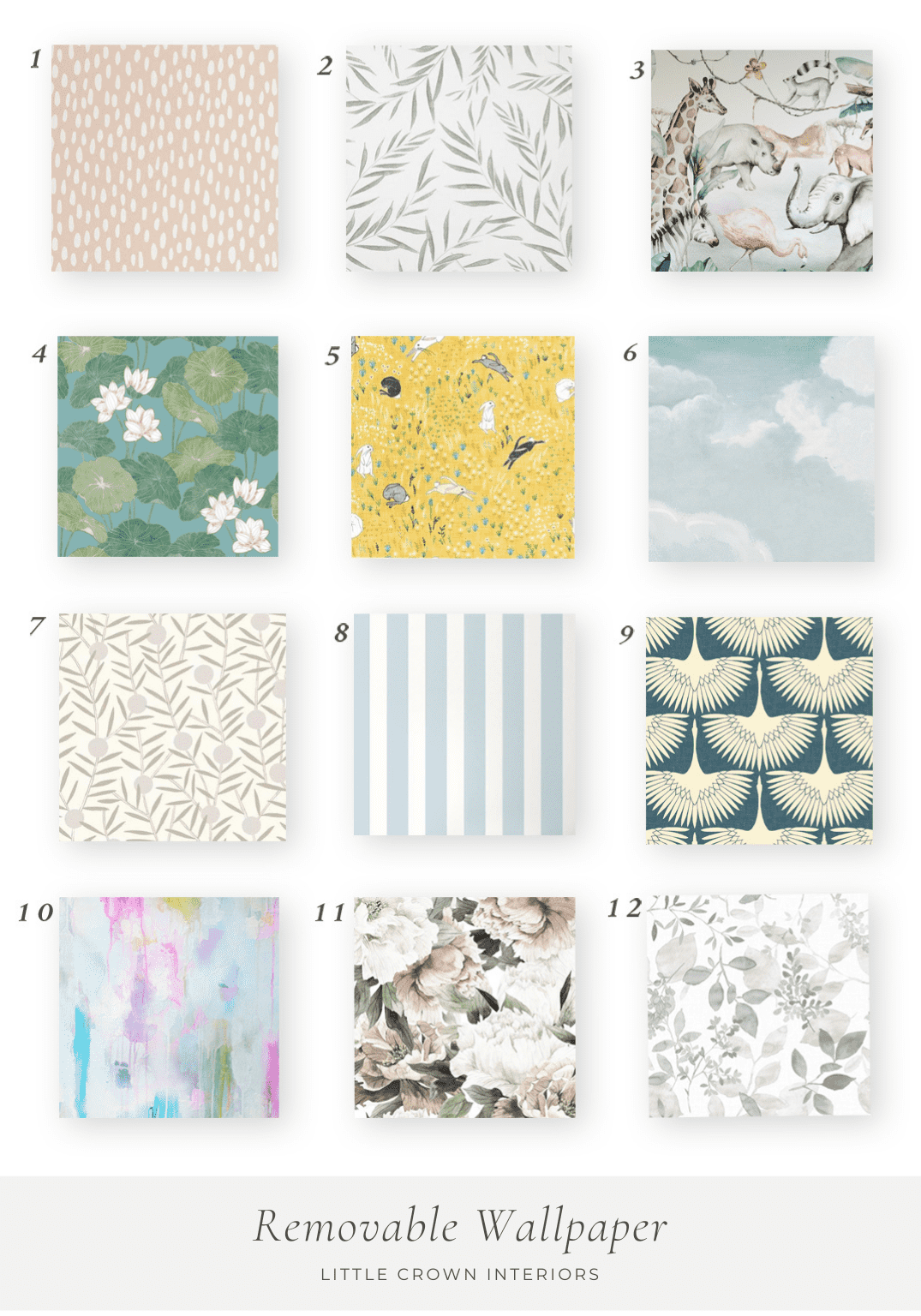 1. Soft Pink Dot Pattern: This subtle, sweet and feminine wallpaper would be adorable in a nursery or in a little girl's room too. The simplicity of the pattern and subtle color will make it easy to change out elements of the room to create an updated look. The subtle design also allows you to venture out a bit more with your other decor choices.
2. Light Green Botanical Foliage: The white background and sage leaf pattern feels so serene and calming! This one is a good option when designing a gender neutral nursery or a shared space.
3. Jungle Wallpaper: Whimsical goodness and fairytale-like artwork for your walls! This is on the bold end of the options however the watercolor style print makes it seem airy and light.
4. Blue Lily Pads: This blue-green, lush lily pad design looks luxurious and the white and blush pink florals create depth and a bit of glam. This one will give your room some soul in an instant. This one comes in different colors too—including an elegant black and white.
5. Yellow Bunny: This bright and cheery yellow removable wallpaper has a sweet nostalgic bunny and floral design. The vintage feel creates a perfect balance of charming and playful without being super juvenile.
6. Cloudy Sky: I think this is such a fun way to add blue to a room. I've used this removable wallpaper before, and it's so gorgeous in person. The sophisticated cloudy sky design is a perfect gender neutral option and I love that it adds a bit of whimsy too.
7. Neutral Modern Bloom: This comes in a handful of different color variations and it really shows how mixing up the color can really change the entire mood of a pattern. This feels like a Mid-Century Modern take on the botanical wallpaper trend.
8. Light Blue Stripe: It is hard to go wrong with a classic blue striped wallpaper! This can actually be installed both horizontally and vertically and is a great versatile option. I can see this in a playroom with some fun modern elements to offset the nostalgic vibe or maybe even in a traditional nursery.
9. Blue Swan: I'm a sucker for anything bird-themed! I think this deep teal pattern of birds is just stunning. The rich background with the creamy white swans would add major sophistication and drama to a room.
10. Versailles Abstract: This one is SO fun and will make a statement in your room. A crazy fun mix of pastel lilac, yellow, lavender, pink and aqua with subtle pops of bright color. Converted from an authentic Blueberry Glitter painting into a wallpaper, it creates an organic up-close paint pattern with drips. The best part is that this comes with a gold leaf kit to add customized pops of gold on your wallpaper.
11. Oversized Blush Floral: A client favorite! This is stunning in person and makes such a statement. It's feminine, dramatic and perfect paired with sage, blush and gold details. The large-scale florals are sophisticated enough to use in a luxurious tween or teen room as well. This is by far the best-seller in my shop!
12. Neutral Watercolor Leaves: This one is also a super versatile option! Delicate florals in muted gray tones make for a super peaceful look. I love the softness of this floral pattern—it could be accented by almost any other color.
Have I convinced you to try removable wallpaper yet? I hope you'll give it a shot in your space!
*This post may contain affiliate links, but don't worry, I only link items that I 100% recommend! You can view our Disclaimer here.